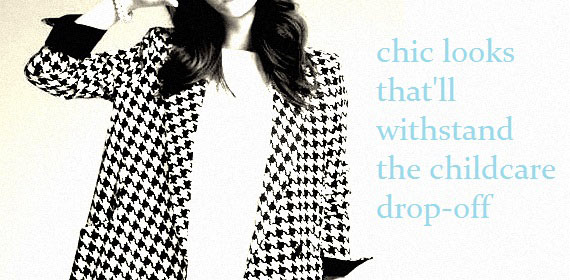 For the past three years my partner and I have been doing the before-work-childcare-drop off and I'm pleased to say that we have it down to a fine art.
You know the drill:
+ Wake up at the crack of dawn.
+ Make kids' breakfast and then inhale your own breakfast.
+ Two minute shower.
+ Child dressed.
+ Brush child's hair and teeth (if they have any!)
+ Check childcare bag for supplies and replenish if necessary.
And with three seconds remaining before it's time to hurl yourself out the door and into the working day, you slather on your makeup, do something to your hair and throw on your outfit.
But often life happens and this practised morning routine goes out the window."
You sleep in and are forced to eat breakfast in the car.
You manage to get food and coffee all over yourself.
And then you get jam handprints on your face courtesy of your adoring child.
Then your baby has a sudden onset of the runs and it goes everywhere. In the car.
We even had one unfortunate incident a year or so ago where my partner took our daughter out of the car at the childcare centre and she promptly threw up all over him.
4 easy tips:
1. Choose your outfit the night before. This is the BIGGEST time saver ever. I run on auto pilot in the morning so if there's an outfit waiting for me, sweet!
2. Layers. This obviously works best in winter or in Melbourne (holla!), but when you can, throw something over the top of the outfit you've selected. Even if it's a scarf or a lightweight jacket – protect the goods underneath.
3. Baby wipes. LORD whomever discovered the amazing stain removing qualities of the humble baby wipe needs a medal. Keep a pack in your car with a plastic bag to throw the used ones into.
4. If you absolutely can't layer, go for a pattern or a pleat that will mask any stains you can't dab away with baby wipes. Alternatively, wear a fabric like leather or jacquard that you can easily wipe mess off.
Here's our picks to add to the work-day wardrobe faster than you chug down that morning coffee:
SheInside Houndstooth Coat $41.12
ASOS High Waisted Pencil Skirt in Animal Jacquard $48.22
ASOS Floral Chambray Shirt Dress $94.08
Warehouse Floral Long Sleeved Shirt Dress $80
Zac Posen Embroidered Snake Jacquard Dress $796.40
Do you have any sure-fire tips for a successful pre-work childcare drop off?
What do you avoid wearing to work because of the childcare run?
What's your favourite work look and how do you keep it in good nic?
More Fox in Flats: