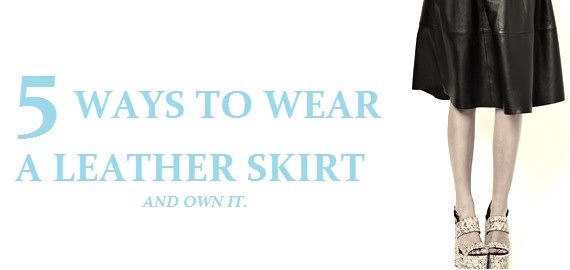 Hey girl. Today is a good day to wear leather. Or 'leather-look' (pleather), if you're like me and a) don't eat or wear mammals and b) like to save your dollars.
Let's talk about p/leather skirts. There are three rules.
1. Wear with confidence.
2. Wear a cut and a size that flatters your figure so that you can wear with confidence.
3. Don't jump on the back of any motorcycles while wearing one – this is best left for days on which you sport a leather pant.
Leather and faux-leather skirts come in a massive variety of lengths, colours and cuts which will allow you to find one (or three) to suit your look. I think every fox needs at least one – definitely a wardrobe stable.
I like to wear leather-look skirts on the kinder run, food shopping, grabbing a coffee with friends, a night on the town and to work. Any time, Any place.
And so, let's get into it. Here are five ways to wear a leather skirt:
1. The middie
I adore a good mid-length skirt and if it comes in leather-look, bonus! This look is best worn cinched at the waist and teamed with a cute tee like this one from ASOS.
ASOS Midi Dress With Leather Skirt And Jersey Top (on sale) $117 
2. Pleats
This look is a touch 'netball', and is best warn just above the knee. But to avoid looking like the Wing-Attack, team with a pretty blouse or shirt with the sleeves rolled up. Again, sitting on the waist is the most flattering way to sport this look, just like this one from Blumarine. Perfect for work!
 Bluemarine Leather skirt (on sale) $1,424
3. The trumpet
Oh how I love this look. It's a little bit serious and a little bit flirty. You can wear a trumpet skirt completely dressed down with converse and a stripy tee, or with a simple pair of single strap stilettos and your favourite Friday night drinks top. I love this one from Derek Lam.
4. The pencil skirt
I know y'all will have this classic in other fabrics so why not give leather a spin? The ultimate office-t0-play look works for so many reasons. It's flattering, it's feminine and it's sexy. Show of your best bits in this Viparo number. Slit at the back or the front – both work!
 Liberty high-waisted leather skirt $219
5. The mini
A good mini is not actually miniature. The ideal length is mid-thigh and not too tight. I'm a big fan of a tucked-in plain white tee, sandals and a chic full-coverage mini. This look is so versatile, you can go full-leather or mixed-fabric, like this creation by the master of all things animal hide, Mr Alexander Wang.
 Alexander Wang  Draped leather-trimmed crepe skirt (on sale) $195
My number one all time favourite pleather skirt is by UK brand Warehouse. I love the a-line mini cut and the scalloped detail on the hemline – and the length is just perfect! I wear it ALL the time, it's one of my wardrobe staples. Here I am sporting it at work, on the beach in Byron Bay and in the lounge room much to the amusement of my dog.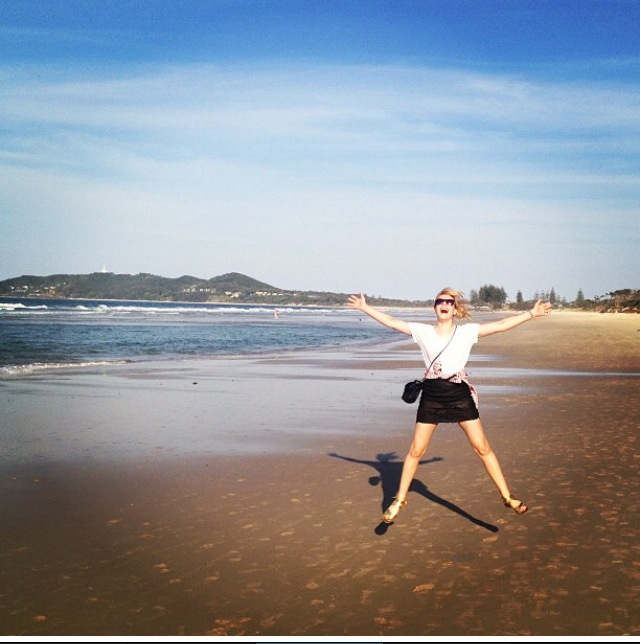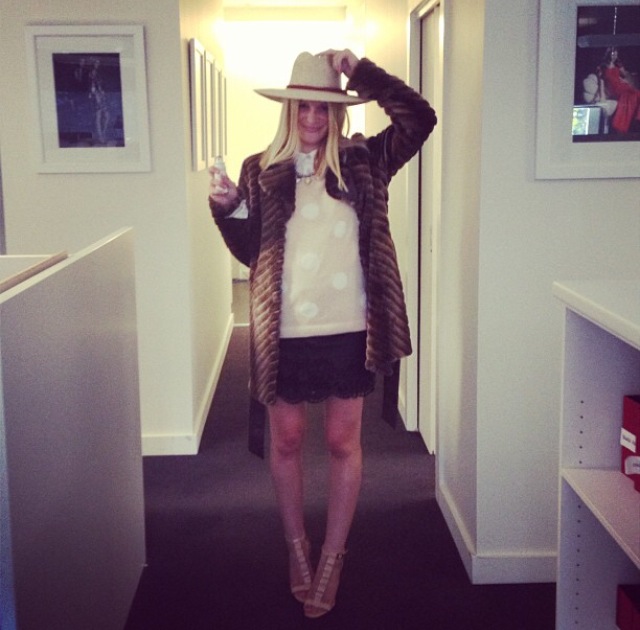 What's your favourite way to wear a leather skirt?
Do you have any reservations about wearing a leather or leather-look skirt? Let's discuss.
More Fox in Flats: