In a world where so much fashion is mass-produced, it can be hard to truly own your look. At any given moment, you could turn the corner and bump into another dame wearing the exact same outfit. So what's a girl to do?
The answer? DIY."
Even if you don't think of yourself as much of a creative type, doing a custom job on a couple of pieces can help your whole wardrobe feel more individual.
Here are two super-duper easy hacks for a simple pair of canvas flats. DO try this at home… or use this as inspiration to spin-off on your own DIY journey.
Before: boring, run-of-the-mill lemming shoes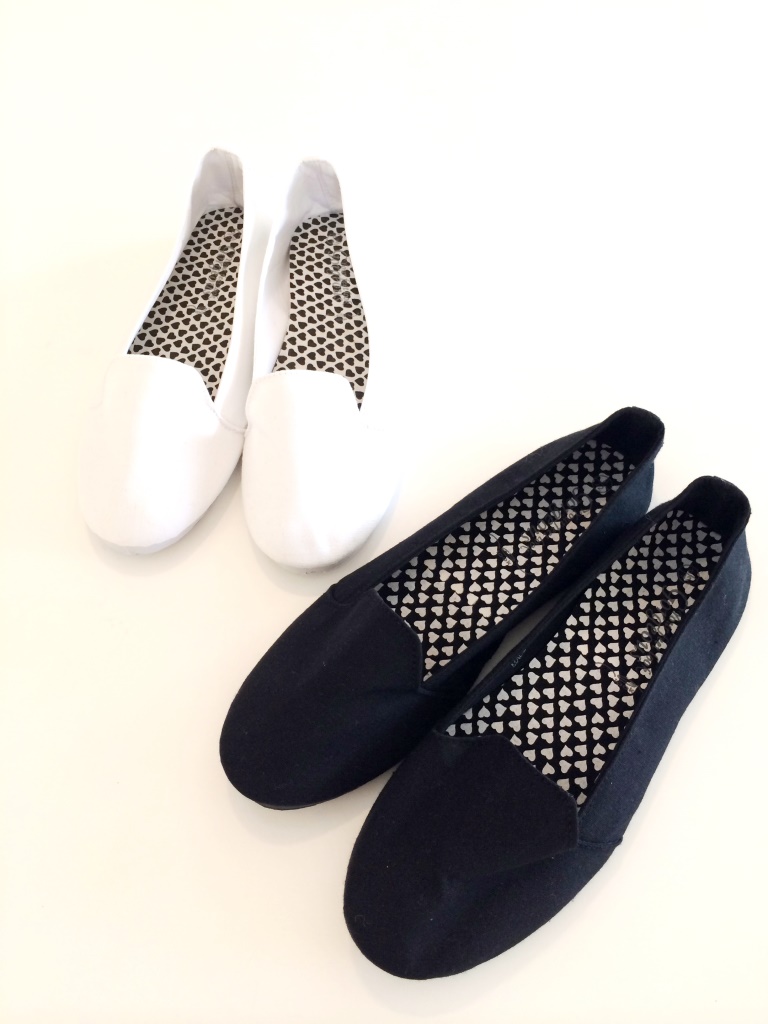 After: Funky, cute flats that say "Hi, I'm a trendy gal with my own sense of style!"
Who's inspired? Good. Let's get crafting!
White shoes – cross stitch cuties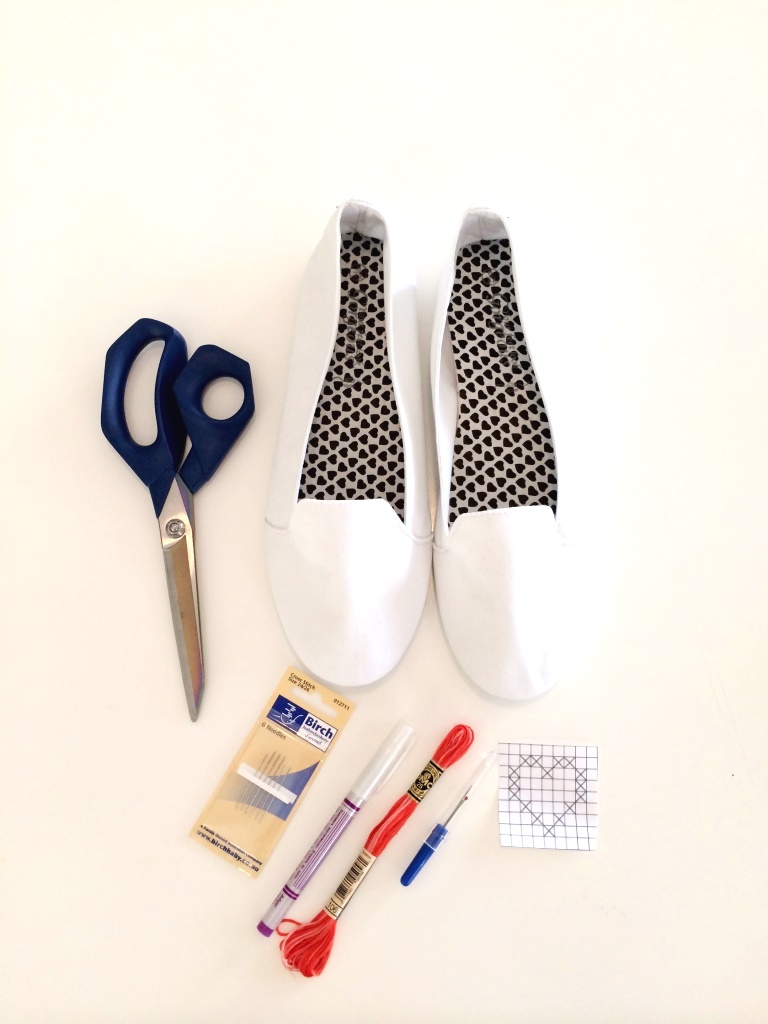 What you'll need:
A pair of canvas shoes – I picked up these from ASOS (white not currently in stock but keep an eye out as they seem to be a regular), $14.77
Embroidery thread (I used a style that faded between shades of the same colour, which gave a more interesting effect), $0.89
Embroidery needle, scissors
Cross-stitch pattern – I used this one
Air-fading pen to mark out your design, $8.49
Unpicker (optional)
What to do
These shoes had a fabric label on the heel, which didn't really suit the look I was going for, so I started by removing this with an unpicker.
Decide on your design, print it out and make sure it is going to fit nicely on your shoe. I used this cross-stitch heart design.
Use a needle to poke holes in your printed design at the points where your stitches will go, then pin the design over the shoe and use your air-fading pen to mark out your design through the pinholes. If you make a mistake, don't fret – the ink in these pens can be erased easily with a bit of water, and fades even without water within a couple of days.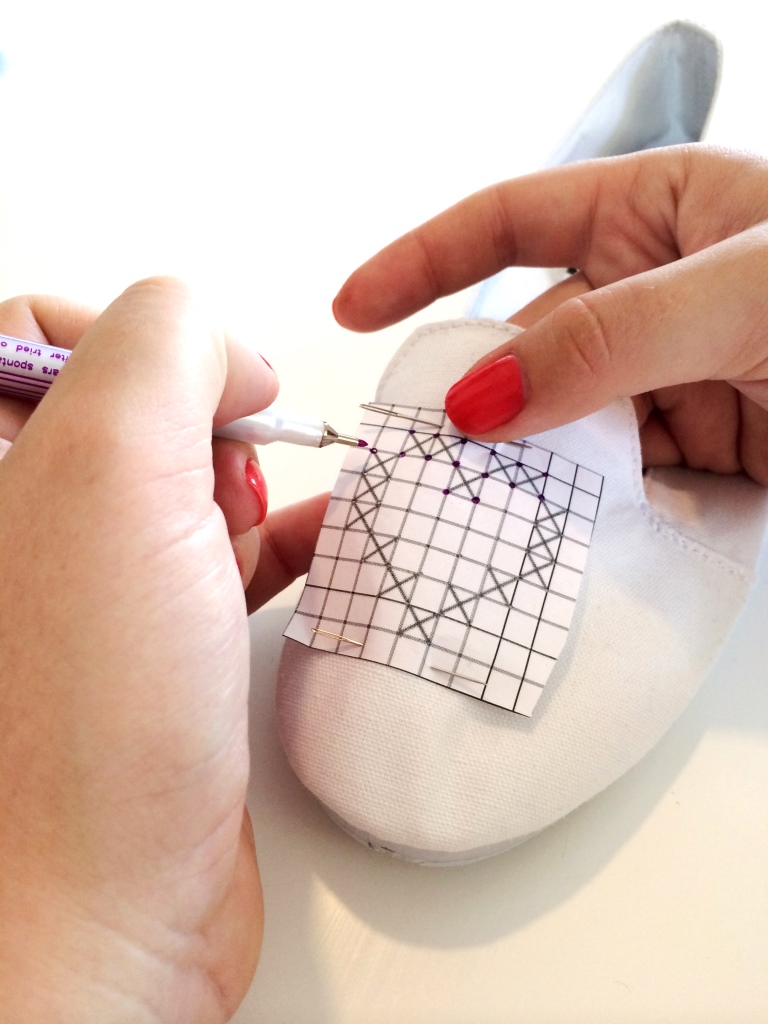 Thread your embroidery needle with two strands of thread. (Embroidery thread usually has six strands wound loosely together, so just peel two strands out.)
Cross stitch over your marked-out design. If you can, try to get your needle between the layers of fabric so the back of your stitching lies between the layers, not inside the shoe. This will help your work last longer, and minimize the chance of the back of the stitching rubbing against your feet.
Ta-da!"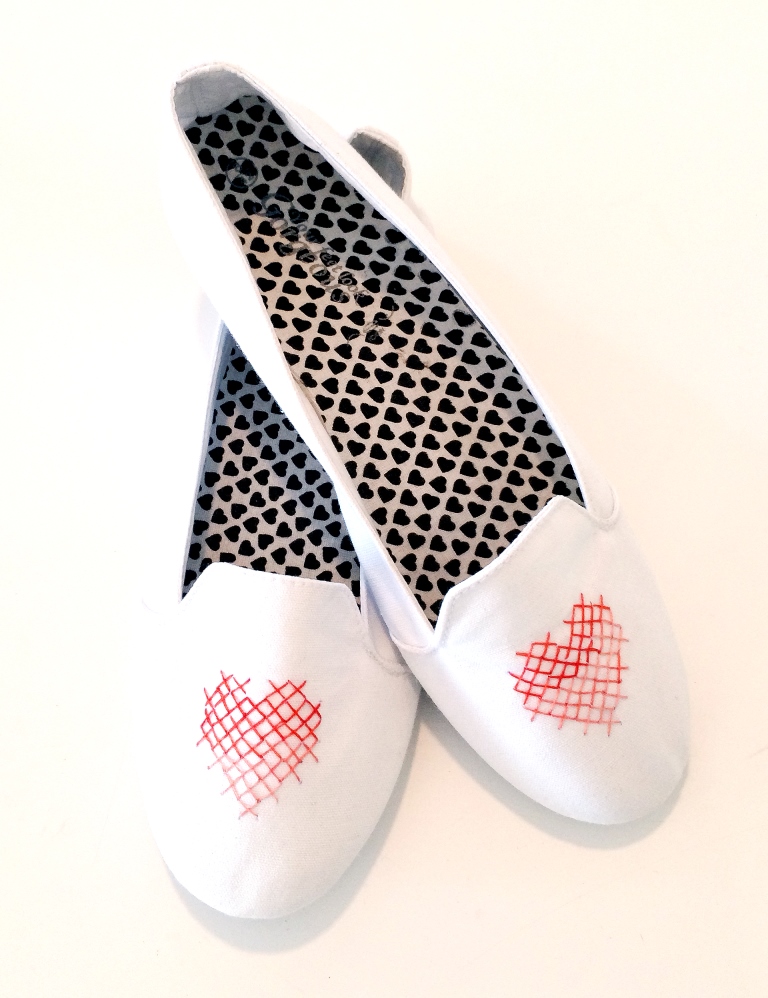 Note: If you don't trust your cross-stitching skills, you could get a similar effect with drawing Xs in fabric paint.
Time commitment: About 30 minutes.
Black shoes – bling it on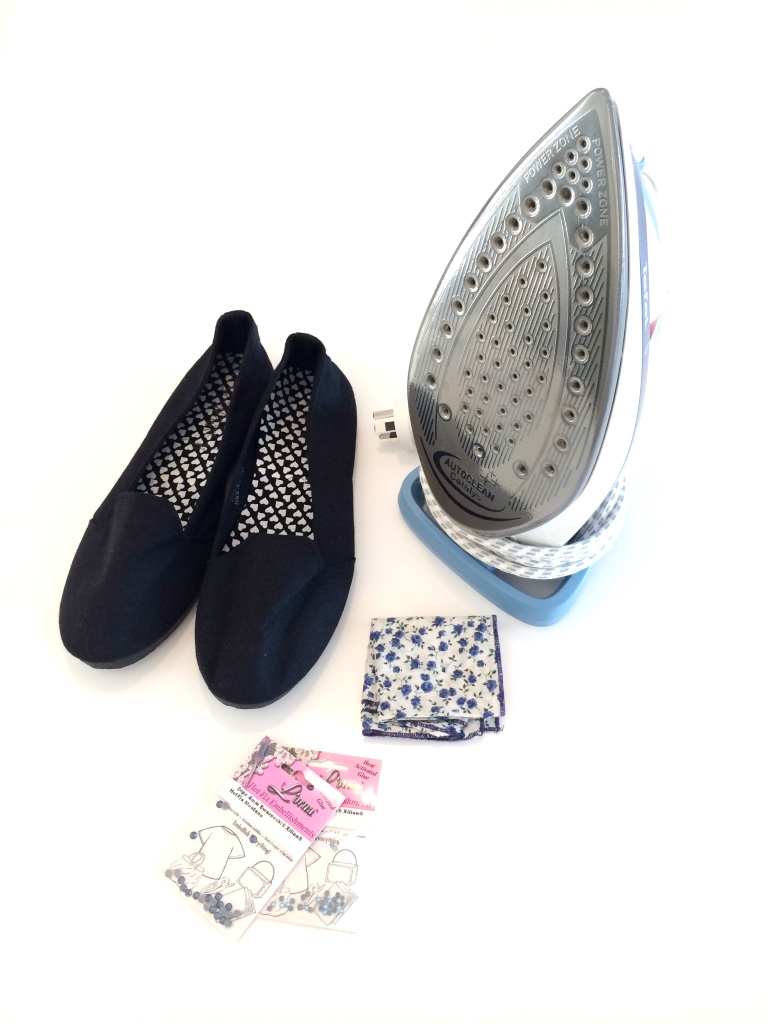 What you'll need:
A pair of canvas shoes – I picked up these from ASOS (black not currently in stock but keep an eye out as they seem to be a regular), $14.77
Hot-fix crystals – I used these from Spotlight, $8.99 per packet
An iron
A thin cotton cloth, such as a handkerchief, to sit between the iron and the jewels
Unpicker (optional)
This craft is the easiest thing ever! All you need is a bag of heat-activated jewels and your iron.
Again, I started with unpicking the fabric label from the shoe. Then I got to ironing my jewels on!
Ironing the front part of the shoe flat first helps with getting the jewels to sit nicely. Because the shoes are canvas, they are easy to get back into shape once you are finished.
For these shoes, I chose dark, tonal jewels to give the black shoes just a bit of glitz without being OTT.
You could also use non-heat activated beads, jewels or sequins and a glue such as Gem Bond.
I stuck the jewels on in a random pattern but if you like a bit more order in your life, you could try arranging them in the shape of:
Constellations from the night sky
Your initials, monogram –style
A skull, star, heart… or any shape you like!
Time commitment: about 10 minutes, probably a little more if you want to go with a distinct pattern.
What DIY projects do you love?
And if this post inspires you to bling up your own pair of shoes, make sure you share a pic with us on Instagram, Facebook or Pinterest!
More Fox in Flats: