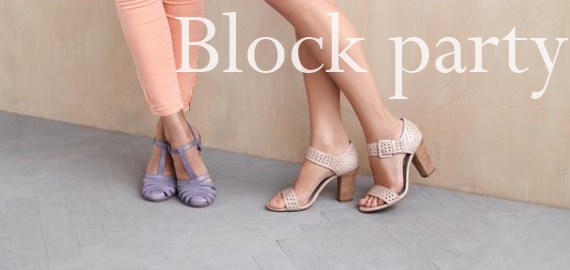 By Andrea for ECCO Shoes
If you've ever gone to an outdoor cocktail party, the races, or a wedding where you've found yourself chatting to your mates on the grass, you would have inevitably experienced a kind of sinking feeling.
You know…that point where your stiletto heels start to sink Titanic-like into the lawn?
Happily, 2013 has seen the welcome return of the block heel, so there's no longer a reason to suffer shoe-submersion.
Much sturdier than a stiletto, but with a sleeker silhouette than a wedge, a block heel is your no-brainer must-buy shoe-investment right now.
I'm loving the ECCO Omak collection, which features a stylish wooden block heel, sophisticated Scandinavian design and a muted colour palette.
The perforated leather sandal comes in dusty pink, white and black, and has fast become my go-to day-to-night run-around summer heel.
Here's 3 easy ways to style a block heel