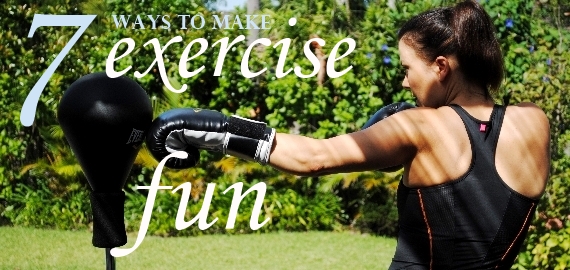 "It's boring!" is one of the Top 10 Excuses Women Make For Not Exercising.
And I'll admit I've fallen into that trap too. About a year ago I was going to the gym regularly and loved the classes I was doing. I was always amped afterward, and was proud of the changes it made to my body and my well-being. But then my favourite trainer left, and while I tried a raft of other classes, it just wasn't fun anymore. So I stopped going to the gym. My exercise clothes went into hiding, and I convinced myself that I'd get into it again when I had the time to find something I loved doing again.
Fast-forward a year later and I'm ashamed to say I've hardly done any exercise. My body shape had changed and sadly I'd found myself making excuses for not playing chasing games with the boys. Truth is I get too puffed after 5 minutes running on the grass.
So I've been looking into ways of introducing more movement into my days, and ways to make it fun.
Here's 7 ways I've discovered that have helped me get my exercise mojo back because they've made it a lot more fun.
1. Do things you love.
Hate spinning classes but love dancing? The thought of a gym makes you cringe, but love the sun in your face when you work up a sweat? Be honest with what you really like and create your ideal exercise environment. My love-affair with the gym ended when my favourite instructor left and there was no replacement for her high-energy boxing sessions. And also I felt cooped up indoors. So instead I asked Santa for a free-standing boxing pole which now lives on our back deck ready for a walloping in the fresh air when ever I'm needing a release. Love it.
2. Crank up the tunes.
What's not to love about rocking out with awesome tracks?!  I pulled out an old iPod and have downloaded a bunch of high energy compilations from iTunes. It's been fun to discover brilliant new artists and rediscover old favourites – hello Black Eyed Peas!
3. Mix it up.
Variety keeps everything spicy! A mix of strength and cardio exercises, high and low impact will keep things fun. At the moment I'm loving the boxing, walking with the kids, swimming and pilates. But have spied an amazing looking dance class at a local community centre which I'll try soon to mix it up.
4. Invest in new gym gear.
Because dressing in something new is always fun.
5. Reward yourself.
Kids love rewards and incentives, and it's the same with us. Decide how you're going to exercise for the week and reward yourself when you nail it.
I stumbled across an app that has made a difference to incentivising my boys to do little chores around the house, and I've added a bunch of my own to-dos onto the app too. I then reward myself with a treat such as a mani/pedi if I've ticked everything off. I've not been to the nail salon every week, but my nails are getting much, much more tlc than they have in a long time.
6. Exercise with others.
Instead of a weekend coffee with a girlfriend, take a walk together instead. Or get moving with the kids: bike rides, swimming at the pool or beach (you'd be amazed at how much movement it takes to duck away from kids 'bombing' you at the pool!) or encourage them to join in with your workout routines. My boys now even have their own little boxing gloves to use on my boxing pole.
7. Set goals and monitor your progress.
Ok, that sounds super boring, but it needn't involve an Excel spreadsheet. It can be as simple as stating to yourself: 'I want to be able to walk up the steep steps at the local park without puffing before Easter," or "By the end of April I'm going to be able to do every single ab crunch in my pilates class, properly." It's pretty fabulous when you've done it.
How do you keep exercising fun and stay motivated?
I'd LOVE to hear your tips and ideas! 

More Fox in Flats: