Baby-wearing can be a convenient (not to mention snuggly) alternative to a pram when you're out and about with a bub. But what do you wear underneath it to ensure you and the baby are comfortable, and you look great too?
Let's start with what not to wear.
What to avoid wearing when you are wearing a baby:
Belts: Waist and statement belts usually sit in a similar position to the sling or your baby's legs, making them uncomfortable for both you and bub. Leave the belt at home (unless it's a discreet one that it holding your pants up, or one that sits low on your hips) and let the sling do the cinching around your waist.
Chunky necklaces: In front-carry slings, necklaces will hang at around the same height as your baby's face or get caught under the sling itself. Babies do not look cute with bauble shaped marks on their little heads. 😉
Dangly earrings: Shiny things swinging within reach are irresistible to a curious baby or toddler. Save yourself earlobe reconstruction surgery (yup, there is such a thing!) and stick to studs or go bare-lobed.
Embellishments on your top half: Beading, big buttons and other embellishments on your front or shoulders are likely to interfere with the placement of the carrier and make your baby's ride less comfortable. And you could damage that Sass & Bide top you splurged on – eek!
Heels: This one isn't compulsory – just ask Victoria Beckham – but your lower back will probably thank you if you stick to flats while baby wearing. If you must kick up your heels, stick to a sturdy wedge that isn't too high, or a block heel.
What to wear when you're wearing a baby:
Comfy tops
Soft clothes with few embellishments or fastenings around the sling area will be the most comfortable. But you needn't go all Plain-Jane either. Try tops with prints or soft decorations like ruffles, the bonus of this is if you de-sling throughout the day, you still look put-together.
Free People Sweetie Pie top (pictured) was $86.66 now on sale $44 
Splendid maternity fit racer back tank $54.16
Unconditional Stars And Stripes Ladies T-Shirt $43

Scarves that do double-duty
With necklaces, embellishments and earrings off the menu, one way you can jazz up your outfit is with a scarf. A soft cotton scarf like the one below or the ones we featured here have the added benefit of standing in as sunshades, spit-up cloths and even impromptu change mats while you're on the go.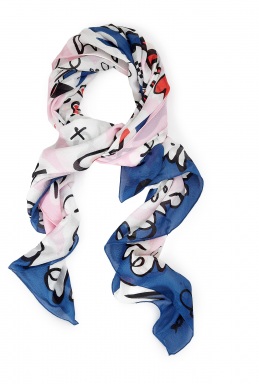 Navy Doodle Love Print Silk Valencia Scarf by Diane von Furstenberg $151
Small, cross-body bags
A big nappy bag plus a baby in a carrier can get heavy very quickly. Give your shoulders a break by choosing a small bag that fits the essentials for your outing (for a short wander, a single nappy and mini-pack of wipes may suffice). A cross-body strap that can go over or under the sling makes the bag even easier to carry and means you won't be constantly hitching the strap up on your shoulder.
Poppie Jones quilted cross body bag $21.71
Crown Vintage Vachetta Cross Body Bag $107
Bottega Veneta Leather Cross-Body Bag $211
Slip-on flats
The need for flats was mentioned above, but it's also worth considering how easy it is to slip your shoes on and off when you're bending around a baby and carrier. Do as you did when you were pregnant, and had forgotten what your feet looked like, by choosing shoes free from laces and buckles where possible.
Michael Kors jelly flat sandals $154 (pictured)
Sigerson Morrison Pointed Toe Mary Jane Flats $337
Yet to buy your baby sling?
Check out our favourite 5 baby slings and carriers here. Or shop the baby sling on the header image from kiekaboo.com.au  here.
What are your Do's and Dont's for baby-wearing?

More Fox in Flats: