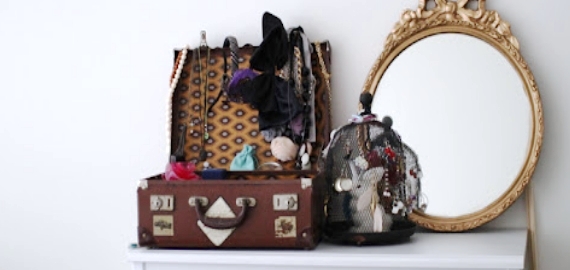 Don't know about you, but I can go through 'all or nothing' stages when it comes to jewellery.
When I'm at home I like to take all of my jewellery off – including my wedding ring. I find that with the frequent hand washing from changing nappies and wiping up goopy spills, it's just easier that way.
But conversely, I love to fossick around in my jewellery box and play dress-ups with my trinkets. Sometimes though, this can mean that I go overboard, piling on a bunch of jewellery in multiple layers, probably making me resemble a child playing dress ups instead of an aspiring fashionista.
But to avoid the pit-falls and extremities of jewellery-nudity or diamond-over-dosing, here are the 5 essentials for a foxy jewellery box.
1. A pair of hoop earrings
A friend also keeps a spare pair in her car. She said:
"I once heard Tyra Banks say you should always leave a pair in your car so if you are caught under-dressed, they will immediately spruce up an outfit."
2. A cocktail ring
Handy for a shot of colour and bling, and when worn with a strapless, halter or tank style dress of top, will make your arms look longer.
3. A cuff
A modern take on the bangle, and fun to stack with other wrist-adornments. If the new Tiffany & Co cuff, $9,750 (yikes!) is out of your price range, consider a Stainless Steel cuff subtly emblazoned with your choice of subway systems from NYC, London or Paris for just $37.
I love my NYC Metro Cuff sent to me by my friend Marnie! Shop: DesignHypeInc $37.
If you've got little ones, look for a soft cuff in leather or with tiny beads so when you hug really tight, you won't injure them.
As my friend Nina shared:
 "I invested in a few leather cuffs and woven bracelets. They added beautiful natural colour and texture to my basic outfits, yet were soft on the baby's skin when I held her."
4. A pair of studs
Classic, discreet and will take you from the playground to infinty and beyond.
5. An everyday necklace
A delicate glint of gold or silver around a woman's neck is oh-so-subtly sexy.
Want more? If you're breastfeeding, check out Easy ways to accessorise while nursing,
What's your favourite piece of jewellery? And do you nude it up, jewellery-wise at home, or do you keep yours on all the time? 

 Jewellery Box image via the stunning blog, Romiya