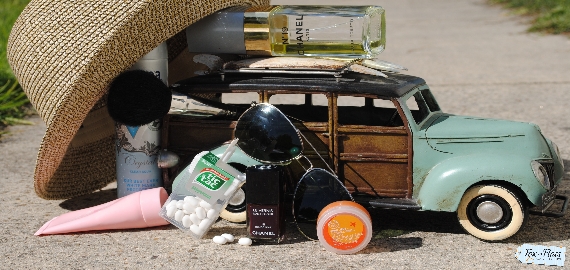 62% of mothers spend less than 15 minutes getting ready in the morning, and many of us spend large chunks of our day in the car ferrying the kids between activities, attending appointments, and running errands.
So it's little wonder our cars can sometimes resemble a mobile make-up bag (or a dump truck, depending on how you roll).
Fox in Flats persuaded 16 women to share what they keep in their cars to help them look presentable while on the go.
Take a sneaky peek with us into the consoles and glove boxes of mums around the country, and navigate the road in style.
31 things to stash in your car for style on the go:
Mobile make-up.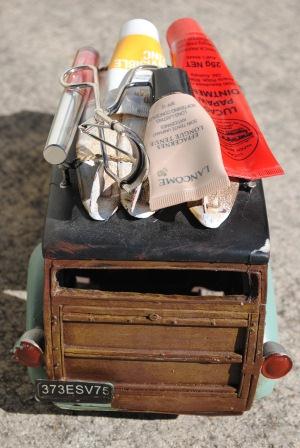 1. Paw-paw ointment.
"Lips, eyes, cheeks, lashes, elbows, heels and cuticles. This stuff is the ultimate multi-tasker."
2. Lip-gloss.
"I always have one or two rolling around in the console. It instantly makes me look fresh and made up."
3. Concealer.
4. Red lip balm.
"I use NIVEA fruity shine on my lips, and it adds a fresh colour to my cheeks too."
5. Eyelash curler.
"I'm not a huge make-up girl, but a quick curl with these and it really opens up my eyes."
6. Tinted moisturiser with SPF.
"To reapply sunscreen on my face without that white chalky finish, I swear by Invisible Zinc."
7. Box of tissues.
Wardrobe on wheels.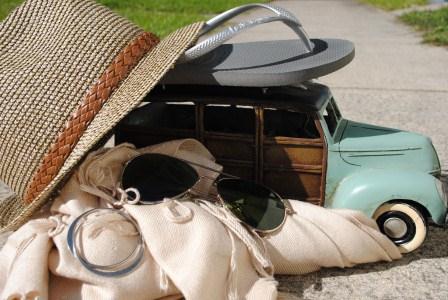 8. Spare sunglasses.
"I keep two or three pairs in my console so I can switch them around depending on my outfit."
9. Large scarf or pashmina.
"Handy to dress up a boring outfit, to keep warm, or for extra discretion when breastfeeding."
10. A spare hat.
"I stash a straw fedora from Witchery in my car to cover a bad hair day at school drop-off, or when running in to buy groceries on the way home".
11. Plain large silver hoop earrings.
"I once heard Tyra Banks say you should always leave a pair in your car so if you are caught under-dressed they will immediately spruce up an outfit."
12. Sarong.
"These come in handy as a beach wrap, impromptu beach towel, picnic blanket, or baby change mat."
13. Spare pair of flats or thongs.
"I slip these on while I drive, and to save my heels from scuffing."
14. Jacket or cardigan.
"I hate getting chilly standing around the playground!"
15. Rain coat and umbrella.
Freeway fresh.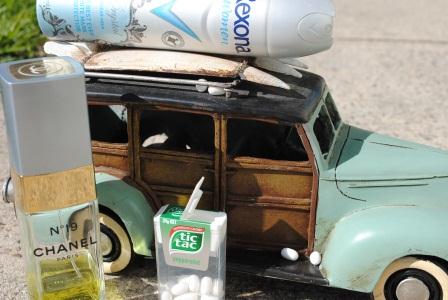 16. Perfume.
"I keep it there in case I forget to apply at home. I probably end up using it most days…"
17. Deodorant.
18. Chewing gum, breath-mints.
Top Head Gear.
19. Hairbrush.
20. Hair clips or bobby pins.
21. Hair ties.
"To do a quick pony tail when my hair goes feral."
Express mani.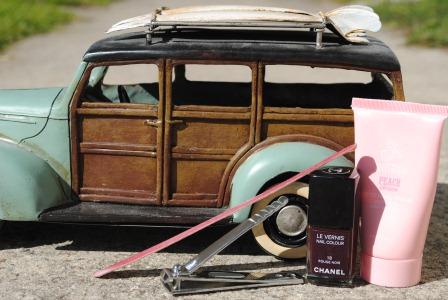 22. Hand cream.
"When I hop into the car, it's the first thing I do, apply hand cream. Mine contains SPF in a bid to avoid getting sun spots."
23. Nail clippers and file.
"Handy to keep nails in check at the traffic lights."
24. Nail polish.
"I've become a pro at applying it in the car. Great to cover up chips, and dries while you drive."
Clearway Cleaners.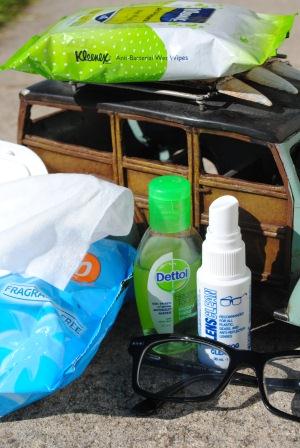 25. Baby wipes.
"To remove stains from clothes."
26. Hand sanitizer, antiseptic wipes.
27. Lint remover roller.
"To remove random fluff and hair."
28. Bleach pen.
"For stubborn stains that baby wipes can't remove."
29. Spectacle cleaner and sunglass wipes.
"My glasses always get so smudged, yet the only time I think of cleaning them is while in the car. Probably so I can see the road properly. Duh!"
Wax & polish.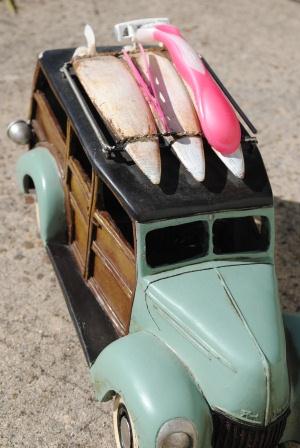 30. Tweezers.
"The outdoor light makes it so much easier to see the little hairs I miss when I pluck my eyebrows at home. I use a small hand mirror and sneak in a quick tweeze while at the traffic lights – but try not to get caught by other motorists!"
31. A razor.
"For the odd hair on your knees that you miss, and you only notice while driving."
Me? A quick scan in my car reveals lip gloss, perfume, 3 pairs of sunnies, tic-tacs, sunscreen, handcream, 1 bobby pin, a small hand mirror, baby wipes, tissues, and deep in my car console an aromatherapy mist purchased in 2005 claiming to "uplift, awaken and delight". Wish I'd found that years ago…
Ok now spill! What do you keep in your car to keep yourself looking presentable?