When it comes to budget beauty buys, I'm a bit of a trainspotter.
I can't help monitoring the annual beauty award lists published by the glossy magazines for cheap and cheerful beauty products and cosmetics.
Beauty editors get to sample, analyse, and compare everything on the market, so these lists are a great summary of their findings.
Since I've had kids, I'm especially on the look out for items recommended by the beauty experts that I can pop into my trolley while I do the weekly grocery shop.
My obsession can be broken down into four parts:
1. Buying in the grocery store means I can avoid dragging the kids to the beauty counter with me. I once had a very bad experience involving a display of MAC eyeshadows, a baby's bottle, and a rusk that I'm reluctant to repeat again.
2. Like most mothers, I don't really splash out on many things for myself. I like to spend any spare cash I have on treating my boys.
3. Somehow, a $50 lipstick just doesn't do it for me anymore. Actually, that's a lie. I just can't afford to spend $50 on a lipstick anymore!
4. In my mind, anything that is bought in the supermarket is a boring old household essential. Therefore, if some makeup, skin care, or delicious smelling pampering girly treats happen to find themselves wedged into my trolley among the bread, carrots, milk and baby wipes, they must also be 'household essentials'.
Clearly it's an obsession based on a solid, rational, fact based foundation…right?!
Given this obsession, and my love of a beauty award list, I've created one for Fox in Flats.
The only qualifier is, the product must be available in any mainstream grocery store. I bought these from my local Coles Supermarket.
The Inaugural FoxInFlats.com Beauty Awards from Aisle 5.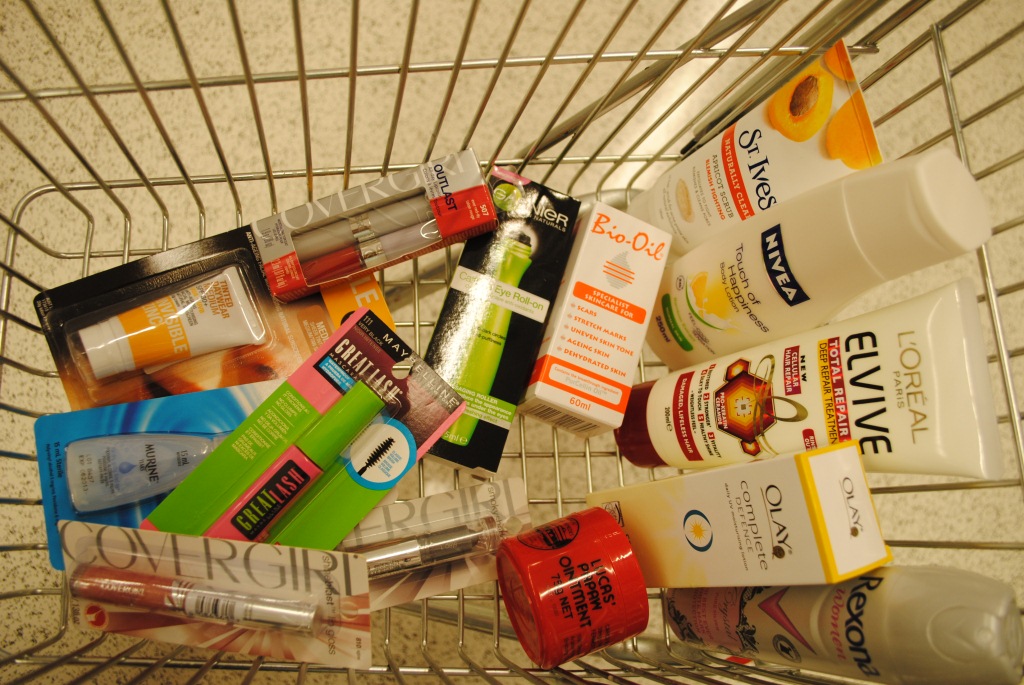 Clockwise from top left.
1. INVISIBLE ZINC Tinted Day Wear SPF 30+. $31.
Zinc sunscreen, mineral makeup, and sheer coverage all in one. Emily Taylor, Beauty Director of marie claire keeps this in her cosmetic stockpile, and so do I. It's great to know your skin is protected well when you are outside playing tag with the kids.
2. COVERGIRL Outlast All-day Lipcolour. $21.50.
COVERGIRL sponsor America's Next Top Model, which I have watched every Tuesday night with my niece Jacqui for the last 5 years. Given my frequent exposure to the brand, you would think I had trialed their latest products sooner, yet it was only last week on impulse that I tossed this into my trolley while at the supermarket. I applied it before I went out for drinks for Jacqui's birthday on Saturday night, yet many many hours, and many many champagnes later, it was still perfectly applied to my lips. Love it! Bought another one yesterday, in a different shade. Be warned though, the colour saturation is pretty strong, so if you do try it, go for a nude or neutral colour on your eye, or your kids will think you are Lady Ga Ga.
3. Garnier Skin Naturals Caffeine Eye Roll On. $11.50.
Winner InStyle 2011 Best Beauty Buy. I'm yet to try this, but it claims to reduce puffiness under the eye. Given the lack of sleep I've had lately, my sordid love affair with caffeine, and the kudos surrounding this award, I'm giving it a try this week.
4. BIO-OIL $16.
Like an eraser for scars and stretch marks. Caesarean scar? Pffft!
5. St Ives Naturally Clear Apricot Scrub. $9.99
Voted Best Face Scrub, Teen Vogue Beauty Awards, 2011. Gotta love stealing beauty tips from the 'youth of today', right?!
6. Nivea Touch of Happiness Body Lotion. $5.40.
Crowned Best Body Product Steal in the 2011 Prix de marie claire Beauty Awards. Feels lovely and smells divine.
7. L'oreal Paris ELVIVE Total Repair Deep Hair Treatment. $9.95.
After a summer in the sun, my hair needed some TLC. This is 200ml of love. Awarded Best Haircare/Styling Product Steal, 2011 Prix de marie claire Beauty Awards.
8. OLAY Complete Defense Moisturiser SPF 30+. $14.95.
The Olay brand always performs well in beauty and skin care awards. At this price I never skimp on an application, and it seems to work just as well on my skin as the more complex formulations.
9. Rexona Women Crystal Anti-Perspirant Deodorant. $5.50.
Ensures you don't get those pesky white marks on your black clothes. And it's strong enough to use before exercising. If only Rexona made something to prevent pesky marks from grubby kids!
10. Lucas' Papaw Ointment. $5.
This product has such a cult following, that the Australian Vogue Forum has a thread with 85 fans raving about it. Use it on lips, dry heels, cuticles, rough elbows, ingrown hairs, or to add shine to your cheek bones. Even cracked nipples and nappy rash are sorted with this. Some of the fans claim this is a great cheap alternative to the cult beauty product, Elizabeth Arden 8 hour cream, which is nearly eight times the price.
11. COVERGIRL smokyshadowblast. $17.95.
Looks like a double ended crayon. Application is easy and fast. Just keep the kids away from them. Voted best eye shadow, Teen Vogue Beauty Awards, 2011.
12. MAYBELLINE Great Lash Mascara. $15.95.
Has pretty much won every beauty award, ever.
13. COVERGIRL shineblast lip gloss. $13.50.
Kind of watermelon flavoured, a subtle shine, with a pleasant texture, and lasts. Best lip gloss, Teen Vogue Beauty Awards, 2011. Cheap enough to buy a few, and stash them in your baby bag, the car console, your handbag, and the pram.
14. MURINE Eye drops. $8.50
I don't know if it is the sleep deprivation or just old age, but my peepers won't even open in the morning without a few drops of this.
What is your favourite beauty product from your local supermarket? Anything that should be added to this list?