Now that the weather is warming up again, it's time to replenish those stockpiles of sunscreens, and re-think our beauty regimes to ensure our skin is protected for the summer ahead.
Like 62% of women with young kids, I've got less than 15 minutes to get ready in the morning, so products which do double duty are essential. I've been using INVISIBLE ZINC Tinted Daywear SPF 30+ for years, as it combines Zinc sunscreen, mineral makeup, and sheer coverage all in one. I can whack this on in seconds and know my skin will be well protected when I'm outside playing with the kids.
But, I've got some pretty dark circles under my eyes from cumulative lack of sleep since the boys were born, and my skin tone is less than perfect, so I'll always add a touch of concealer, a lick of foundation and sometimes even a hint of powder to even things out a little bit more.
Now, I can ensure my skin is even better protected from those wrinkle-forming UVB and UVA rays as INVISIBLE ZINC has extended its range of products to include a foundation stick, loose powder and sunscreen moisturiser.
Designed to complement the award-winning INVISIBLE ZINC Tinted Daywear SPF 30+, these products will ensure our skin remains well protected, yet flawless, throughout the summer.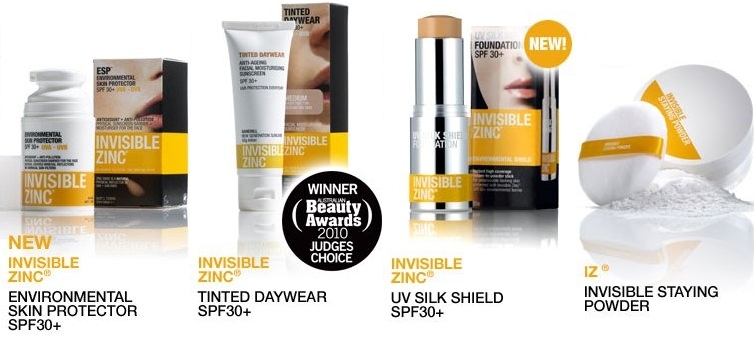 (Left to Right)
INVISIBLE ZINC Environmental Skin Protector SPF 30+ 50mL $35. Use instead of your regular daily moisturiser to reflect UV light away from the skin.
INVISIBLE ZINC Tinted Daywear SPF 30+ 50g $32. Featured in the 2011 Fox in Flats Inaugural Beauty Awards from Aisle 5 for it's awesomeness. Sheer mineral coverage, moisture and sun protection in one.
INVISIBLE ZINC UV Silk Shield $42. This two in one cream-to-powder foundation stick delivers a high UV reflective barrier whilst offering all-weather water-resistant coverage. Can be used sparingly as a concealer, or you can build up coverage for a flawless finish. The yellow-based colour is flattering on most skin types because it neutralises any pink or red undertones and results in a clearer and more even complexion.
INVISIBLE ZINC Invisible Staying Powder 12g $38. Designed to set and fix Tinted Daywear with an invisible, natural finish.  A no-colour loose powder that smooths away imperfections, evens and softens skin with an invisible finish. Just like naked skin, only better.
Getting protected – and flawless – for summer is a simple as adding these to your shopping list and popping them into your trolley next time you are doing the groceries. The range is available Priceline, David Jones, Myer, selected pharmacies and grocery stores nationwide.
This promotion is now closed.
Congratulations to Lauren Barnes, you've won this great prize from INVISIBLE ZINC.
Or, try your luck at winning an INVISIBLE ZINC Summer Benefit Pack!
Valued at $129, the INVISIBLE ZINC Summer Benefit Pack includes:
1x Tinted Daywear SPF30+ valued at $32
1x Junior Clip-on SPF30+ (perfect for clipping onto the baby bag or pram),
valued at $19.95
1x ESP Moisturiser SPF30+ valued at $35
1x UV Silk Shield SPF30+, valued at $42
Entry is simple:
Tell us, in 25 words or less, how Invisible Zinc will benefit your summer in the comments section below.
The giveaway is open to Australian residents only.
You may only enter once.
Entries will be judged by Nuffnang and drawn on 25/11/11.
The winner will be announced on Fox in Flats.com.au.
For full Terms and Conditions of this Nuffnang Sponsored Promotion click here.
Good luck!

Click here to SUBSCRIBE and receive the Fox in Flats newsletter, weekly.