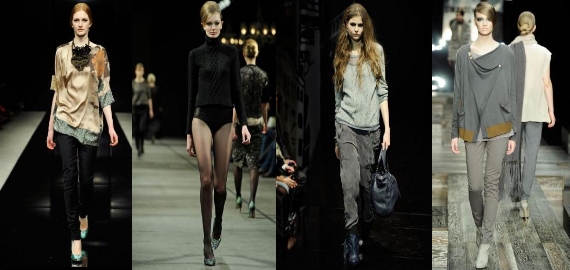 Ever seen those articles about runway fashion shows and thought "OMG, those outfits would look just fab on me as I pop out to buy a litre of milk?" Me neither. Sometimes, it's hard to really understand what's happening on a catwalk and translate it into everyday life.
Hopefully that's where I come in.
Having just returned from a whirlwind trip to Denmark to attend Copenhagen Fashion Week with fashion media from around the world, I've got the scoop on what went down the catwalks that'll also work well on the sidewalks in suburbia.
Here are my picks:
Chunky Statement Jewellery
Rutzou's Autumn/Winter '12 range featured draped, loose, feminine silhouettes that are gorgeously wearable – perfect for pregnancy or disguising a post-baby belly –  yet it was the chunky neckpieces that really made a statement.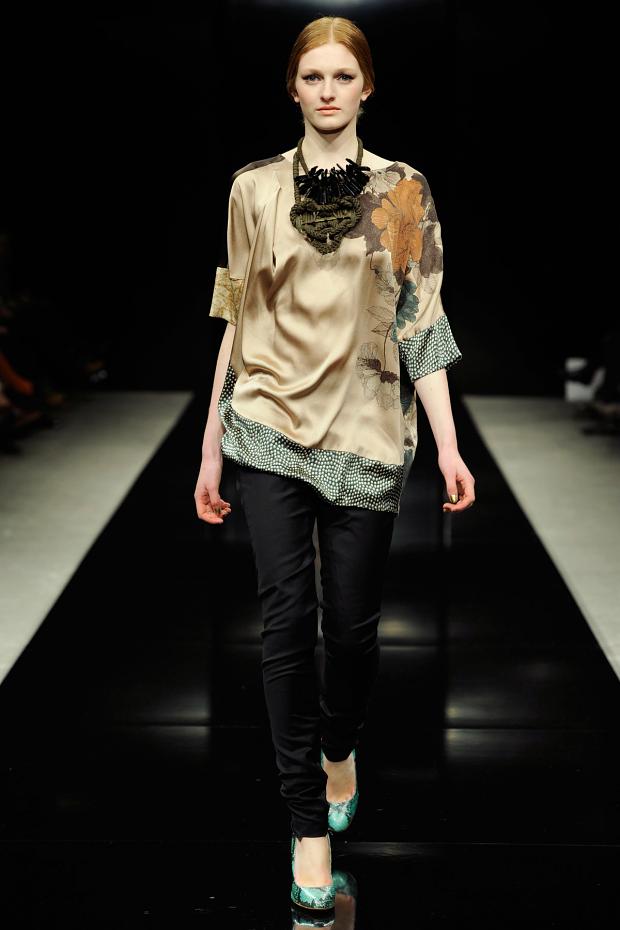 TIP: Elevate your everyday jeans and t-shirt with a colourful neckpiece,  and keep the focus on your neck by slicking back your hair into a smooth pony or bun.
The Cape-Cardi
Is it a cape? Is it a cardigan? Is it a wrap? Whatever you call it, the shape of this knit at Karen by Simonsen combines the best of all three. Definitely a style to keep an eye out for as we (reluctantly) head into the cooler months.
TIP: Keep it modern by ensuring the top fits around the shoulders, selecting a length that flatters your figure, and style it as you would a cape. Here are 5 ways to wear a cape without looking like Little Red Riding Hood.
Black turtlenecks
Super-chic but sight unseen for seasons, the classic black turtleneck made a welcome return to the catwalk at Marlene Birger as part of her Autumn-Winter 2012 range, which also featured loads of structured tailoring and dainty shoulder pads.
Marlene's designs are a favourite of HRH Crown Princess Mary, who wore a suit designed by her when we rubbed shoulders at the ECCO Walk in Style Awards.  Pics of our shoulder rubbing, and her shoulder pads, here.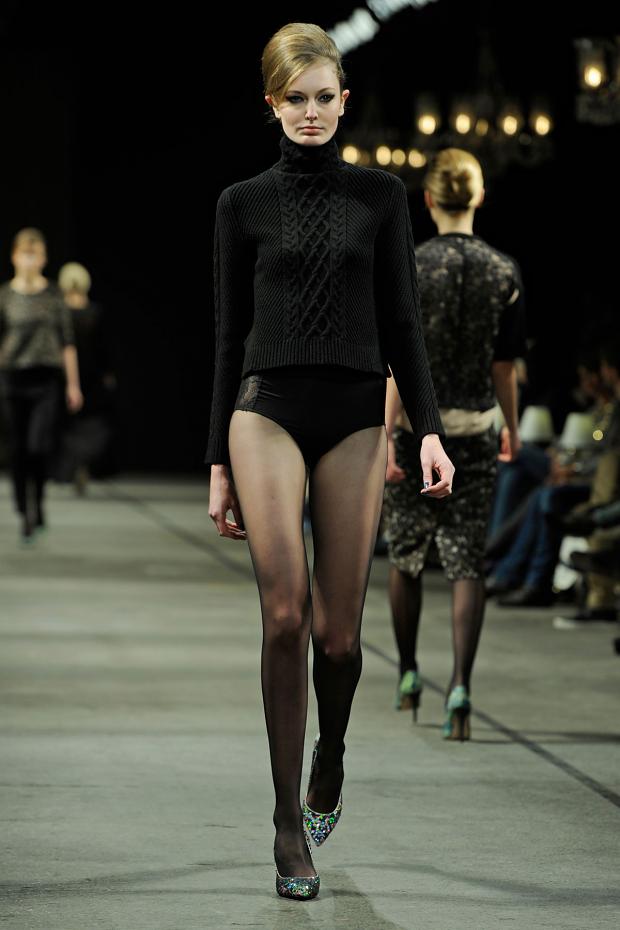 TIP: Look for a turtleneck that's not too thick so you still show the curve of your neck. Otherwise, you'll look more like a dolphin than a turtle (dolphins are super cute, but have no neck to speak off. Same as rugby players. You don't want to look like either of these, ever.).
TIP: Feel free to flash a bit of leg. The puritanical look up-top gives you permission to get some flesh out down-below. But rather than the no-pants option suggested by our helpful model above, opt for a skirt that falls an inch or two above your knee – much more suitable for the playground!
Bright boots
Backstage before the ECCO show, I spotted a bevy of bright boots resting up before they sprung into action on the catwalk. You should've seen the hi-jinx going on back there: smoking cigarettes, drinking Diet Coke… and that was just the boots!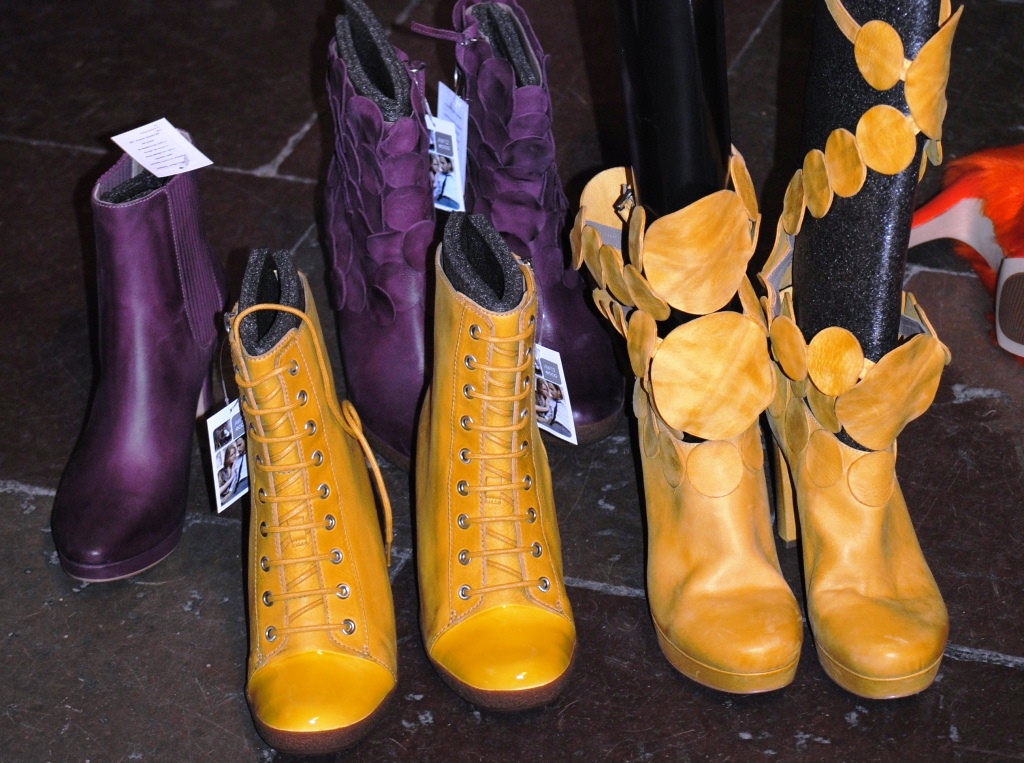 A bright boot like this yellow wedge lace-up, as seen in the ECCO AW  '12 range, will be a quick colour-fix for a dreary winter's day.
TIP: Team them with coordinating accessories to brighten up an all-black ensemble like this woman did on the street in Melbourne.
TIP: Try to keep the leotard for your next '80s party. And take it from me, that wide disc hat's gonna get hooked up somehow in the monkey bars. Don't go there.
Relaxed pants
Munthe plus Simonsen was by far my favourite show of the week. And it wasn't all the crate-loads of Veuve and platters of exquisite cakes they were sharing 'round that makes me say this, either. But that sure helped.
And it wasn't the great hair styling on the models – messy, bed-head, rock-chick – pretty much how my hair looks when I wake up in the morning (the messy part, that is). But that sure helped, too.
It was the pants. Soft, slouchy, with a bit of metallic hardware to toughen them up, and a bunched-up taper around the calves to reveal the thinner part of the leg before they're jammed into slouchy mid-height boots. Comfy, practical, and sexy.
TIP: To take your hair from bed-head messy to rock chick sexy, spray the roots with dry shampoo and tease from underneath. Create a straight part on top, then smooth down onto the crown of your head. Work some product lightly through the ends to tame split ends and fly-aways, then finish with strong hold hairspray.
Have you started thinking about what you'll be wearing in Autumn Winter 2012? Made any purchases yet? Or does it seem too far off to even be on your radar?
 Photography: Copenhagen Fashion Week®