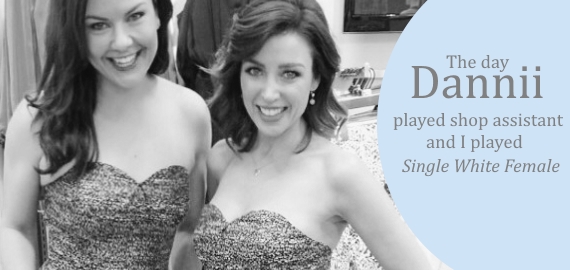 So last week, I rocked up to support my BFF at the launch of her new fashion range, and we both committed the ultimate style sin – we had the same outfit on.
Ok, maybe a few white lies have just been told. But what is true is that I did spend my morning with Dannii Minogue (who we all kind of think of as our BFF in a non-stalker way, right?!), and she did launch a new fashion range, and I may have tried on the dress she happened to be wearing.
Dannii told me about her new clothing range for Target a few months ago. The Petites Collection is designed specifically for smaller-statured women who struggle to find stylish clothes that fit their frames.
"I have to get almost everything altered to fit me," Dannii said. "Pants and sleeves from off-the-rack clothing are always too long, so I always have to take them up."
With around 40% of Australian women standing less than five foot three, this range is sure to have many sighing with relief."
"If you've ever had to take up the sleeves of a garment, found the shoulders too wide or the body too long, then you're a petite shape – regardless of whether you're a size 4 or 16," Dannii said.
Coffee in hand I turned up bright and early to Target's Bondi Junction store on the morning of the launch, before the doors opened to the public. Here's a snippet of what went down.
If Dannii ever needs to quit her day job, she'd make a damn fine shop assistant. She took me through the range like a pro, and sent me off to the fitting room with an armful of garments to try on. And even though at 5'6" I don't usually think of myself as petite, most of the range fit me like a glove. Here are a few of my faves that'll work on you too, regardless of whether you're petite or not.
The skinny jeans
Dannii said: "I know you love a coated black denim, right?! Well, check out the side panel on these babies."
I say: How did Dannii know I have two pairs of coated denim jeans in my wardrobe already? While length-wise they're designed for petites, these'll work for taller girls too if you don't mind flashing your ankles (particularly good for when you're wearing flats!). And the side panels add a twist that make it easy to justify buying another pair of black skinny jeans, because they're diiiiiiiifferent. That's my justification anyway.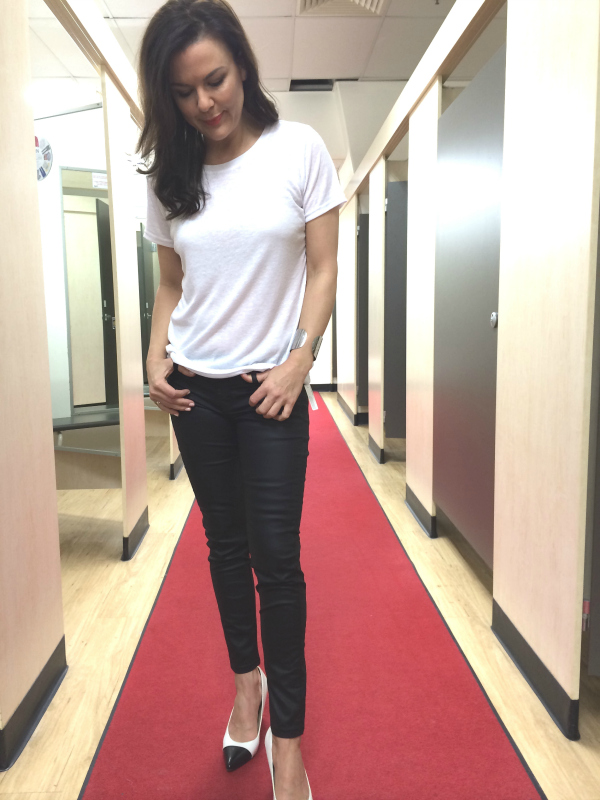 Dannii Minogue Petites Black High Waisted Skinny Jeans $59
The sheath dress
Dannii said: "Wait till you try this on – it feels like there's built in spanxs!"
I say: This is the perfect dress for the office, or lunch with the girls. The stretch fabric fits in all the right places, and the lining smooths any bumpy bits. They're bringing this one out in bright pink and black too – it's a must buy.
Dannii Minogue Petites Emerald Sheath Dress $69
The boyfriend jean
Dannii said: "I love these so much I wore them for 4 days straight last week. They're so comfy."
I say: She's right! As comfortable as a tracksuit pant, I've hardly taken mine off since I left the store, and my boys have taken to rolling their eyes every time I put them on again.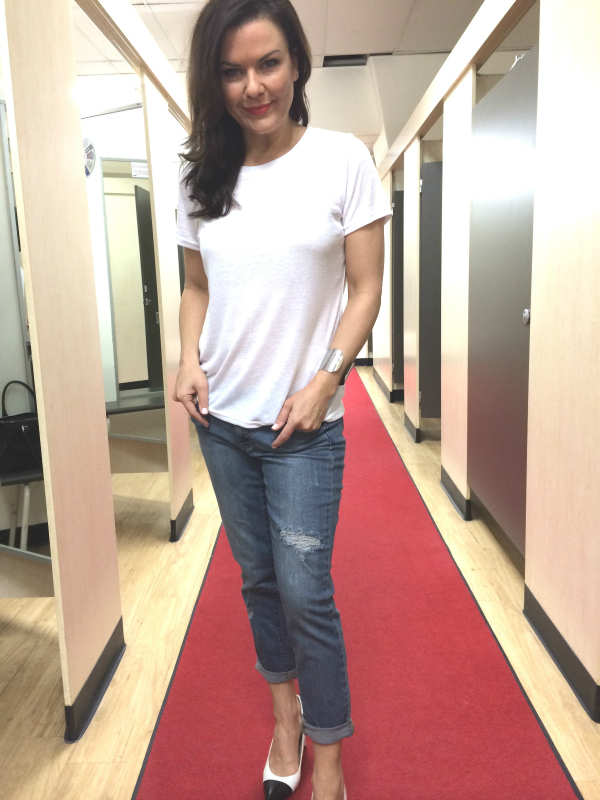 Dannii Minogue Petites Mid Wash Boyfriend Jeans $59
The hot dress
Dannii said: "This also comes with detachable straps, so you can easily change the look around."
I say: Ok, so maybe it was a touch 'Single White Female' of me, but I just had to try on the same dress Dannii was wearing because she looked smoking in it, and I was hoping a touch of that'd rub off on me. Plus, a dress with pockets wins. But if you buy one too and think you might bump into me, let's text each other first to make sure there are no red faces, ok?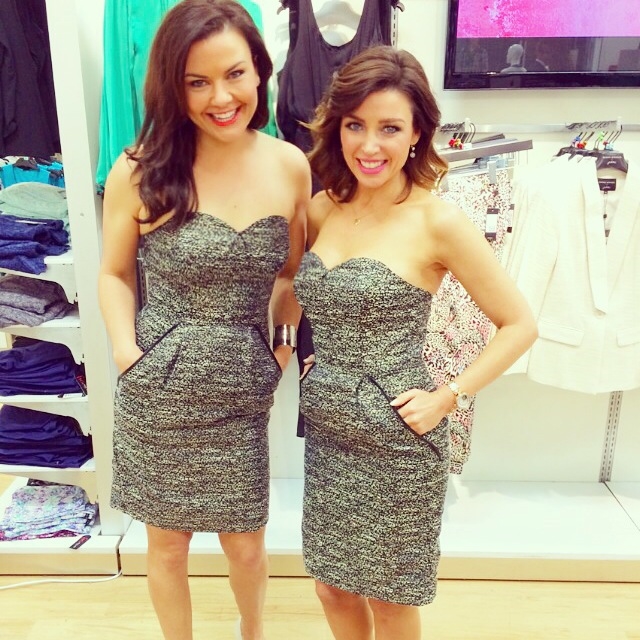 Dannii Minogue Petites Metallic Cocktail Dress $79
The range also includes wardrobe staples like a white shirt, white and grey tee's, a trench, a couple of sharp blazers, a killer pencil skirt, plus a couple of on-trend prints and pops of colour.
The Dannii Minogue for Target Petites collection is available in 100 Target stores across the country and online at target.com.au now, with prices ranging from $25 to $89. The second collection will be available early September.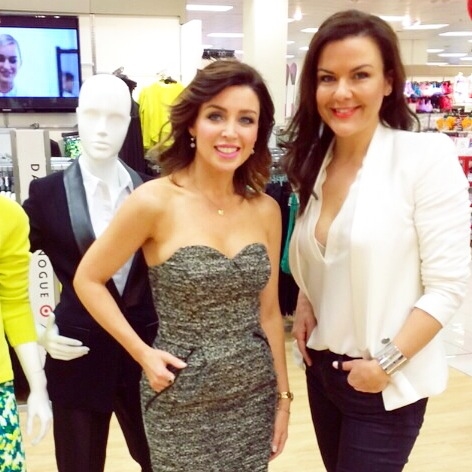 Can we all just pretend we can't see my bra?! 
Check out our interview with Dannii here.
Have you ever worn the same outfit as someone else? What happened?! 
And who else has checked out Dannii's Petites Collection in Target? What were your picks from the range?