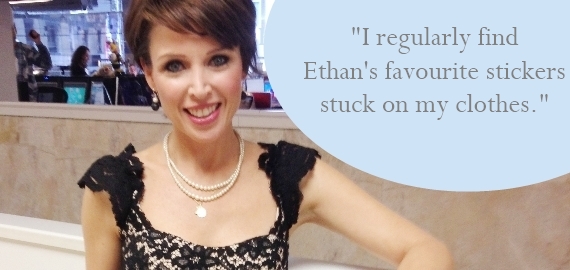 Recently, Dannii Minogue and I had a girly chat about navigating motherhood in style. Last week we published the first part of our 'Minogue Mothers' Group' where Dannii shared her biggest style challenges (including breastfeeding backstage at The X Factor in an evening gown!), her fave shoes, sunnies, pregnancy fashion essentials, and her sneakiest style secret.
Now, in the second half of our chat, Dannii reveals how she manages to fit in work since she's had her son Ethan, shares wardrobe updates that're perfect for busy mums, and talks toe tickling.
Fox in Flats: You're obviously super-busy. How do you manage to get out of the door and to work on time, without Vegemite stains from Ethan's fingers all over your pants?
Dannii Minogue: I do a lot of work from home when Ethan is in crèche. And then anything to do with my fashion business Project D London is done over Skype with my business partner, Tabitha, in West London after he's gone to bed.
That said, I'm still perfecting getting out of the door on time, and I regularly find Ethan's favourite stickers stuck on my clothes."
Fox in Flats: Project D London is known for making full-length sequin gowns. Is there anything in the range that'd be suitable for busy mums to add to their wardrobes?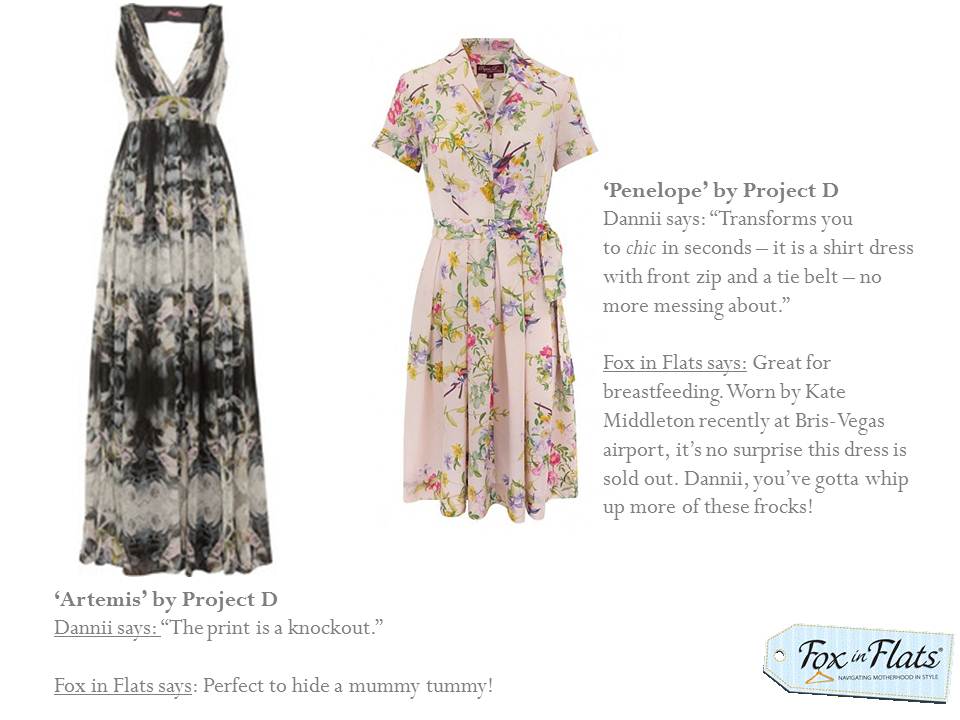 Shop Project D
'Dakota' Fitted Gold Sequin Jacket $360 from my-wardrobe.com
 'Artemis' Empire printed maxi dress $349.7,
Fox in Flats: Designing, singing, presenting… you've had so many incredible professional experiences. Are there any you draw on for parenting?
Dannii Minogue: I actually just find myself repeating things my parents said to me. I remember years ago my Dad telling me that the things he said that annoyed me would more than likely be exactly the same things I would say to my own kids…and he was right!
Fox in Flats: When my boys were babies, I used to do little song and dance performances to entertain them while feeding them dinner (don't laugh!) Do you perform for Ethan and if so, what's his favourite act?
Dannii Minogue: I hide under his high chair and tickle his feet!
There's nothing better than seeing the edge of his eyes crease up and hearing his uncontrollable laughter."
Fox in Flats: And finally, what's your top tip for looking good once you become a mum?
Dannii Minogue:
Sleep! Night night lovely ladies…don't forget to take a nap whenever possible…and enjoy it!"
Want more Dannii?
Read part 1 of our chat with Dannii here.
Check out Dannii's blog.
Drool over her Project D designs.
Tweet her @DanniiMinogue.
If you were in a Mothers' Group with Dannii, what would you chat about?
What's your top tip for looking good once you become a mum?

Image Credit: KDBArtists PtyLtd
For more Fox in Flats: