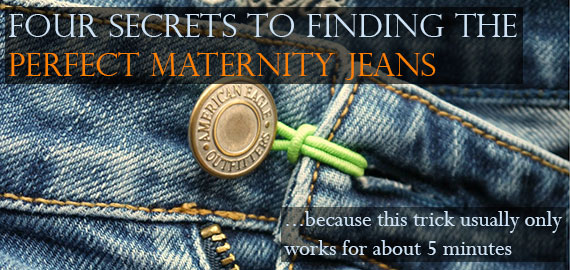 Congratulations, you're pregnant! Now, if you're a Kardashian, you're probably looking forward to nine months of dressing your bump in tight leather pants, spangly dresses and pencil skirts. However, if you're a normal* person, you're probably just looking for a decent pair of jeans you can wear day in, day out, which will sit somewhere in the range of both cute and comfy.
In fact, Fox in Flats got this very question recently in the form of an email from a reader, Fiona:
Love your blog and always look forward to getting some Fox in my inbox! But I'm wondering if you could help out with something…

I'm pregnant with my second, due in September. My first bub was born in March a the end of a hot summer where I managed to get around in stretchy t-shirt dresses and sandals.

As winter is approaching I'm wondering if you or any readers have advice on a good brand of maternity jeans? "
We took Fiona's question to the most stylish group of lasses we know – you! And boy did you deliver. Fox in Flats' Facebook page was flooded with suggestions on the best maternity jeans around. A rundown of your tried-and-tested brands is below. Thankyou for being so generous with your tips, these are all so awesome!
These were the top three favourite maternity jean brands, according to our Facebook community:
1. Jeanswest
What you said:
"So comfy!"
Jeanswest maternity skinny jeans $69.99 or 2 pairs for $109
2. Mavi
What you said:
"The secret fit belly. Amazing."
Mavi Serena maternity jeans $119.50
3. Pumpkin Patch Maternity
What you said:
"Got me through last winter"
Pumpkin Patch straight stretch maternity jeans $59.99
Awesome Maternity Jeans: Honourable Mentions
How do you know the maternity jeans you're eyeing off will be perfect for you?
Here's 4 things to keep in mind:
1. Under vs over bump:
Over-bump styles feature a soft, stretchy waistband that fits over the top of the bump. The extra fabric means there's no chance of undie-flashing, and a smooth line that won't cut into hips or create a muffin top. In winter, the extra layer over the belly and lower back keeps you cosy without overheating.
Under-bump styles tend to look like normal jeans from the back, but have elastic or adjustable panels over the front pockets that accommodate your growing belly. Because the stretchable sections tend to be well disguised, many mums get away with wearing under-bump styles in the months following birth.
2. Boot cut, skinny or straight leg
Even if you've been a boot-cut devotee in the past, consider a slim or straight cut in maternity jeans. As your bump grows, a skinny leg can balance your growing curves. Also, maternity-style tops, with their long lines and flowing silhouette, tend to be the shapes that work best with a slim leg.
3. Fabric
Pick a fabric with a bit of stretch – your jeans will be more comfortable and much easier to wriggle in and out of, especially later in pregnancy!
4. Length
Nothing makes jeans look more polished than hems that fall to just the right length. Many jeans shops will have hems tailored for an extra fee, or else simply take them to a tailor or alteration specialist. Given that you are more likely to be wearing flats than heels over the coming months (protect those lower backs, ladies – you'll be carrying a bub around soon enough!), have them hemmed to hit your heel in boot cut, straight or slim styles. Edgy mamas choosing skinny jeans might also consider an ankle-grazer length.
Did your fave make our list?
What tips do you have for finding an awesome pair of maternity jeans?
* Sorry Kim, Khloe, Kourtney, etc.

More Fox in Flats: