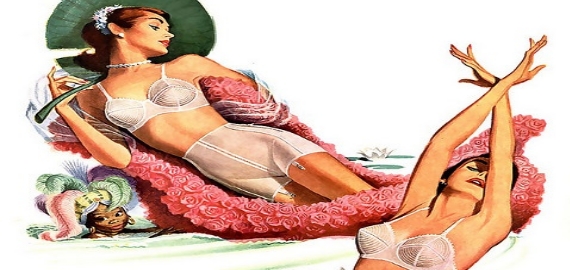 There I said it.
Over the last few years, I've packed a fair bit of supportive Lycra and spandex into the second drawer down.
Don't get me wrong. The first draw in my wardrobe has more than it's fair share of lacy delicates and sheer, saucy numbers.
But it's the second drawer down, where I store my shape-wear that's packed tight as the change rooms at a Sass & Bide sample sale.
My first real shapewear purchase was back in 2006, a few weeks before my son's christening. I'd bought a pretty dress that was a total departure from my usual style, but which looked like the kind of thing I thought I 'should' be wearing as a mother*. Think Alannah Hill, florals and ruffles**.  It was 5 months after having my baby, yet as I was ever-so-slowly working off the 20 kgs I'd piled on, I still looked at least 5 months pregnant. A quick trip to the department store between feeds, however, and I was the proud owner of a pair of tummy-suckers that would've made Grandma M proud.
And I've not looked back.
Brilliant for sucking, smoothing, squishing, and flattening, these garments are every woman's wardrobe essential, regardless of shape and size.
And happily, these days, form and function are having a party, and old-school shapewear is making a swan-like entrance.
These body-shapers are on high-rotation in my lingerie drawer, and are all available online now.
Great to wear under a t-shirt and over the top of your jeans to smooth out a touch of 'muffin top'.
Will smooth out underwear lines, flatten lumpy bits, and the streamlined design means it won't detract from the fab action happening on your favourite dress.
The panels smooth the bod, and the padded cups shape the boobs. Love!
This high-cut thong pulls in the tum, without leaving a visible panty line. Great under jeans.
Now, I'm keen to expand my second drawer down with more body-sculpting goodies (am such a cheater!) so spill:
What kind of shapewear do you swear by? 
Vintage lingerie ad via The Lingerie Addict

More Fox in Flats:
* I've since realised there's no such thing.
**Love this look on everyone else, but I feel more comfy in a monochrome streamlined kinda get up.