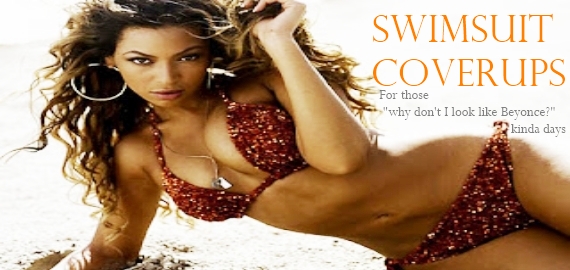 If you've ever lined up for a Pine-Lime Splice at a beach kiosk with a queue full of sweaty teenage boys; if you've ever felt self-conscious in your swimmers because your body doesn't look like Beyonce's; or if you've ever found yourself on the beach frying in burning rays, then you know why it's handy to have a cover-up to slip over your swimsuit.
So we've scoured the 'net to find 7 beach cover-ups to suit every style.
Preppy
So Low cover up shirttail dress $78
This cover up looks like denim but is made from ultra-comfy jersey. Once summer is over, simply pop a pair of leather paneled leggings like these underneath and team with your fave knee-high leather boots.
Similar: Splendid Circus terry cover up dress $95, Vix Swimwear nubia cover up $134
Goes great with: Mara Hoffman Frida lattice one piece swimsuit $187,
Mouille two-tone wrap one piece suit $114.75
Luxe
Nookie beach knitted throw $126.65 (reduced from $248!)
The long lines of this throw add elegance to most shapes. The open front looks super cute over a pregnant belly, too.
Similar: Eberjey free spirit cover up $110
Goes great with: Mink Pink longline bikini set $125,
Baku Australia Moroccan Spice Bikini Samba $94.99
Fashionista
We Are Handsome silk cover up dress $291
Abstract geo prints? Tick, tickety tick. Just add jeans and a bright blazer and you'll still be wearing it once the endless summer ends.
Similar: Uintah Katie cover up dress $154
Goes great with: Insight Del May one piece $77.35,
Asos fuller bust twist bikini top $9.35
Boho
Asos tapestry wide-leg beach pant $42.50
For a different take on beach cover ups, try light, wide-legged pants like these ones. Team with a fitted singlet or floaty tunic when you're not waterside.
Goes great with: Mink Pink Della 1950s bikini set $115.60,
Asos jewel print one piece $51
Now, back to that beach kiosk for another round of Splices, and 'kill it' like Beyonce!
What do you wear to cover up at the beach? Do you match your cover up to your swimsuit, or are you more a throw-on-whatever's-at-hand kinda gal?
And even more importantly, what's your favourite beach-side ice-cream treat?

More Fox in Flats: