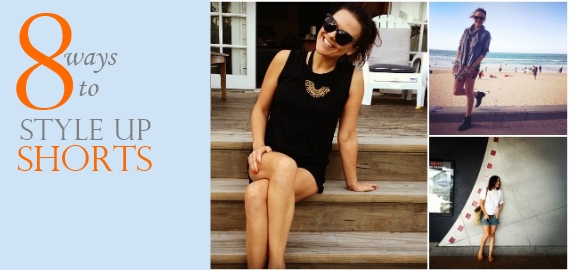 Perfect for sitting cross-legged in the park with a creamy ice-cream, bending over to wipe runny noses, and bouncing around on the trampoline, shorts are a summer staple for one-third of women with young kids*.
But it's all too easy to just top them with a tank and slip on a pair of thongs, which can end up looking as sloppy as the leftover banana in a bowl of warm fruit salad.
Yet a few quick styling tips will have you looking crisp, stylish and cool when the heat is on.
Here's 8 tried and tested favourites with a couple of real-life examples from my Instagram feed to show how they've worked for me, and might also work for you too.
Tailor your top
While it's easy to pull on a stretchy singlet or tee-shirt, they can sometimes be unforgiving if you've got a bit of a mummy-tummy (who doesn't?!) or suffer from that pesky back-fat lumpiness which even the best T-shirt bra on the market can fail to hide.
Instead, top your shorts with a crisp, cool cotton or linen shirt, a tailored shell top, or a structured blouse.

Flatter with flats
Flip-flops are great for the pool or the beach, but for everywhere else, it's worth that teeny bit of extra effort to wear a flat shoe with more coverage. Soft leather loafers, lace-up brogues, ankle boots or classic ballet flats will not only balance out the expanse of leg you're flashing, they'll also add some instant polish.
Experiment with texture
Cotton shorts are the easy summer go-to, and yup, they feel great. But why not take things up a notch and add to your repertoire with a pair of leather shorts for an easy-edgy vibe, or some whisper-soft silk or rayon shorts for when you need a touch of luxe?
The long and the short of it
Balance your silhouette by teaming shorter, fitted shorts with a loose, flowing blouse or cami, or even a longer-sleeved top with the sleeves rolled up.
If wider, knee-length shorts are more your speed, elongate your figure with a sleeveless shell-top or tank. It's all about having a balanced amount of skin on show.
Waist it
A beautiful leather belt will add instant polish to the most casual of outfits. But don't be afraid to experiment with bright pops of colour, a gorgeous scarf, or even his tie.
Lengthen your legs
Nude-coloured shoes will always give the illusion of lengthier pins. Look for a pair with a low wedge and you'll have instant "Legs 11".
For a cute, Alexa Chung-inspired alternative, slip in to a pair of Mary-Janes or T-Bar flats with a low block heel. They'll give you a leggy look that's still practical enough for pushing a pram.
Extend into night
Turn your shorts into party pants by adding your favourite strappy heels, a top that sparkles, and a classic blazer for cooler nights. All you need now is champagne!
Hem check!
Like when you were at school and the headmistress would check the length of the hem on your uniform, it's worth taking stock of where your shorts are falling to. Because no-one wants to end up in Style-Detention.
A quick way to check if your shorts are truly flattering to your figure is to look in the mirror and find the area on your legs where your thighs start to visibly taper toward your knees – that's the sweet spot on your body for your shorts to end up.
And always, always remember, butt cheeks should only ever be visible in public when they belong to your cute baby's tiny bottom.
*The Fox in Flats Survey on Motherhood and Style

More Fox in Flats: