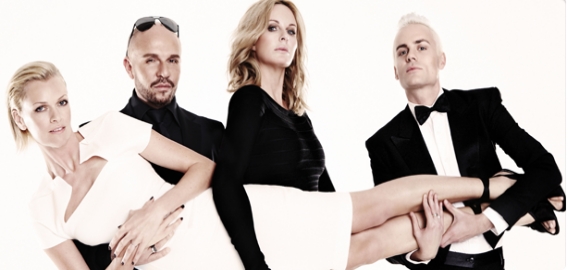 Recently on Twitter I saw a chat between some of the judges of Australia's Next Top Model: Charlotte Dawson, Alex Perry, and the models' mentor, Josh Flinn.
Mysteriously, they were talking about 'SLATS'.
What the hell are Slats?
I didn't want to interrupt their twitter-sation to ask, so instead, I waited until I interviewed Josh for Fox in Flats so I could ask him myself.
Fox in Flats: Dude, what are 'SLATS'? Is it a replacement for the word 'mole'?
Josh Flinn: (laughs) "Oh no no no. It's what we call 'sensational flats'.
They're flat shoes that are bejewelled, bedazzled, and a little bit 'Gold Coast'. Think lion and animal print. Fun. If your feet start to ache because there's so much 'bedazzle' on them, then good!"
I'm thinking this little pair from Marc Jacobs might fit the bill:
For more SLATTY women's shoes, check out ASOS.
And for more from our interview with Josh Flinn, check out the handy things we can all learn from models, the 2 most surprising things you'll find in a make-up artist's kit, and find out how to look 'expensive' when you're on a budget.
Do you ever wear SLATS? What are your favourites?