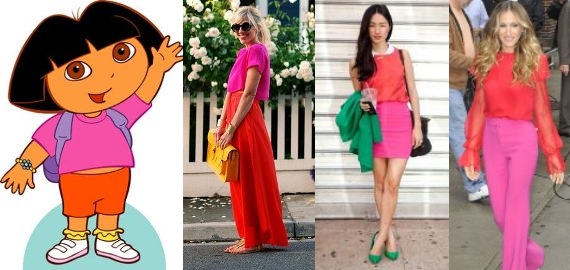 Last weekend over mini-tacos and virgin margaritas, Fox in Flats caught up with Dora the Explorer to discuss her style inspiration, her approach to accessorising, and her views on Smurfette.
Fox in Flats: Dora, it seems  a lot of people have started copying your look lately.
Dora: Correctamundo! For a long time people questioned my fashion sense, but I'm now in high demand as a stylist to the stars.

Sarah Jessica Parker, styled by Dora. Photo: PacificCoastNews
Fox in Flats: Can you tell us the inspiration behind your iconic look?
Dora: Yes. Clean clothes. The pink top, orange shorts and yellow socks were all I could find that were clean on the day they drew me.

Fox in Flats: You've accessorised with a backpack. Talk us through your thought process.
Dora: Honestly, I think they are ok for a kid like me, but if you're old enough to drink a real margarita you should be thinking carefully about how you wear one, if at all. There are some cool ideas here on how to pull it off.
Also, unless your bag is magical like my backpack, I'd team your outfit with green, yellow, or white accessories instead.

Taylor from Sterling Style colour blocking on her block
Fox in Flats: Cartoon characters seem to be impacting fashion in a huge way at the moment. For instance my pedi was influenced by Smurfette. What are your thoughts on this?
Dora: Smurfette kind of intimidates me. But your feet are really cute. So tiny!
Going feet to feet with Dora
Fox in Flats: Thanks for the tips. And I must say, you are even prettier in real life.
Dora: No, no, ThankYOU – and to all of the mums out there! I'd be out of a job if you didn't buy into my subtle messages of girl-power. Adios amigos!
Have you been influenced by Dora's 'colour-blocking' style?
What's your favourite bright colour combo?

"C'mon, vamanos, everybody let's go" and subscribe to the Fox in Flats newsletter for a weekly round-up of all the good stuff from Fox in Flats.