There is nothing more fun than re-living the simple joys of childhood when you are in the playground with your kids.
Whether it's sailing in the air on the swings, or speeding on the slides, that thrill and joy is as uplifting as a double shot latte with two sugars. Without the come down.
This gorgeous girl was grinning with glee as she joined in the fun at the playground. I was grinning to see such a perfectly practical outfit out to play.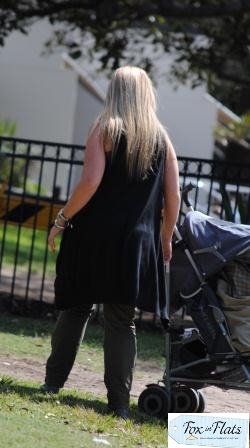 Reminds me a bit of this inspired cargo-based outfit we spotted a few weeks ago. The common elements? Cargo pants, classic aviators, stacked bangles and bracelets, and an oversized watch.
For a more streamlined look, consider a skinny cargo inspired jean like the J Brand Houlihan.
Or, for a less expensive and undoubtedly more comfortable option try a cargo-style legging. We tried these ourselves over the last couple of weeks, click here for tips on how to incorporate into your wardrobe.
And click here for details on how you can WIN two pairs of cargo-style leggings of your own – competition ends Friday 15th April.
What's your favourite piece of playground equipment? Is it the same as when you were a child?