Nursing a baby can be wonderful, intimate, and dreamy. Or excruciating, embarrassing, and frustrating.
It all depends on who you talk to, as the experience can differ vastly from one woman to the next.
But what we all tend to have in common is that moment where we think:
WTF am I supposed to wear now???
I rounded up 21 of my buddies, who breastfed in the last few years, to reveal some of the fashion highs and lows from their own nursing experiences so we might learn from their collective wisdom.
Kinda like an online mothers' group, but everyone in the gang is cool.
This is the first article of a series, where we share tips and shortcuts, to make it easier for the rest of us to go from milk machine, to style machine.
Part 1: Top Nursing Tops.
What you wear on the top half  of your body will be key to nailing this period of motherhood in comfort, style, and dignity.
Here are 9 top ideas for nursing tops.
1. Breastfeeding Tank Top
If there is just one item that you invest in for breastfeeding make it one of these. Almost every woman in the panel agreed that a breastfeeding tank top, or nursing singlet, was her essential top for nursing.
The BONDS maternity singlet got biggest thumbs up from my buddies.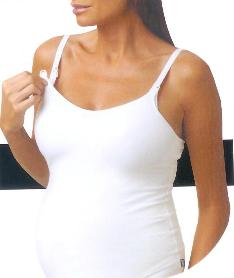 Comfortable, inexpensive, and supportive, it also addresses one of the biggest sartorial concerns of breastfeeding – the post baby mummy tummy.
My bestie from when I was a teenager, Amy*, summed it up:
I had no problem with flashing the odd breast to the world between my baby's gulps, but was rather more self-conscious about exposing my wobbly, stretch-marked tummy.
These nursing tanks are worn like a regular singlet, but unhook at the straps, and fold down for feeding.
They are also amazingly easy to work into your regular wardrobe, so it's not so obvious you are a walking milk machine.
Try them  under shirts and tops, pop a cardigan over the top, or just add a long scarf which can go double-duty if you want some extra discretion when feeding in public.
The Glamourmum tank, $59.95, was also mentioned as a good alternative to the BONDS breastfeeding singlet.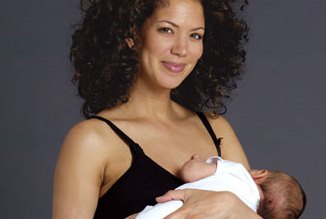 The Milkshirt is a similar idea, but a different design.
2. A Big T.
The simple T-shirt is a staple in any woman's wardrobe, and oversized Ts are great for breastfeeding.
T.J. my fashionista friend who has given birth to her second daughter just weeks ago said;
I loved Sass & Bide t-shirts and singlets which were baggy but stylish, paired with some Sass & Bide crackerjack pants or jeans.
Chloe, who travels frequently with her two little ones chose V-neck Ts when nursing;
They looked so much better with big breastfeeding boobs! Now I'm left with droopy A cups… Waaaah! I want the big ones back. Without the milk of course.
The big 'watch out' mentioned by a number of the women was to avoid a tight fit.
My friend Tally put it bluntly;
A tight T-shirt while breastfeeding leaves nothing to the imagination. You might as well be sitting there with nothing on.
3. Cool Kaftans
A simple, light kaftan with a bit of stretch is a stylish and comfortable nursing garment, and is also great for pregnancy.
Margie, who runs a successful accessory business for children while bringing up two boys, swears by these and adores their hippy-luxe vibe:
Flowy tunics and kaftans are soft and light, so easy to bunch up over the top of baby's head.
Don't go overboard on the length or weight of the fabric though, or lifting it up to nurse will be a like getting tangled in a shower curtain.
4. The Perfect Poncho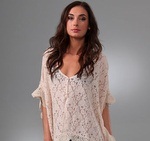 A longline lightweight or crochet poncho is the perfect top to throw over your nursing tank, for a relaxed, breezy vibe.
Team with some tight-fitting or bell-bottomed jeans – depending on the look you prefer – and boots or sandals depending on the season.
Also good for while you are pregnant.
5. Button down shirts
This can seem like a total no brainer. Easy access, open and shut.
But, some buttons can be hard to open and close with just one hand, which is often all you'll have available while you balance your newborn.
Look for press studded buttons where possible, and a longer length to cover your post pregnancy belly.
Stay on trend this year with classic chambray, denim, or a large check. This is one wardrobe essential that will keep going long after the milk bar has closed down.
6. Patterned clothing
Leaking milk and milk stains are not something they tell you about before you have a baby. But be prepared.
Engorged breasts can leak, and if you have a lot of milk or have gone a while between feeds, you may find yourself – and your clothes – in a spot.
Consider tops that are patterned or lighter in colour so they don't show these stains so obviously.
But learn from Margie and avoid horizontal stripes:
I wore a striped, fitted boat neck top to my 30th birthday dinner. Now, I look at the photos, and think OMG!!! My boobs looked ENORMOUS!
And invest in breast pads. Boxes of them…
7. Lovely Layers
I had a couple of stretchy tops that I simply bought two of – one in a larger size than the other. It was as simple as lifting the top one up, and pulling the bottom layer down.
Scour super inexpensive fashion stores like Supre or Dotti who always have on-trend items in stretch fabric. A quick look of their online stores just then revealed a bunch of items that would make great nursing tops, and won't break the bank.
8. Wrap it up
According to Amy, cross over tops are great.
You can stretch one side down and keep your tummy covered.
This nursing top by Isabella Oliver is cleverly custom-made to lift from under the bust for feeding.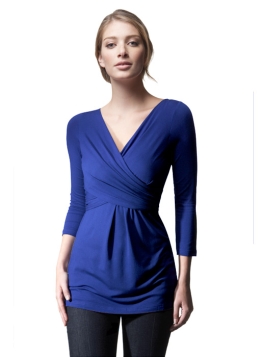 9. Think outside of the square.
My resourceful friend Liza, busy with two little boys advised;
Don't feel like you have to buy loads of extra tops to be able to nurse. You'll probably be surprised how many items you already have in your closet that you could use.
She smiled, and added with a wistful look;
And have fun with it…the breastfeeding period won't last forever, and you are doing an awesome thing for your baby.
Next week, we will continue the special series – Milk Machine to Style Machine.
Don't miss an article. Subscribe to FoxInFlats.com.au for all updates delivered to you, free.
Do you have any nursing top tips to share, or breastfeeding tops you love? Any disasters or watch-outs?

* Thanks to my gorgeous friends for helping with this series. I've changed names to protect your dignity a bit…especially when I start to share some of those stories about squirting nipples in future articles. You all rule. xxx