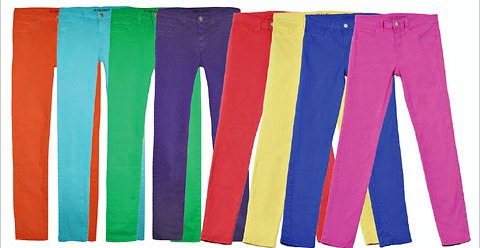 These jeans remind me of my childhood.
Rollerskating at the local Skateline in my fuchsia shiny Smile jeans, and then at the school cafeteria in Seattle wearing a pair of brightly coloured purple Lavi jeans.
Feels a bit like this sounds: Blinded by the light, Manfred Mann
But just yesterday Frank Doroff, the vice chairman of Bloomingdale's told the NY Times that these J Brand jeans were:
flying out the door
And it's easy to see why.
'Colour blocking' has been seen everywhere on catwalks for the last twelve months, and according to Jeff Rudes, founder of J Brand, they are simply "interpreting fashion through a jean".
Well, I'm blinded by the exploding fuchsia, purple, vivid turquoise, bright red and lemon yellow.
Teamed with a simple white T – or for the more adventurous, another bright – and you've got yourself an oh-so modern trip down memory lane in Japanese stretch twill for just $176.
Click here to shop your J Brands.