By Andrea Michelle for FRANKiE4
Nothing screams "summer" like a kid in an ice cream store like a great pair of sandals. But in a good way.
Yet if you buy a pair that doesn't fit quite right, you can be in for a summer of pain instead of one of pleasure.
If you've ever endured cuts on the sides of your ankles from ill-fitting buckles, or sweaty feet that slip out of your sandal you'll know what I mean.
Each summer I invest in a new pair of sandals, and am on the look out for a pair that not only feel great, and look fabulous, but can take me to a number of different occasions.
And I've found two pairs from FRANKie 4 that do just that.
FRANKie 4 sandals are designed by a Brisbane Podiatrist, and all include additional cushioning and support, which ensure you have a comfy ride.
The sandals I've chosen both have heel support too which means days on your feet won't be a pain. Plus, they are adjustable across the width of your foot – perfect if yours are kinda wide like mine.
The PeNNI Sandal
A nude sandal with a low wedge, these babies are practical enough for chasing after the little ones, but are stylish and versatile so they'll work just as well with a pair of denim shorts as they do with your favourite maxi.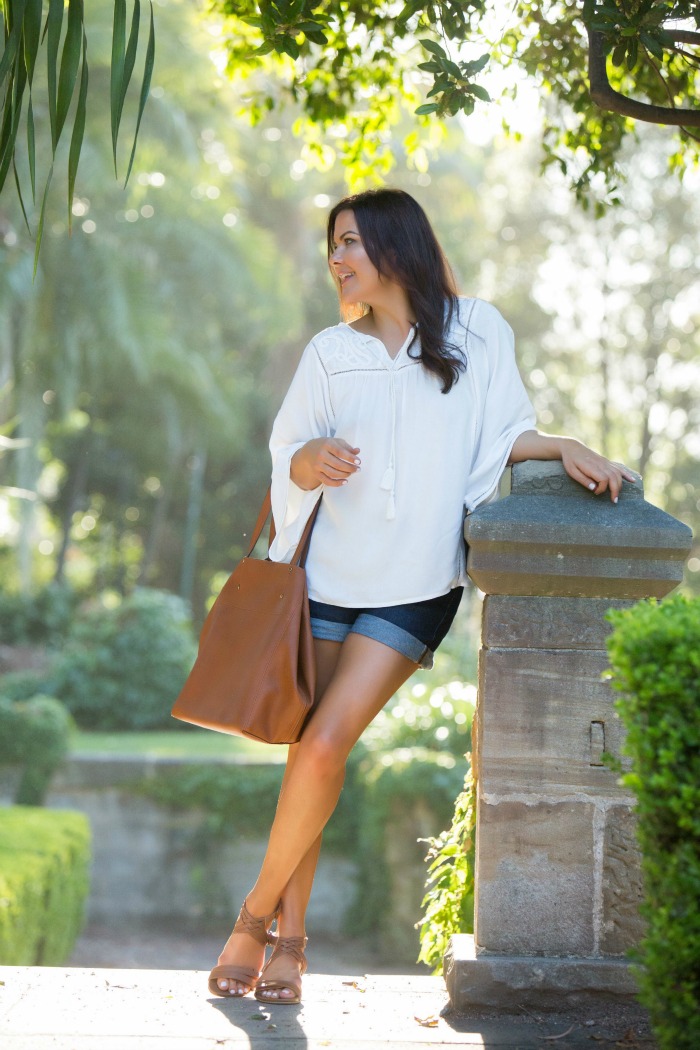 Featuring FRANKie 4's patented 'sweet spot' technology – with all that cushiony goodness – the PeNNI sandal has a secret feature that I adore: they are secured with a Velcro strap, and a faux buckle, so you can flick them off in a hurry – especially important when you're shopping for clothes (sale time!), wanna jump into the sandpit or have a go on the trampoline with the kids.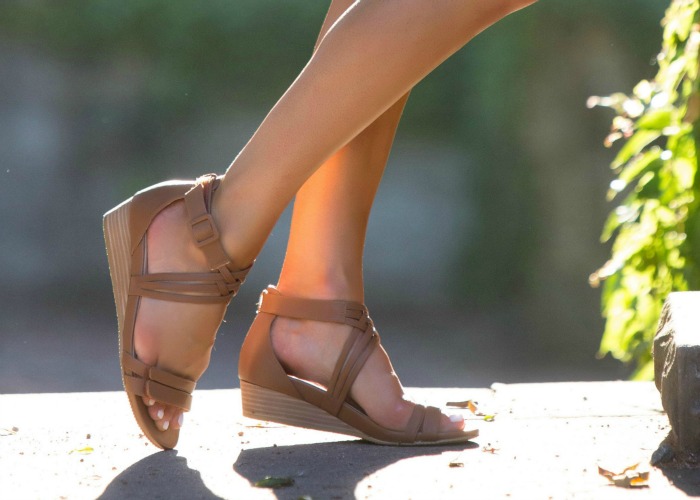 With leather uppers, lining and a super-soft leather footbed, these will mould themselves to your feet, while letting them breathe – especially great if your feet tend to perspire a lot in warmer weather.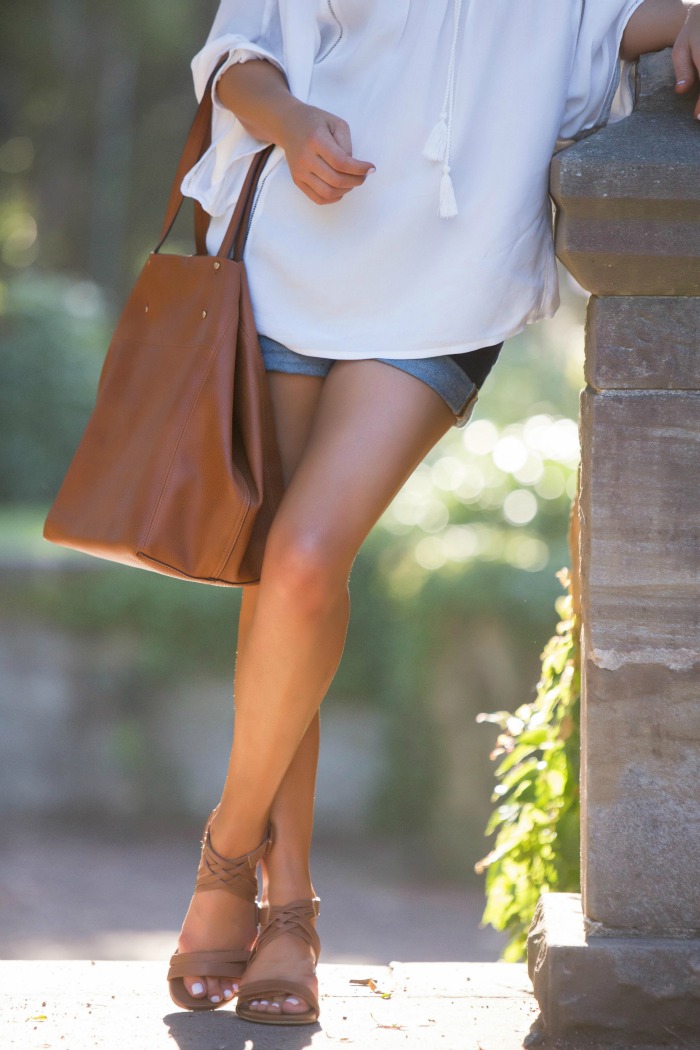 Beauty Tip:
Nude-coloured sandals will create the illusion of long, lush legginess. So get your pins flash-worthy with regular exfoliating, a slick of fake tan, and handfuls of rich, creamy body butters. And as the spotlight is on your toes, invest in a shellac or gel pedicure that'll remain shiny and chip-free for weeks. Orange and coral shades will enhance your (fake) tan.
Styling Tips:
Long, flowing maxis catch the summer breeze. Look for one with a thigh-high split, or knot it at mid-length to showcase your sandals and to make it easier to run like the wind.
Partner with geometric patterns and crisp, tailored pieces that mirror the straps on your sandals for a modern, head-to-toe eye-fest. Slicked back hair will complete the look.
Wear your favourite, fun, patterned skirt with a white collared shirt for a fresh, crisp look. Roll up the sleeves to keep it relaxed.
Think 'flowing, romantic and hippy-esque'. Long maxi dresses and skirts, or breezy kaftans teamed with easy, free-range hair plus jangly accessories.
Team above-the-knee tunic dresseswith a long pendant and oversized shades for a chic, boho look.
Wear with a short flowy dress– an inch or two above the knees and belted at the waist for a classic, feminine silhouette.
Try lightweight baggy pantsthat taper in at the ankle, ending an inch or so before the top of the sandal, for a dreamy genie inspired look. Top with a fitted tank and finish with metallic accessories.
Click here to shop the PeNNI Sandal (Tan, Black) $219.95
The BELiNDA Sandal
The perfect combo of leg-lengthening height and zero-wobbles-while-walking practicality. These wedges are the ultimate day to night sandal that'll take you from a chilled out BBQ to a sizzling date with ease.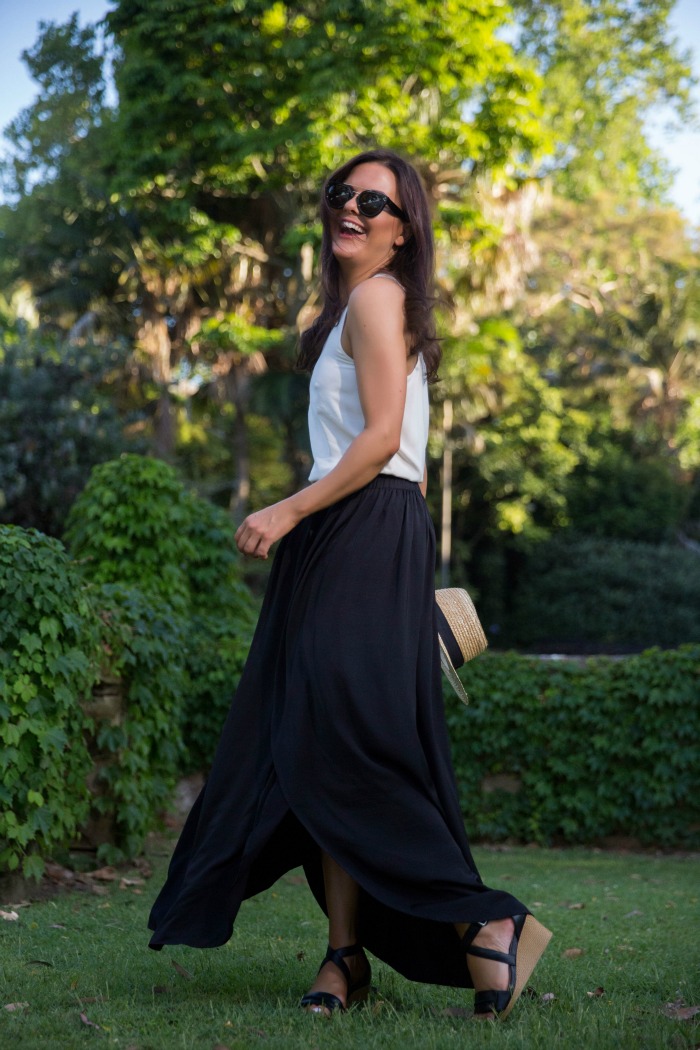 With a lightweight wedge sole that features FRANKie 4's signature 'Sweet Spot' cushioning, the BELiNDA a great choice for all those summer events when you find yourself on your feet for long hours at a time – so you can say goodbye to the bare-footed walk of shame later in the day.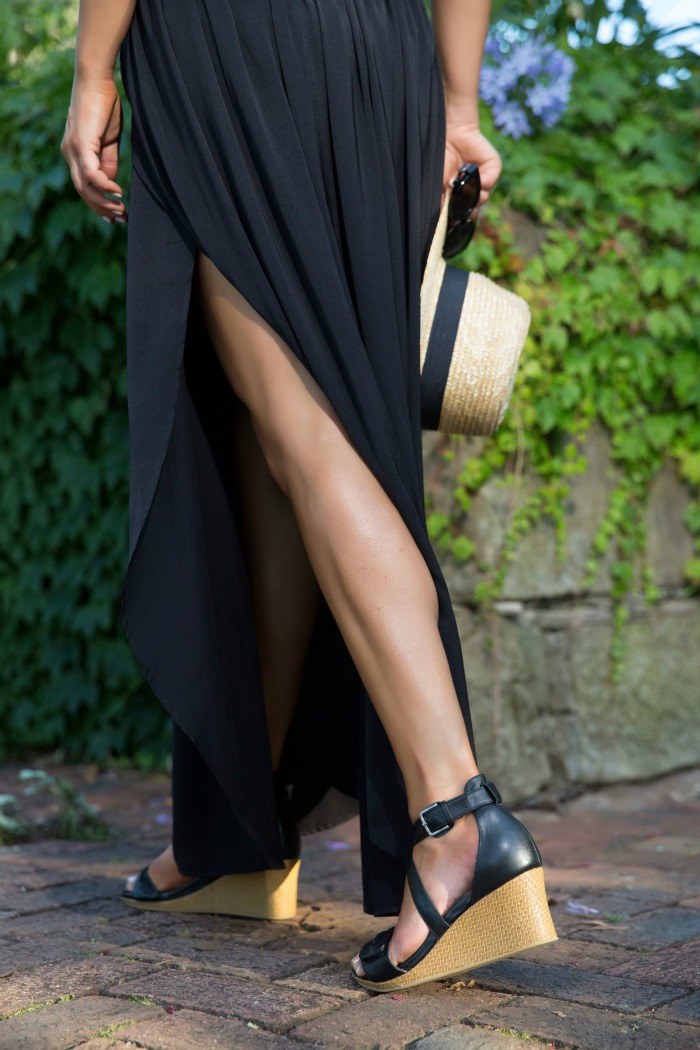 And I love the enclosed heel and low ankle buckle which keeps these wedges securely on your feet, meaning you're less likely to topple over when you're on the go.
Styling Tips:
Roll up your comfy boyfriend jeans to flash a couple of inches of ankle, and top with a tank or sleeveless shirt for a chilled-out but still-smart look.
Crisp shorts, topped with a 3/4 sleeved striped Breton T-shirt channels Riviera chic. Just add red lipstick, black sunnies, and a large straw tote.
A long maxi skirt or dress will create the perfect mess of feminine swishiness. Accessorise with the largest wide-brimmed hat you can get your hands on, and a pair of cats-eye sunglasses for glam.
Pair high-waisted, slightly flared blue jeans with wedges, a cute t-shirt with the sleeves rolled up, and a hair flick for a leggy, Charlie's Angels-inspired look.
A fresh, white summer shift, a mid height wedge and clear Perspex shades says "I've got summer in my pocket, and it's staying there for keeps."
Click here to shop the BELiNDA Sandal (Tan, Black) $239.95
WIN FRANKiE 4 shoes!
Sorry, this giveaway is now closed.
Because I'd love you to have FRANKiE 4 shoes too, we are giving away a pair to a lucky reader of Fox in Flats.
how to enter
Simply share with me a story about a time you suffered as your summer sandals weren't comfy.
For instance, I once went to a beautiful wedding, danced all night, and even tried to catch the bouquet in a pair of black high heeled sandals. By the time it came to catch a cab home, my feel were so sore and covered in blisters, I could barely walk. Yet, there were no cabs available. So I had to walk through Sydney's Hyde Park at midnight to another cab rank. My feet were in so much pain, I had to take them off and walk barefoot through the park. In Black Tie. Yikes!
Add your story in the Comments section below, and be sure to skip over to the FRANKiE 4 website, check out their range, and let me know what pair you'd like if you won.
It's that easy!
Conditions:
This give away is a game of skill, and I'll be judging the winners based on the most compelling response.
The prize is a Gift Card redeemable for a pair of FRANKiE4 shoes of your choice.
You can enter this give away as many times as you like.
Entry is only open to Australian residents.
The give away runs from 14th of December, 2015 till the 23rd of December, 2015.
You need to have subscribed to our weekly newsletter to be eligible to enter, and you can do that here.
The winners will be announced in our newsletter on the afternoon of December 23rd, 2015. 
Entrants must abide by the contest entry conditions listed above. 
Good luck!
xA

More Fox in Flats: