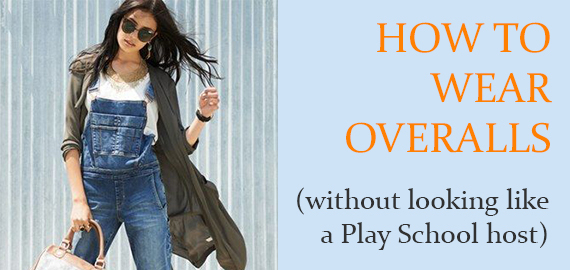 I remember my first — and last — pair of overalls beyond the age of about five. It was deep in the 90s and overalls were huge. I means that literally: the bigger, the baggier, the better. Finally I found a pair that fit my teen budget at Fashion Fair. They only had a size XL left, but that didn't faze me. I wore them with pride for six months or so until I came to my senses and realised I looked like an off-duty clown, and I've tried my best not to think of this episode of my life since.
Until now. Overalls have been popping up in fashion pages and street style blogs again of late, only this time they're not the voluminous, children's entertainer outfits of my youth. And I've realised they've got some practical features for mums: easy breastfeeding access, mummy-tummy disguise, lots of handy pockets, and no chance of slipping down to reveal your undies like jeans can. Plus yes, done correctly, they can look downright chic. Follow these tips and you'll be snapping on those shoulder straps faster than you can say "welcome to Play School".
1. Classy monochrome
Counteract the clown factor with a classic colour palette underneath. A shirt that features the perennially cool Breton stripe, tiny polka dots or just plain white will help keep the look classy.
2. Slim lines
Look for a slim cut in the overalls, and follow with a form-fitting shirt underneath. Even go for a cropped undershirt, if you dare!
ASOS crop top with crew neck $11.88
3. Accessorise
The simple denim-and-monochrome colour scheme is the perfect canvas for some bling. Grown-up accessories also help to downplay the schoolyard vibe.
Adia Kibur crystal choker necklace $68.29
4. Work it with a heel
Cuff the bottom of your overalls just above the ankle and team with a heel for a sleeker, more ladylike silhouette. Classic pumps in a neutral shade offset the grunginess of the denim.
And now, for the overalls themselves! Try these on for size:
Long and lean
Blank Denim overalls with zipper detail $120.54
Get shorty
Billabong workout overall SALE $67.49
What do you think of the overalls trend? Would you wear them? If so, what are your tips for making the look work?
More Fox in Flats: