25 to buy online, and a debate about Ryan Gosling and Channing Tatum.

A great pair of classic blue jeans is like a partner in the perfect marriage – they'll love you regardless of your age, and they'll never imply that your butt is big.
Yet hooking up with a pair of on-trend jeans is like having a cheeky wink and a flirt across the room with Channing Tatum – you'll feel empowered to have given it a whirl, and you never know, if he winks back, you might embark on a torrid love affair that'll put a spring in your step and a swish in your hair that'll last till next year's Oscars.
Ready for a bit of fashion flirtatiousness? Here's the Fox in Flats pick of Jean Trends to try now:
Coated
You know how you'd love a pair of leather jeans but a) you don't have a spare $700 in your wallet, and b) you can't quite get your head around wearing them to the playground? Coated jeans are the next best thing.
They look like leather, at a smidge of the cost. And they'll give you great aerodynamics on the slide.

 Oasis Zip Hem Coated Jean $95.25 @ASOS, 
EDITORS PICK: Shine Black Metallic Coated Super Skinny Jeans $99 @Jeanswest,
 Oasis Premium Coated Jean $90.33 @ASOS,
DL1961 Hazel Wax Coated Skinny Jeans $187.60 @Shopbop,
If you're got the cash: J Brand Super Skinny Leather Pants $895 @Shopbop,
Sass & Bide The Kaleidoscope $320 @Sass&Bide.com
New Colours
Step away from the primary coloured or pastel jeans – they are the denim equivalent of Ryan Gosling. We still love them, but 'Hey Girl!' they're everywhere.
Like Gosling, we'll keep 'em around a bit longer as they're great eye-candy, but if you're wanting the latest on-trend colours, look for tan, burgundy, plum, moss green, orange, royal blue and indigo.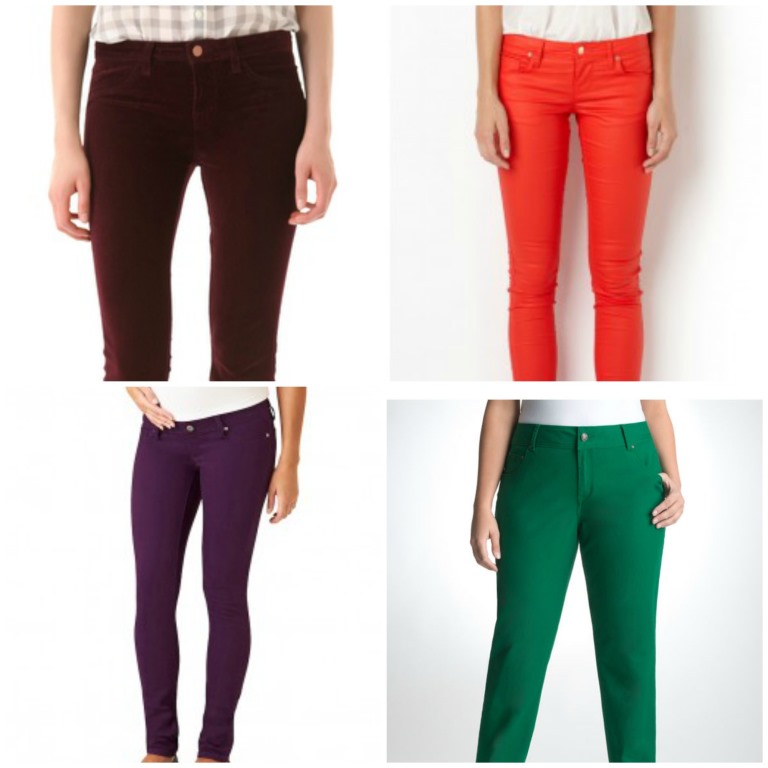 J Brand Mid Rise Velvet Skinny Pants $58.20 @Shopbop,
Sass & Bide Book of Rules $150 @Sass&Bide.com,
MATERNITY: Blackberry Maternity Skinny Jeans $69.95 or 2 for $109 @Jeanswest,
Lane Bryant Colored skinny jean – Women's Plus Size/Ultramarine green $59.95 @LaneBryant
Striped
"I want candy!" Well actually, I want candy stripes. Worn the right way, they're far less fattening.
The most flattering way to get into this jean trend is with a single stripe down the side of your leg, but if you've got great pins, make like a circus and go to town!

Cult Women's The Needle Skinny Jean in Black & White Stripe $53 @Karmaloop.com,
The Skinny Racer in Relay – designed by Rag & Bone $264 @Singer22,
ASOS Elgin Skinny Jean in Mono Stripe $59.34 @ASOS,
RACE YOU! Sass & Bide The Pinch $15 (on sale) @Sass&Bide.com,
River Island Amelie Skinny Jean In Stripe Denim @59.34 @ASOS.
Embroidered
Adds texture and interest to a basic pair of jeans, and stitching down the legs is a relaxed boho take on the striped jean trend.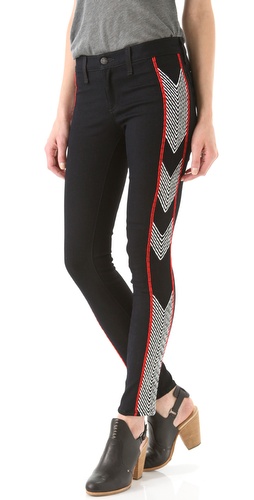 Rag & Bone/JEAN The Raja Jeans $143 @Shopbop.com,
For a more subtle take on the trend: Rag And Bone/JEAN The Devi Embroidered Panel Zip Jeans $231.56 @ASOS
Patchwork
Yeah, the idea of this trend freaked me out too. But check 'em out – très chic! Avoid teaming with multicoloured stripes and florals or you'll look like a quilt.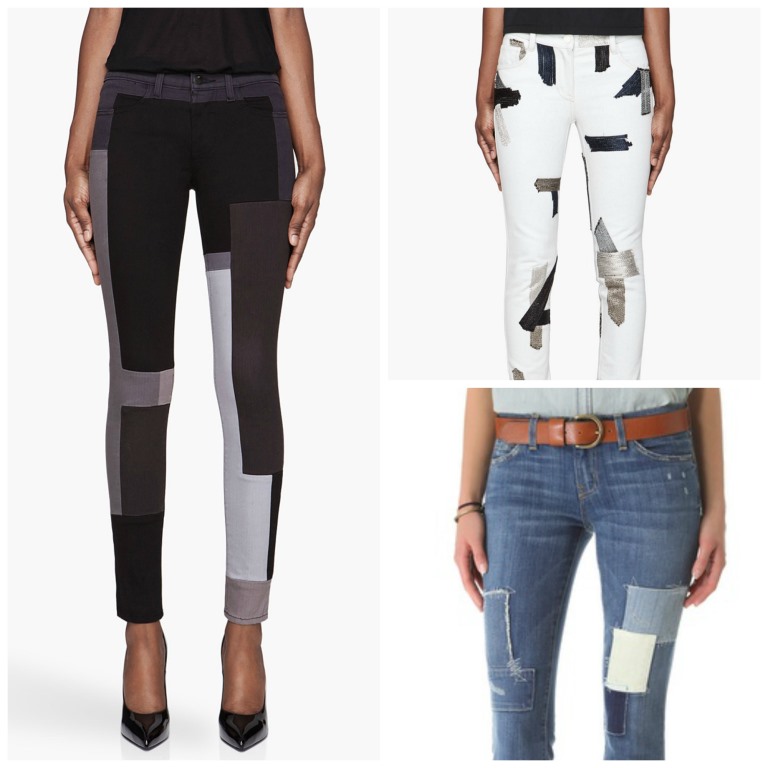 Current/Elliott Stiletto Patchwork Jeans $298 @Shopbop.com,
J Brand Grey Monochrome Patchwork Jeans $325 @ssense.com,
3.1 Phillip Lim Bleached Blue Chain Patchwork Jeans $528 @ssense.com
Polka Dots
Think Minnie Mouse but without the ears, the tail, and that over-the-top rodent vibe. Super-easy to wear, look for small uniformed patterns all over, or even DIY a pair of your own jeans. Take the trend to the next level with dots of diamantes over your jeans.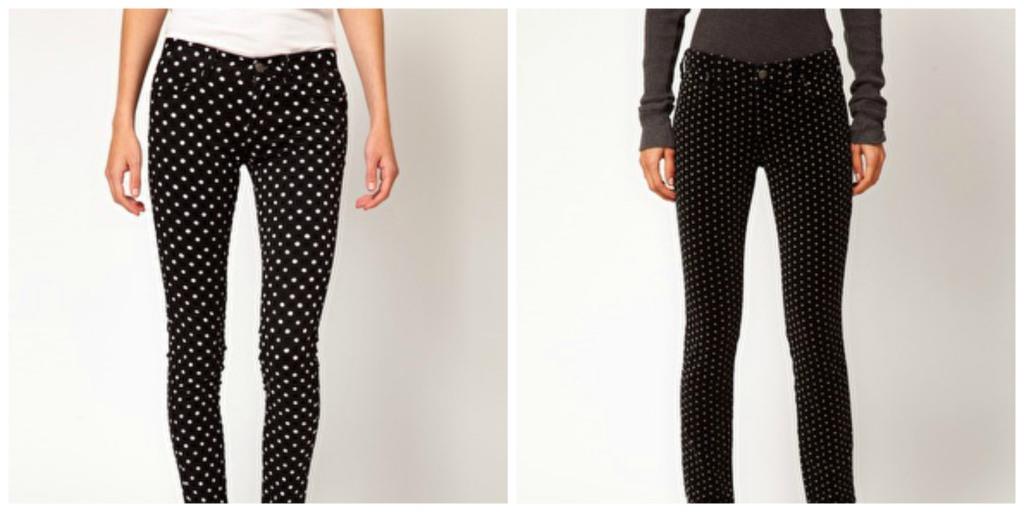 Free People Velvet Skinny Jeans in Polka Dot $162.59 @ASOS,
b + ab Polka Dot Jeans $59 @ASOS
Ripped
Because sometimes we love our jeans to also look like Channing Tatum ;). The key to this trend, is keep the rips small and strategic. DIY jobs won't cut it, rely on the designer to get those rips juuuuust right.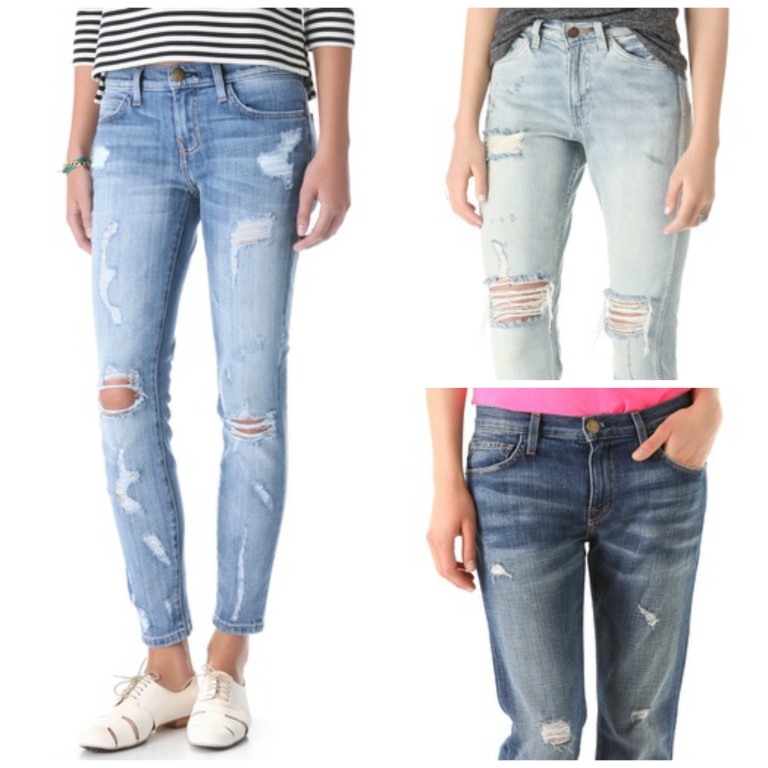 Levi's Vintage Clothing 1966 Shredded 606 Jeans $255,
Current/Elliott The Boyfriend Jeans $206,
Current/Elliott The Stiletto Jeans $258 all @Shopbop.com
STYLING TIP!
Just like flirting with another man, the key is not to take it too far.
In the case of on-trend statement jeans, keep the rest of your look based on the classics – crisp shirts, basic knits, and tailored blazers. Keep the silhouette clean and your fabric's quality and you won't get sartorially caught out.
How 'bout you? 
Reckon you'll take on any of these jean trends this season?
And I'm keen to get a gauge of camps – if you had to choose just one, are you Team Gosling or Team Tatum? 

More Fox in Flats: