"I design for a good time, to make life more enjoyable," Roberto Cavalli told me yesterday as we sat on plush lounges sipping mineral water, overlooking Sydney Harbour. On the level below us in Target at Westfield Bondi Junction, hordes of women were pillaging the racks to get their hands on a piece of Cavalli-style enjoyment from his latest venture – Roberto Cavalli for Target.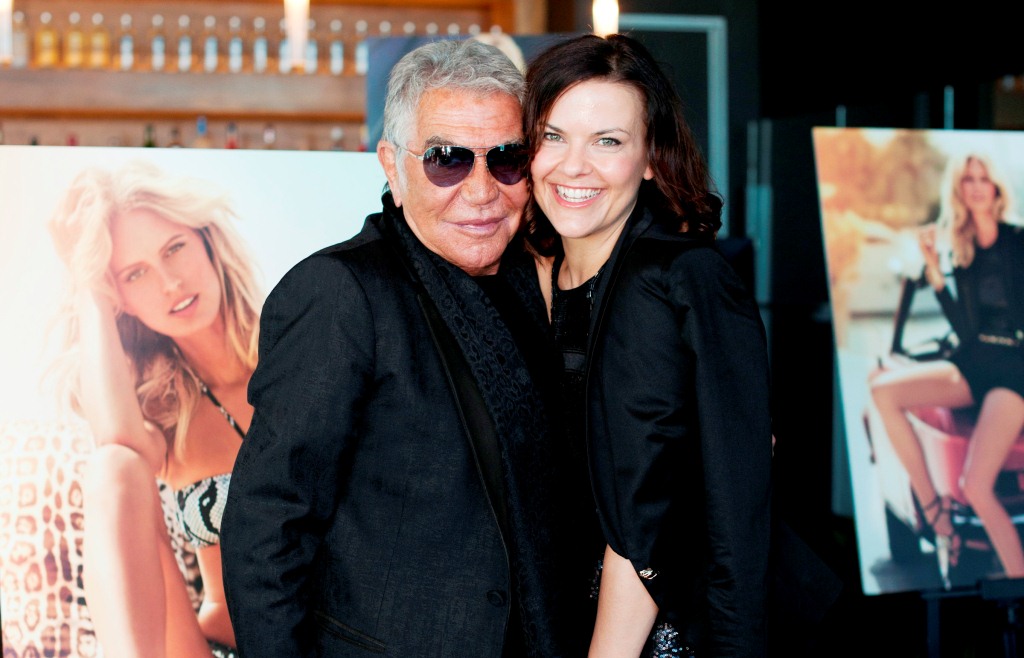 For the 71 year old Italian fashion designer – who's dressed the likes of Madonna, JLo, Lenny, Whitney, Nicole and Kylie – the collaboration with Target was an opportunity to make his brand more accessible to Australian consumers, who may not have the bank balances or single-name recognition of his glittering celebrity clientele.
"I want to make young people with less money happy."
And checking out the range, with Roberto by my side, he's going to make many of us stoked. Awash with his signature animal-prints, sequins, and touches of gold bling, the range is a turbo-charged shot of sexiness with a chaser of confidence.
Fox in Flats: "Many women lose their style-confidence after they have kids. From your years of dressing women, what would you say provides the biggest confidence boost?"
Roberto Cavalli: "After having children, some women can be afraid of being sexy, or unsure of how to be sexy, but it should not be the way! I once dressed a mother who had broken up with her partner – she was a single mother – in fabulous prints, and her little daughters – one in Zebra print, one in Giraffe print. It made them so very happy."
Fox in Flats: "And kind of fun, like a zoo!"
Roberto Cavalli: (laughing) "Yes! Like a Zoo!"
Fox in Flats: "I'm a little afraid of prints – I get worried they might make me look bigger than I am. What tips do you have for women like me who are scared to try printed and patterned clothing?"
Roberto Cavalli: "The idea that wearing all black makes you look slimmer is old-fashioned. It doesn't have to be complex."
"A beautiful print can make you feel more sexy, more sure of yourself. And true beauty comes from inside."
Roberto then took me over to a rack filled with clothing from his new Target range, pulled a leopard print wrap dress off the hanger, and held it up against me, appraising its suitability. But then he noticed me eyeing a sequined black halter, and smiled. "Yes, for you, you must try that top, with these tuxedo pants, and this tuxedo jacket," he said swiftly. "And add these sandals, very sexy."
After slipping away to change, and then tentatively rejoining Mr Cavalli and his entourage of six (including the bodyguard seated quietly in the corner) he shared a styling tip:
"With the blazer, wear it draped over the shoulders. That is how we style the models on the catwalk. Bellissima!"
The result? Instant confidence boost for this sleep-deprived mama.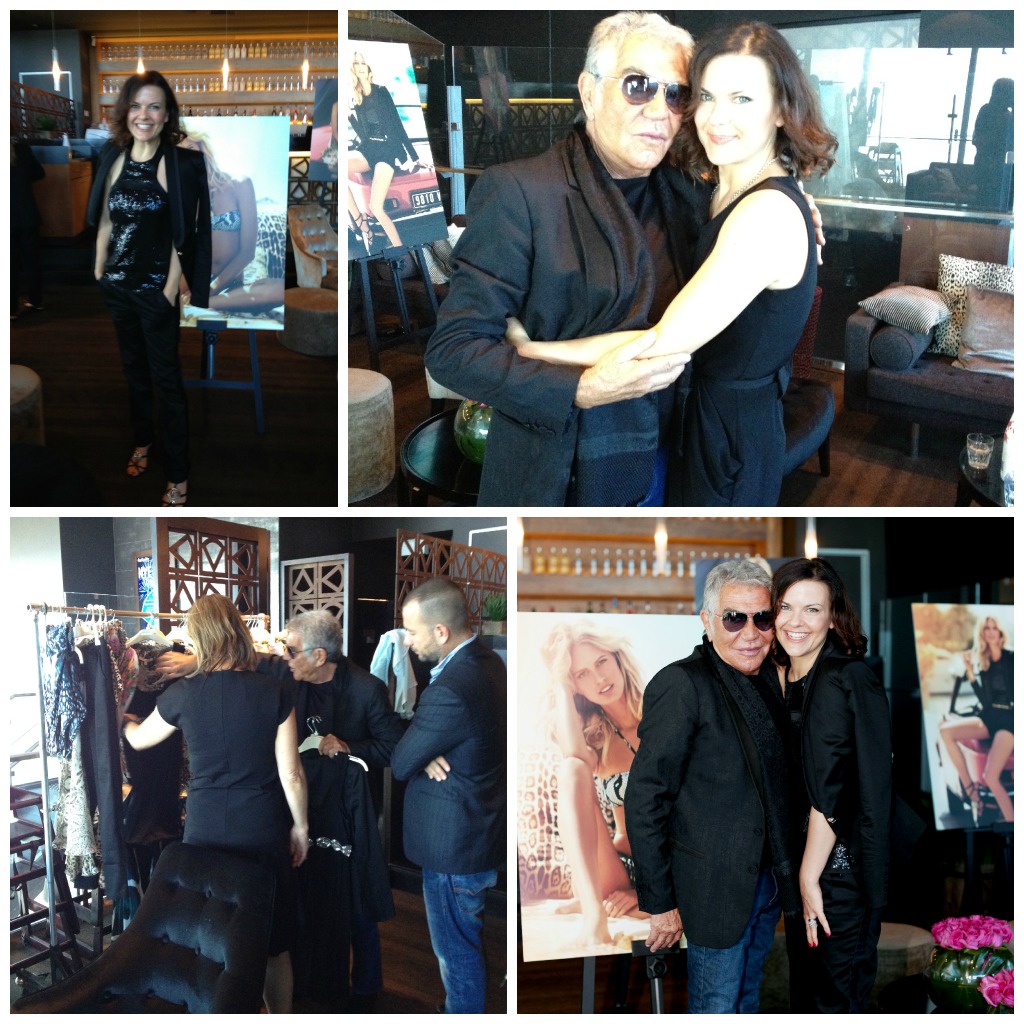 Clockwise from top left: Me nervously modelling the Roberto Cavalli for Target outfit selected by Mr Cavalli, Roberto advising me  I should break out of the all-black rut I'm currently in, working The Jacket Tip and a super huge grin!, Roberto Cavalli takes to the racks to select outfits for myself and the two other two bloggers who were asked to hang out – FiFi from The FiFi Report and Margaret from Shine by Three. 
The sizes are true to what you'd expect, which makes the trying-on session faster (essential if you're ducking into Target with the kids in tow), and which also takes the guesswork out of buying online.
Roberto was more than happy to pose with me for some happy snaps, and even laid a few smooches on my cheeks, which I reckon technically reduces the degrees of separation between Madonna and me. Could I look any more thrilled?!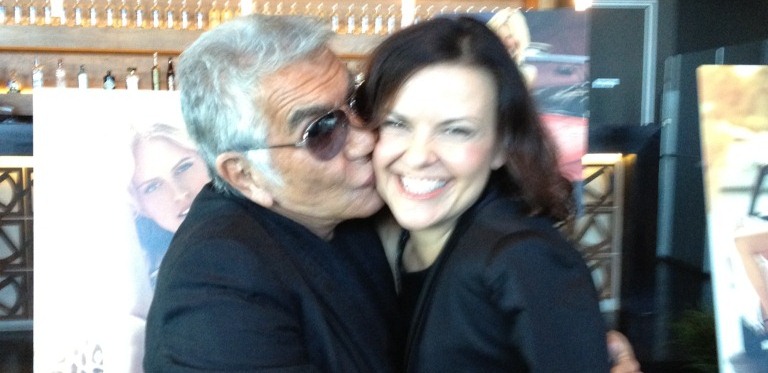 Later as I was gathering up my bag, my camera, and my jaw from the ground after rubbing shoulders with 'RC' as one of his entourage referred to him as, I found the courage to ask him one more burning question: the question my son asked me to ask him.
Fox in Flats: "Mr Cavalli, I read that you had a monkey as a pet. With Christmas coming up, my boys think this would be a great addition to our household. What do you think?"
Roberto Cavalli: "Do not have a monkey as a pet! They are too naughty and they will be a bit dangerous for your guests. Chimpanzees are very smart. Monkeys not so much!"
Fox in Flats: "Perhaps a cat is a better idea?"
Roberto Cavalli: "Some cats are good, some are not so good. But pets are the same as with humans. You get back what you put in. You give love, they give love!"
Another big squeeze from the legendary designer, and we said "Ciao!"
Here's what I love from the Roberto Cavalli for Target range
The great all-rounder (and fab for pregnancy)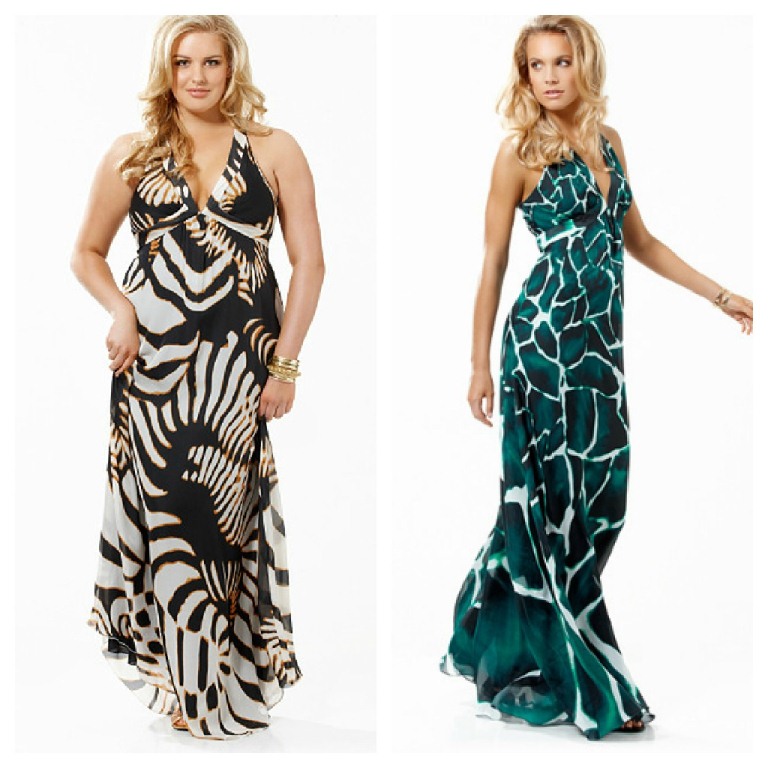 Giraffe Print Maxi Dress by Roberto Cavalli for Target $99,
Zebra Print Maxi Dress by Roberto Cavalli for Target $99
Best to flatter a 'mummy tummy'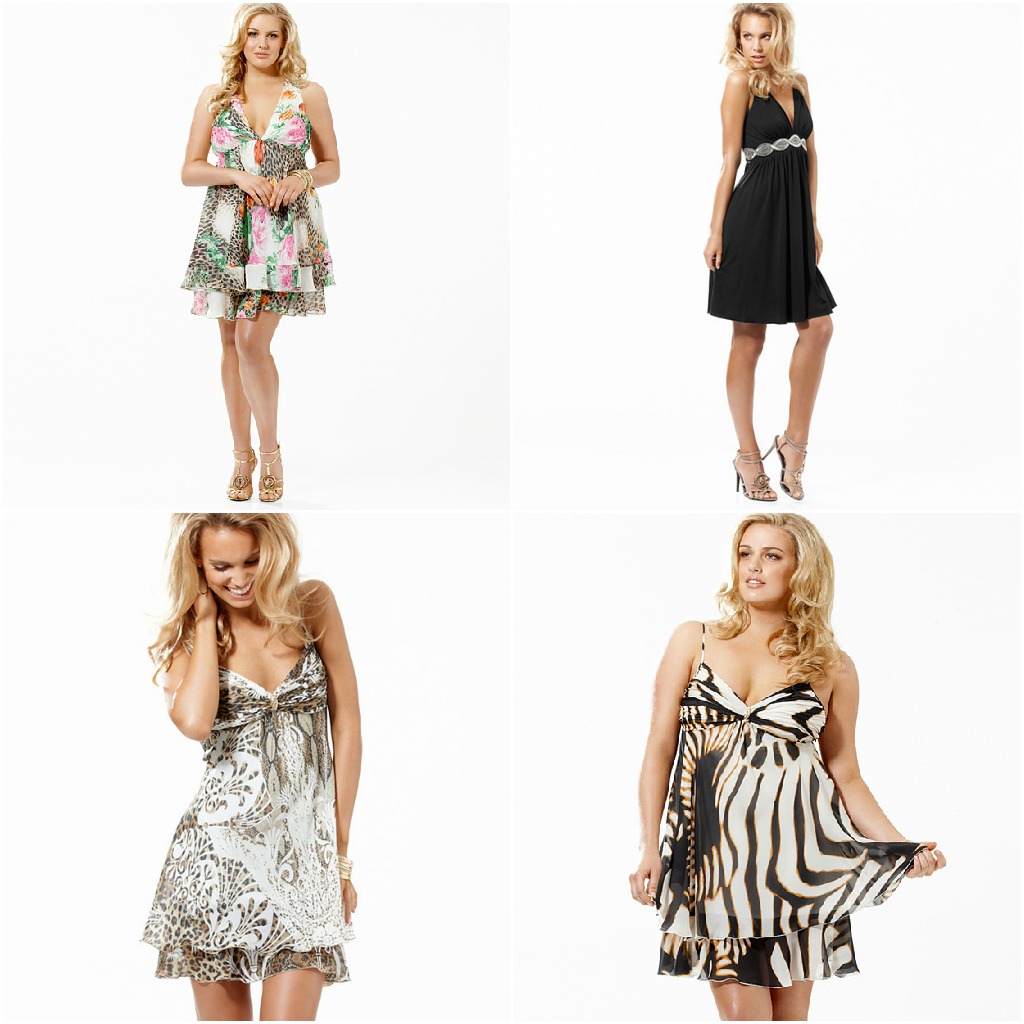 Wild Floral Print Frill Dress by Roberto Cavalli for Target $89
Beaded Black Knit Dress by Roberto Cavalli for Target $89
Baroque Print Strappy Dress by Roberto Cavalli for Target $89
Zebra Print Strappy Dress by Roberto Cavalli for Target $89
For more tips on the best dresses for your shape, check out 27 dresses for 12 body shapes, sizes and stages
Best for glittering nights out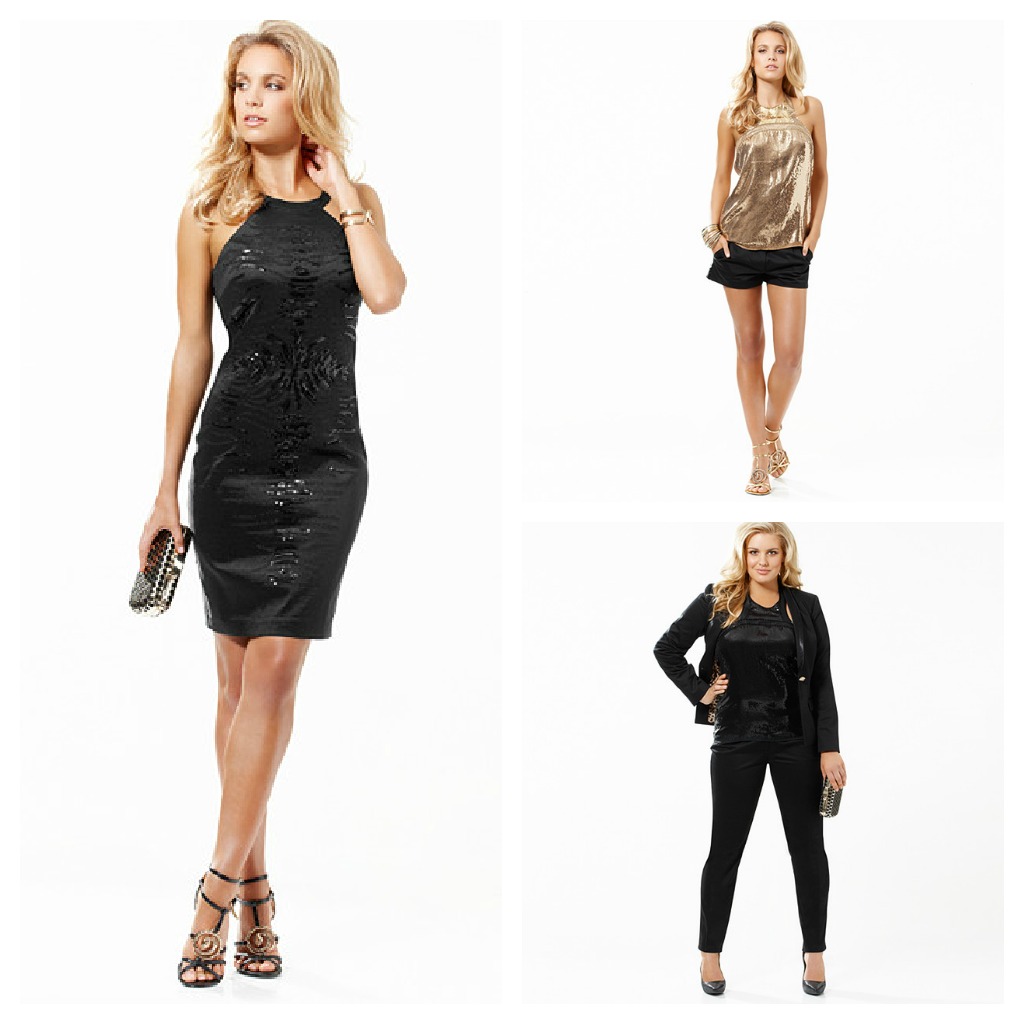 Sequin Cocktail Dress by Roberto Cavalli for Target $99,
Bronze Sequin Halter Top by Roberto Cavalli for Target $69,
Black Sequin Halter Top by Roberto Cavalli for Target $69
Best with a side-order of Napisan
White Belted Skinny Pants by Roberto Cavalli for Target $69. And don't avoid these because you have kids! Check out how to wear white jeans when you're surrounded by little people with Vegemite fingers to be inspired.
Best investment – you'll keep these forever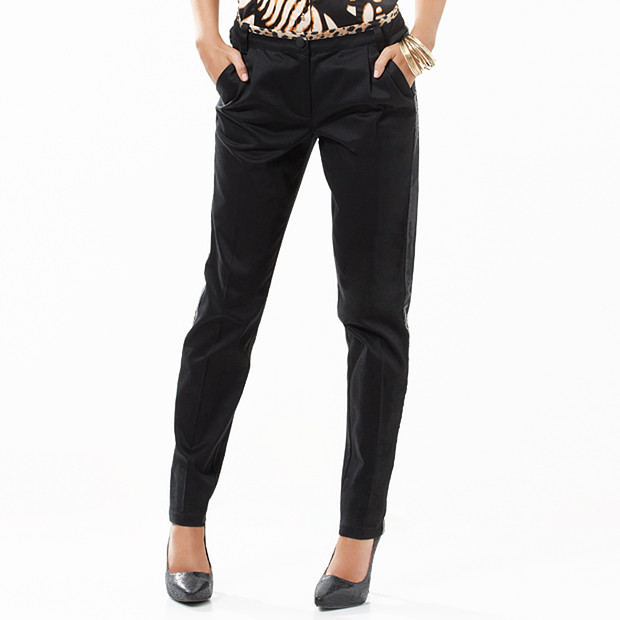 Sateen Tuxedo Pants by Roberto Cavalli for Target $79
Best for chasing the little ones

Gold-Tone Flat Sole Sandals by Roberto Cavalli for Target $69,
Black Sandals by Roberto Cavalli for Target $59,
Zebra Print Ballet Flats by Roberto Cavalli for Target $59
Quick facts:
Most of the range is priced from $49 to $99.
Sizes run from 8-16, and are true to size.
The range features 42 pieces including sandals, ballet flats, heels, swimwear, dresses, pants, jackets, and kaftans.
The entire look-book is featured at Target online here, using models sized 8 and 14 – so it's easier to picture them on your own body shape – hooray!
Stock is available in store and online from today. To find your nearest stockist click here, and to shop online click here.
Be quick! The range is disappearing faster than you can say "Naughty Monkey!"
Did you lose your style-confidence post-babies? And if so, how'd you get it back?
Anyone got advice about a new (low maintenance, non-crazy) pet for our household?!
And what's your pick from the range?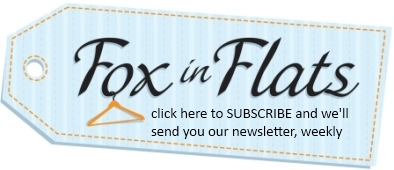 Disclaimer: Roberto Cavalli and Target let me keep the outfit, and I'm not washing my face for years to come 😉