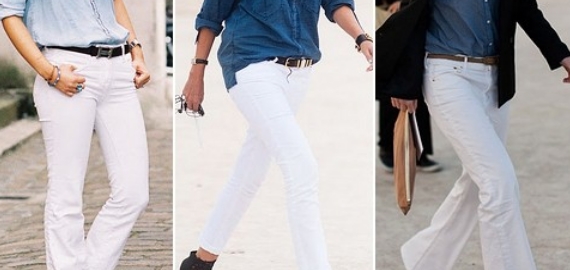 White jeans look awesome. So don't let little people who still have the remnants of a typical Aussie breakfast smudged on their paws hold you back from wearing them. Here's 7 tips to make things a little bit easier:
1. Opt for a classic cut – think of them as white trousers.
2. A tailored shirt, in any shade of blue, is breezy fresh, and adds polish.
3. Ballet flats or sandals will keep your look casual and chic.
4. White jeans are less forgiving than the black or navy variety, so don't try to squeeze into a size too small for you. To avoid a 'muffin top', look for a waist band that sits just below the belly button.
5. Style them with classic items for a timeless, preppy look.
6. Team with sophisticated tonal pastels, a-la Jennifer Aniston.
Eliane et Lena long top, $96
Vince tank, $48
Rag & Bone skinny jeans $253
Miss Selfridge suede boots, $50
Fendi white tote bag, (in case Liz Hurley is reading this) $2,930
Lee Angel Jewelry yellow gold bangle, $59
Rag bone fringed shawl, $125
Tom ford sunglasses, $395
7. Bulk-buy Napisan.

Napisan Oxyaction Max – 2 Jars
 $37.97
And back to Vegemite… Do you love it like me, slathered on buttery toast each and every morning? Or do you think it's the most heinous thing you've ever munched?