Part 8 of our series on Breastfeeding in Style: From milk machine to style machine.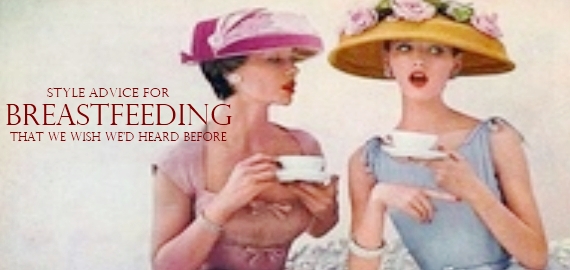 Nursing your newborn can be wonderful, intimate, and dreamy. Or excruciating, embarrassing, and frustrating.
It all depends on who you talk to, as the experience can differ vastly from one woman to the next.
But what we all tend to have in common is that moment where we think:
WTF am I supposed to wear now???
I rounded up 21 of my buddies, who breastfed in the last few years, to reveal some of the fashion highs and lows from their own nursing experiences, so we might learn from their collective wisdom.
Kinda like an online mothers' group, but everyone in the gang is cool.
Here's the style advice they gave that I wish I knew before I started breastfeeding:
Wear light colours in case of leaky breasts.
"Black is not a practical colour for baby spew." said Pene.
Don't over-invest in specially designed breastfeeding clothes.
"Many of your regular clothes can work during this time, but you'll need to think outside the square a little," said AJ. And Lou added that it might not be worth spending up big as you never know how long you'll be breastfeeding for: "I fed my first baby beautifully for 7 months, but only made it to 8 weeks with the second."
Be comfortable.
"If you're comfy, you'll keep breastfeeding longer," said Cheree.
Be prepared to do it anywhere.
A hungry baby waits for no one. And a hungry baby will let everyone know about it! If you're uncomfortable about breastfeeding in public places, click here for tips and ideas on what to wear.
Put your breasts first.
"They are your baby's source of food, comfort and love," said Bronwyn. "A good quality, well-fitting maternity bra is worth its weight in gold!"
Wash & wear.
"Wear fabrics that are easily washable – silk is a big no no – breast milk stains are not easy to get out," said Amanda, and Corina agreed, adding  "Save your good tops for when the baby isn't feeding!"
Wear the best bras you can afford to protect your breast tissue.
"…and get them fitted properly." advised Lou.
Keep cool.
"Breastfeeding makes you so hot in summer – it's like feeding a hot water bottle in a sauna!" said Meg. "Stick to loose cotton clothing" she advises.
Rearrange your wardrobe.
Because you'll be limited with what you'll be able to wear while breastfeeding, divide your wardrobe into two: things you can wear now, and things you can wear later. It'll save you the frustration every morning when you're deciding what to wear, and will stop you from mindlessly wearing a dress with no breast access to your cousin's wedding when your baby is only 8 weeks old – yup, that overshare is here.
Scarves are your friend.
"I used scarves as an easy discretion cover when feeding in public, and kept a bunch of them handy to cover baby dribble marks after.wards," shared Meg. Jessica Alba – not a close friend, but no doubt we'd get along like a house on fire should we ever cross paths – agrees, recently admitting she wears scarves to "cover up puke stains." See how she wears her scarves here.
Don't stress, it's not forever.
"When bub starts on solids and you're not feeding every couple of hours, you can get out more and not worry so much about getting your boobs out," stated Cheree. Lisa added:
"Relax and have fun with it – you're doing an awesome thing for your baby."
And Clare agreed. "Feeding the baby is more important than looking super-sleek. It only lasts for a few short months and there are so many years ahead for getting your own outfits sorted. "
For more style tips and ideas while breastfeeding, click here – we've got a whole section devoted to it!
What style advice do you wish you'd heard before you were breastfeeding? And what advice have you got for new nursing mothers?