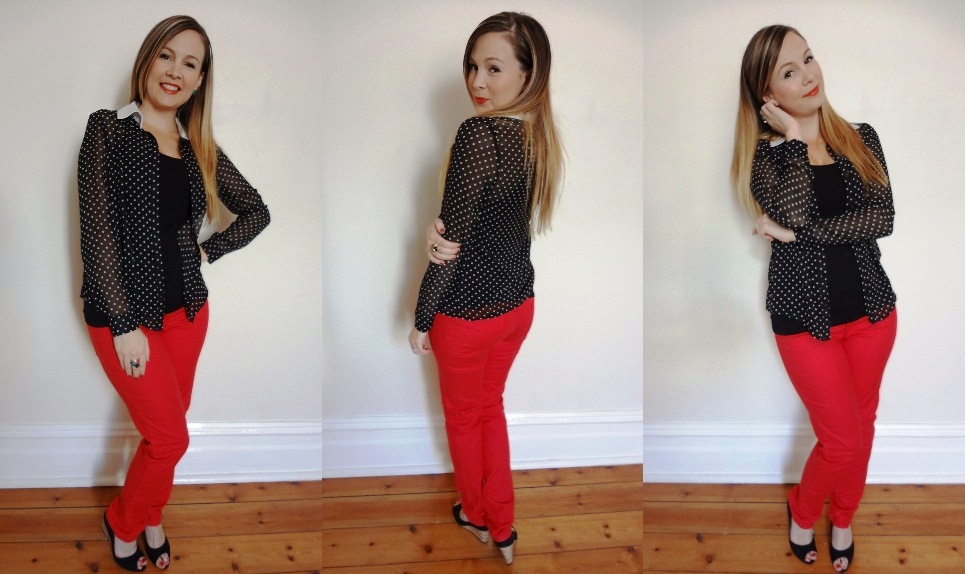 By Sonia Lockyer
A few weeks ago, I called into Kmart to buy my fiancé some socks, as you do. Business and sport socks in hand, I figured that, if he had new items of clothing, it'd only be fair for me to check out the Ladies Wear section. You know, to even things out a little.
First stop, shoes. I'd been on the lookout for cute black peep-toe wedges for a while now.
I found some immediately and they ticked all the boxes: looked good, comfortable, heel was not too high, and the price was right. Sold.
Score Number 1 – wedges, $19
Buy similar bargain wedges online: $15 Cotton On.
I was feeling quite chuffed with myself as I wandered back through Ladies-wear, only to be stopped mid-meander by a rack of coloured jeans. They had a lolly-jar assortment, but it was the red pair that caught my eye. Into the shopping basket they went.
Score Number 2 – red jeans, $19
Buy similar bargain red jeans online: $25 Supre, $30 ASOS.
Soon after, I discovered an array of sheer shirts in different prints. I decided the most versatile was the black shirt with small white polka dots and a white-collar. Work AND weekend appropriate, I'd be silly to leave it hanging.
Score Number 3 – polka dot shirt, $19
Buy similar bargain polka dot shirt online: $9.95 Dotti.
I have quite the collection of black singlets. They're essential to layering. So what was one more at a mere $5? And racer back too – I needed another one of those. Done.
Score Number 4 – black singlet, $5
Buy similar bargain singlet online: $10 ASOS.
At this stage, I realised I basically had an entire outfit, but what's an outfit without the right accessories? That's when I found these gorgeous green studs and stackable rings that matched perfectly.
Score Numbers 5 & 6 – stud earrings, $5 and stackable rings, $9
Buy bargain earrings online: $5 for six Rubi. Buy bargain stackable rings online: $12 Nordstrom, $20 Shopbop.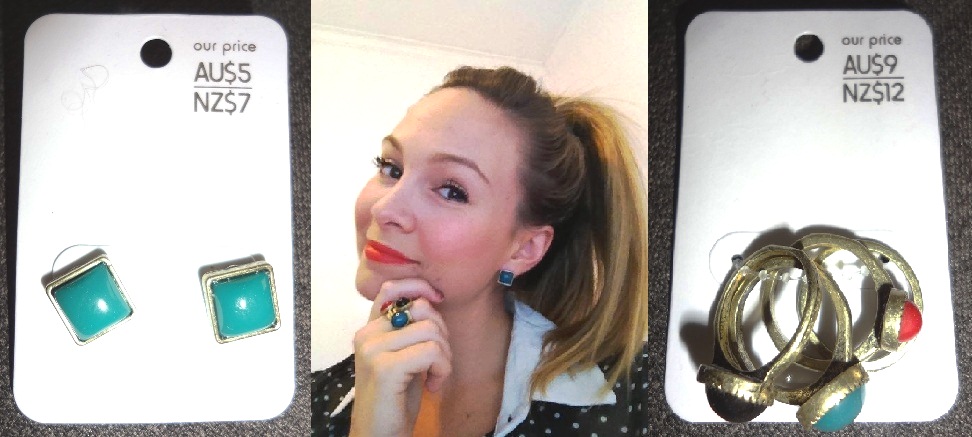 Kicking bargain-goals at Discount Department Stores
Now I'm no mathematician, but once I'd scanned in all of my loot, I realised that I had managed to buy an entire outfit for $76. In my books, that's not too bad at all.
Plus, all of the items were great quality, bang on-trend, and look amazing together!
Sonia's top tips to look expensive with inexpensive items:
Take your time to flick through the rack. Quite often, there are different pieces crammed into the same rack, and you can uncover a hidden gem.
Try to pick pieces that haven't been heavily featured in the store's advertising. This way no one will know where it's from immediately.
Stock up basics – singlet tops, underwear, socks – the kind of things you always need, and buy them in multiples.
Try out trends. Discount department stores like Kmart, Big W and Target are catching onto trends quickly, and selling them at amazingly affordable prices. It's an easy way to instantly update your wardrobe classics without breaking the bank.
For more great tips from Sonia, check out her 7 days of hair how-to's, chat to her on Twitter @ShesSonic and check out her blogs, She's Sonic, and Shop Me Chic.
Want more tips on how to look expensive when you're strapped for cash? Australia's Next Top Model's Josh Flinn shared his top 3 tips here.
What's been your best style score from a Discount Department Store? And do men ever buy their own socks?