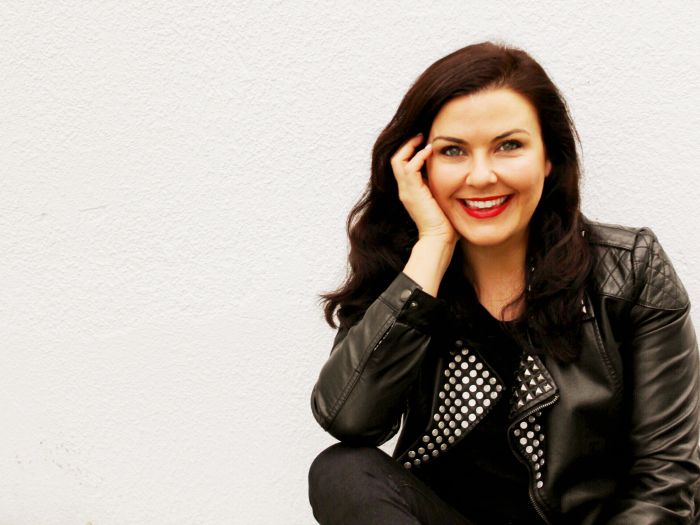 Last night I had a dream that someone gave me a carton of freshly laid eggs. The carton was a bit tattered and broken, a corner completely smashed up, yet the eggs that were nestled inside were whole and perfect.
Given I usually don't remember the dreams I have, I googled the meaning of this one, and learnt that "eggs have a deep and universal reference to new life, new beginnings. Eggs can symbolise potential as yet unrealised, new birth yet to happen. Eggs can also refer to wholeness – nothing is more self-contained and complete than an egg."
While there was no reference to the busted up carton, I've drawn my own simple conclusion about it: things get battered and shredded by external influences.
It's not surprising I had that dream last night. Recently I've been exposed to some vicious and incessant trolling online.
Words and accusations were thrown at me repeatedly and made me feel exposed and raw. Threats were made against my children and me. I felt tattered and smashed up like that egg carton.
The internet can be a tricky place to exist sometimes as it's easy for people to spew vitriol behind the safety of their computer screens.
But it's not the only place we can feel battered by unkind words or actions. They might come from underhanded comments by frenemies, powerplays in the workforce, or even rants from our children.
And while as adults hopefully our coping mechanisms for this has developed, it can be hard not to let it impact you – especially if you are told it enough.
One of the comments I received last week from the troll was that I was a bad mother. The next day, one of my sons – upset with me for ending his screen time to sit down for dinner – called me a bad mother also. Both comments stung like a slap in the face by someone wearing a heavy metallic ring they bought on sale from Sportsgirl for $2.99. The same insult given twice in 24 hours made me start to question my mothering skills.
Is it neglectful of me to let the boys play the computer games they love after they finish their homework while I make dinner?
Was I wrong to have my kids in after school care so I can work?
Am I spoiling them when I buy Slushies every Friday afternoon?
Am I failing at motherhood because I don't iron their school uniforms and sneak chocolate treats in their lunchboxes?
Do I play/read/listen/teach them enough?
Do I breathe in the right way when I'm near them?
You get the gist.
As parents we are well aware that if we tell our children something often, they'll start to believe it. That's why we focus on telling them they are smart, brave, and funny and that we are proud of them. We want their inner dialogue to reflect those words, and build their self-esteem accordingly.
Yet as grown ups, we don't usually get those cheering words from the sidelines. Or if we do, it's easier to ignore those, and instead focus on the negative words from those who "Boo" us from the bleachers. Those who heckle often do it the loudest. And they stand out from those who cheer because it's shocking, and hurtful. It can be hard not to take criticism on board. It can be hard for those negative words to not become our own inner dialogue.
On Monday night I shared my upset and concerns about this troll on my personal facebook page, and the Fox in Flats facebook page asking for advice. I'm fortunate to have so many kind, supportive, and thoughtful friends and readers who jumped in with practical ideas on how to deal with this – delete, block and report was the overwhelming response.
Some of the advice I received however was more personal, and helped to change my perspective about criticism.
Unsurprisingly, all of this advice came from friends who also make their livings online – they are the people behind some of Australia's most successful blogs and websites – so they're well versed about online acts of cray cray.
I want to share their great advice with you to consider in those times when you are feeling under attack from external voices of vitriol – whether online of off –  or for when your bitchy inner-voice is having a go.
Think of it as a test for something greater.
"It sucks but it also means you are probably Up-Levelling lady, and the universe is just throwing you an f bomb to make sure you are 100% committed to this next phase. You are awesome, and they will shortly just be a funny story you get to tell at parties!"
Kate McKibbin, Editor: Drop Dead Gorgeous Daily
They don't really know you.
"THIS ISN'T ABOUT YOU. Not one bit. The words she says, or spins, or spreads, they are only a reflection of her. She doesn't know your fabulous self. She doesn't see how you love those boys of yours, or what a good mate you are. Let her live her miserable life, and you get busy living your fabulous one."
Chantelle Ellem, Fat Mum Slim
Focus on those who matter.
"Spend as much time thinking about every one of your friends who adore you, and the lovely people who follow and comment on your blog as you do thinking about this horrible one."
Christina Butcher, Hair Romance
Shake it off.
"Haters gonna hate. Just ignore, it's your attention they crave."
Nicky Champ, Beauty and Style Editor: Mamamia
Acknowledge that it hurts.
"This HURTS & it is ok to listen to that part of your heart.
It is really really hard to 'just' block & delete. 
What I mean is – the actual physical part of doing that is easy. Click a few keys and it's done.
But the internal dialogue and self-questioning is SO HARD to let go of. We all know that you are not the person being painted as this, but we are all humans with hearts and the heart feels this stuff deeply.
Blocking and deleting from your heart is not so easy as doing it on the keyboard.
Be kind to yourself today."
Ruth Bruten, Gourmet Girlfriend
You are in control.
"Look at yourself in the mirror and remind yourself that you are a good person and you define your life."
Zoey Martin, Operation Move
Step away.
"They've made their mind up about you and there's NOTHING you can do or say to change that. Hold your head high, AND TURN OFF YOUR COMPUTER. Tomorrow it will seem a little brighter. Promise."
Beth MacDonald, Baby Mac
Fight back with awesome
"Read Fight back with awesome: my approach to dealing with internet trolls."
Kayte Murphy, Woogsworld
Decide who you will listen to and manage accordingly
"That video is part of my presentation to our writers at Mamamia about being brave and dealing with criticism and I find it so damn helpful.
Something else that works well is to make a list or a mood board of the opinions (negative and positive) which DO matter to you.
Whose opinion will you listen too, and whose feedback will you consider and reflect on?
If you're not on that list (and your bloody troll won't be) then you can bugger off ;)"
Jamila Rizvi, Editor-in-Chief: Mamamia
Since that advice I've recalibrated.
I cranked up Taylor Swift's anthem about the "haters", played it on repeat, shook my invisible pom poms and danced around the kitchen while making the kids their lunches. And I seat danced, shaking it off, in the car on the way to school drop off.
I donned the red lipstick that the troll was so scathing about, and had my nine year old snap a couple of pics after school for the record.
Photo credit: Zach, 9
I listened to the words my friends and readers had said to me in response to my posts on facebook.
I made myself write down each and every positive thing they had to say about me, even if I didn't believe them myself: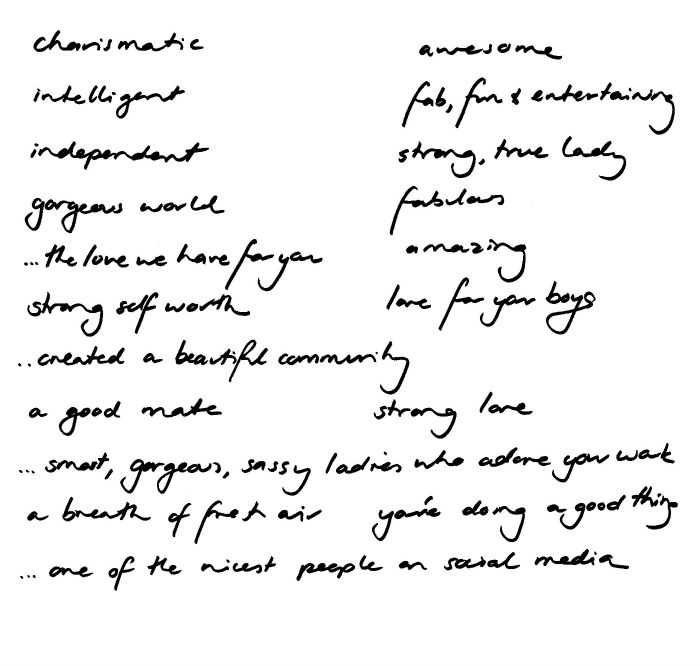 Yet writing these words down gave me a level of discomfort I wasn't expecting.
It made me realise that even though others may see me in a certain light, my inner voice had taken on the comments from the troll more than I had realized.
Damn I was pissed!
So I forced myself to think about whether these lovely kind words – objectively –  were true or not, as Jamila suggested.
Some of them, like being strong and independent, building a beautiful online community of smart, gorgeous, sassy ladies, being a good mate, and loving my boys were easy to agree with.
Some others not so much. For instance, I don't feel like my world is gorgeous when there's a drying rack of clothes in my dining room, toys and socks scattered on the floor, dirty dishes in the sink, and a massive pimple brewing on my chin. Which for the record is me and my place right at this minute.
But I'm keeping that list of lovely kind words and thoughts pinned above my desk for the time being until I start to believe them all. Like a parent to their child, I'll tell myself I am these things over and over. I want my inner dialogue to speak these words.
I also reflected on the words the troll had said to me.
And other names I've been called over time that I didn't realise had set up camp in a corner of my mind toasting marshmallows and singing an evil version of "Kumbaya" on repeat. Names that have chipped away at my self-esteem over time. I wrote them all down too, and reflected honestly about each and every word. Not one of them is true. Not one.
I've spent this morning cutting up my old editions of glossy mags and am compiling a mood board about how I aspire to move forward as I'd did oh so many years ago. A mood board that changed my life.
Like the unbroken eggs in the battered carton that appeared in my dream last night, I still remain whole and in control, despite a few bumps of late. And like the interpretation of the eggs as symbolizing "potential as yet unrealized" I now feel that also.
I feel inspired to re-focus on what I've been doing in this online space, to let myself be more vulnerable as Brené Brown encouraged the audience in her keynote. I'm also re-thinking some aspects of my personal life. The potential is endless, and I'm excited for the first time in ages.
Perhaps the troll was one of the best things to happen to me? It forced me to face my self-doubt, and accept all of the positive energy and kindness that surrounds me.
The troll made me listen to those who actually cheer me on, those who really know me, and those who see me as being a far better person than I had been seeing myself.
x Andrea