Recently I dashed into a store with the boys in tow to buy a white t-shirt, but walked out with a neon knit in my shopping bag as well. At around $45 I was thrilled to find an inexpensive yet well-cut way to dip my toe into the neon trend.
For its first outing, I took it on an early morning plane trip to Adelaide, where I was spending the School Holidays with the boys and my family. Pulling that ball of brightness over my head, and smoothing it over, I turned to my husband to show-off my new purchase, thrilled with my retail-savviness. His response? A mumbled: "High Vis."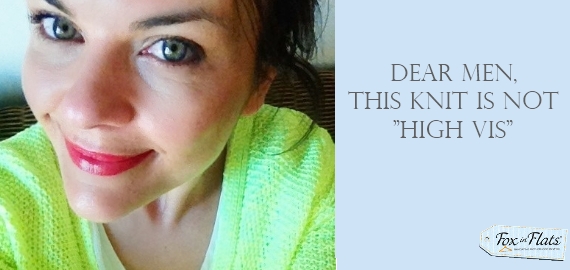 For the uninitiated (which was me till two weeks ago), "High Vis" is as term to describe high-visibility clothing that needs to be worn for safety purposes – think boxy 'Statement Vests' in the brightest neon yellow, with reflector strips.
Feeling somewhat deflated by his two word dismissal of my neon knit, I waved it away with a "Pfft, you just don't get it."
Yet as I walked through the terminal on arrival at Adelaide Airport, it felt like I'd landed into High-Vis World:
The airline marshals were wearing High-Vis Vests.
The guys working on the taxi rank were wearing High-Vis Vests.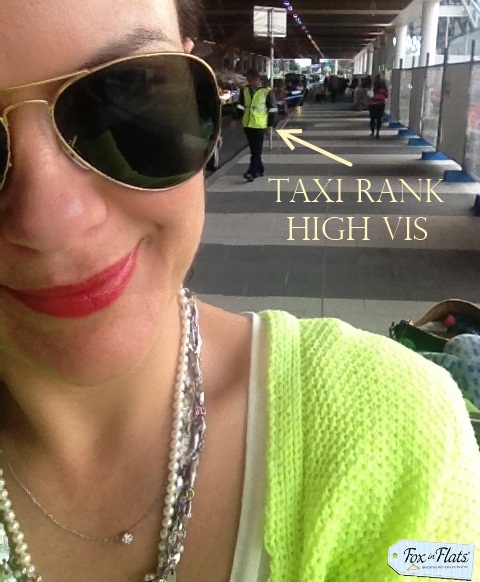 The construction site at the airport? High-Vis Vests.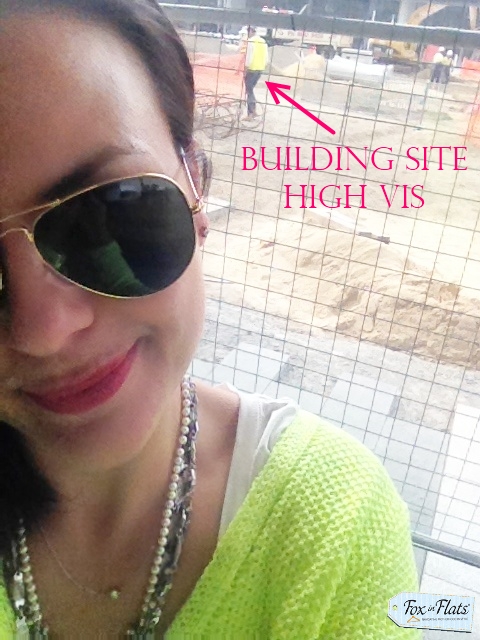 And as I walked up to the desk where we were picking up our hire car, what did the man behind the counter say to me? "High Vis!"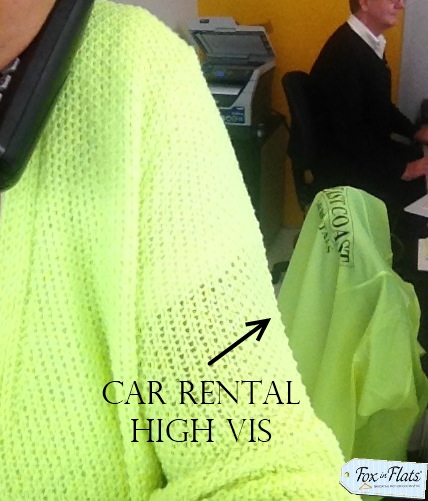 Clearly, men around Australia were not "getting" my neon knit, and probably not the neon trend generally. Perhaps they were suspicious of a woman wearing a colour that, up until recently, had been the sole domain of men who use their arms a lot to provide directions, or were in peril of being bundled over by a forklift?
Regardless, I've persisted in wearing that neon jumper over the last two weeks, because the colour does surprisingly lovely things to my skin tone, such as make it look instantly tanned (not so obvious in the ruddy Camera-Phone selfies above). Plus, the slouchy cut of my knit is perfect to wear over jeans, maxis and shorts in this wacky four-seasons-in-one-day kinda weather we are having – buy similar for $53.
The women have oohed and ahhed over it. The tradies try not to make eye contact with me when we're wearing our matching "High Vis" colours. And last night, as we were picking up random LEGO pieces from the floor together, my husband looked up and said "Hey, I really like you in that neon jumper. It's grown on me."
Do you have an item of clothing that men just don't 'get'? Do you persist in wearing it, or has it been shoved to the back of your closet?