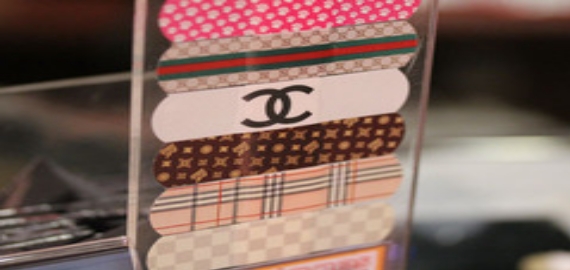 How many times do your kids demand a band-aid for just the slightest scratch, mainly so they can stare at the images on their novelty band aid that features The Wiggles or the characters from Sesame Street?
Well, prepare to stare at your own banged up hands, ladies, as you can now buy designer band aids.
These 'All-Purpose Designer Bandages' feature logos from high-end designers, in packs of 12 assorted styles. According to the manufacturer, the designer packs are created with one critical goal in mind: "to heal in style".  You can buy them here for $7.95.
I'm sure Coco Chanel would be thrilled! 😉 

Subscribe for immediate email updates here, become a Fox in Flats Facebook friend here, Tweet with us here, and click here to receive our weekly newsletter. x