By Andrea Michelle
Just like the clothes I wear, I keep my home decor pretty simple: I stick to mostly neutrals, I avoid patterns and colours, and gravitate toward more classic pieces.
Like my wardrobe, this is done for one reason – it removes the styling guess work and provides a blank canvas for more personal touches.
Yet when we moved just before Christmas – the third move in just over two years – that approach wasn't quite working any more. Our new home is comparatively modern, and in it our stuff looked a bit stark.
Just like a monochromatic outfit needs a red lip or a feature handbag, my home needed a touch of texture, colour and warmth.
So I enlisted my buddy Allison Beattie, founder of Anotherland – who specialise in vintage ethnic textiles and collectables based on traditional techniques to help me out.
Making a sea-change from a high-powered corporate career in Sydney, Adelaide born Beattie is now based in Bali with her husband and a menagerie of animals. She sources her products while she travels through Asia and sells them online.
"I love the adventure of travelling, the change of cultures and the way people live is fascinating," she told me.
"Trawling though the back streets, walking into stores of old wares and rummaging through piles of textiles looking for that vintage gem. The workmanship is amazing. For instance, in our Vintage Katu Throws, each white dot is a bead sewn into the fabric. Every now and then you'll see 1 random bead imperfectly sewn outside the perfect pattern. It makes them unique. I also collaborate with local artisans to rework traditional textiles into everyday homewares. How different cultures express themselves through ceremony, rituals, textiles and art is what inspired me to create Anotherland."
Given I love the perfectly imperfect and a great back story, Allison's home-wares seemed the perfect way to add warmth to my home.
So on an otherwise ordinary Thursday when Allison was last visiting, I invited her over and she gave it the shoosh it needed.
Allison's tips for integrating tribal items into your décor
Don't be afraid to mix styles
Traditional tribal textiles and objects work well in the modern relaxed Aussie home.  Try adding more texture and colour by using handwoven or hand-crafted products and you'll be right on the Artisan Trend which is huge this year.
Mixing styles works well too, handwoven with vintage and artisanal objects with modern pieces. An eclectic home looks great, it has personality and is an expression of those who live within it.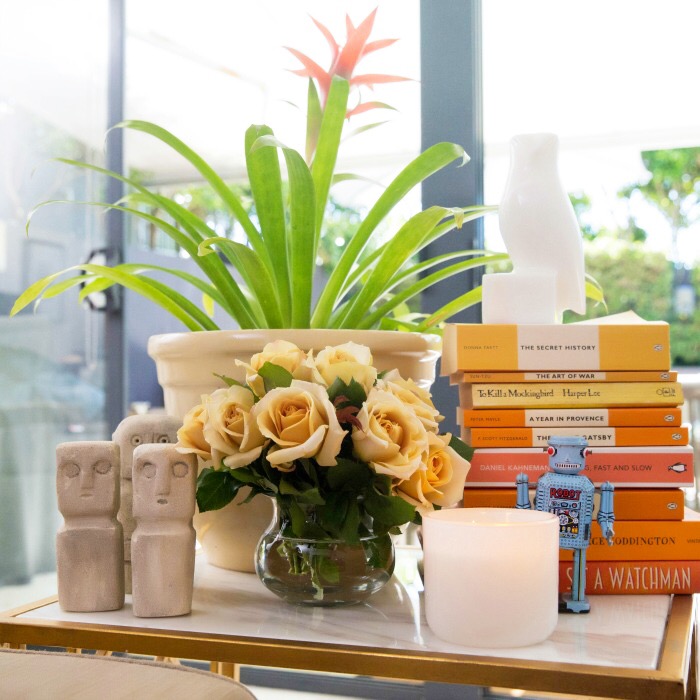 Colour and pattern needn't be scary
Andrea's base is neutral and there is no tiz or fuss which is good as you can add anything to it.
The Indigo Blue H'mong Batik Cushions added a touch of colour to her lounge – but one that was subtle enough that she didn't freak out from colour overload.
And adding black and white Rangrang Cushions and Loa Throw added warmth to an otherwise stark home office.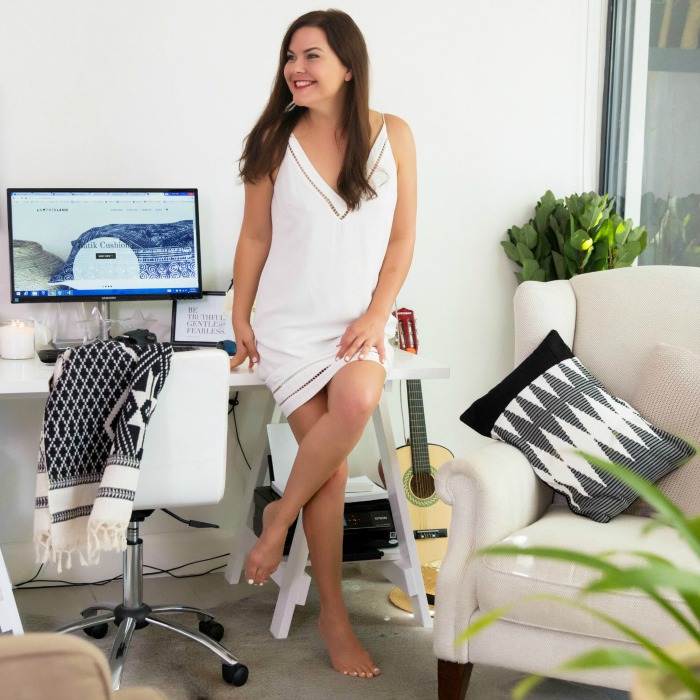 Loa Throw in Natural & Black $115, Rangrang Cushion in Black & White $55
Learn the back-story of what you are buying
Understanding the providence, source, processes or rituals behind what you buy adds meaning to what you place in your home.
H'mong Batik Cushion in Indigo Blue $40
Stores like Ikea and Freedom have their place for sure, but it's that human touch and connection that adds real warmth. For instance, the story behind the cushions I added to Andrea's lounge:
About H'mong Batik Cushions
The Black H'mong minority people of Northern Vietnam are famous for decorating their hand loomed fabrics with natural indigo batik. It's a time consuming process, dye is extracted from the Indigo plant, left to ferment producing the intense indigo blue colour liquid. The natural coloured handcrafted fabric is painted with wax, then dipped into the Indigo dye and dried several times. Each time taking several days to complete. Once the fabric is rich with dye, it is washed in hot water to remove the wax leaving the unique design behind.
As for me? I loved the warmth these pieces added to our home without being overpowering.
The pieces from Indonesia are a lovely reminder of my last visit to Bali – gorgeous souvenirs if you like.
And far classier to have on display in my home than a snow dome 😉
More Fox in Flats: