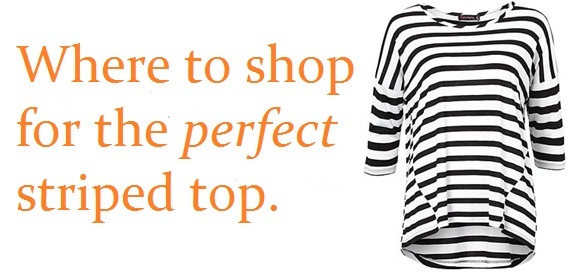 This week one of our foxy readers Amy asked us where to buy a long-line, long-sleeved black or navy and white striped tee, and we were like: 'Mmm, tough gig, but we'll take it on…" Hardly, as it's one of our go-to wardrobe items 'round these parts, and plus, we were all planning to go shopping for a new-season update of the same too. Two birds, one stone. Happy Days!
Striped tees are an easy and chic wardrobe essential. You can dress down your tee-of-choice with a pair of skinny jeans or a casual skirt and Converse, or you can rock one at work or out on the town tucked into a pair of slim fit trousers or a high-waisted knee-length skirt and heels. For some easy style inspiration from women on the street click here.
We've searched through all of our favourite shopping hot spots and popped together a gallery of striped tees in a whole lot of different cuts, colours, sleeve lengths and shapes that you can shop without moving anything except your clicky finger.
Enjoy you foxy sailors!
[cincopa A8CA3lbgg41Y]
Shop it!
Cotton knit tee by bassike $195
Cropped striped tee by Witchery $49.95
Long sleeved split-hem tee by Witchery $49.95
Bretton Striped Top by Witchery $49.95
Black Bretton Striped Top by Witchery $49.95
Hot Options striped tee in black and white available at Target $25
Ladies' slub top in black stripe by Target $25
Short sleeve scoop neck tee in black stripe by Target $9
Free Fusion striped top in black and white available at Target $25
Free Fusion striped tunic in black and white available at Target $20
Ziggy Tee by Sportsgirl $29.95
Violet V tee by Sportsgirl $29.95
Daisy Street striped raglan top available on ASOS $26
American Apparel striped t-shirt available on ASOS $30
Striped top with lace inserts by ASOS Maternity $40
Slash neck ¾ sleeve striped top by ASOS Tall $36
New Look burnt stripe maternity tee available on ASOS $20
New Look textured striped boxy tee available on ASOS $36
Easy viscose rib top by Cotton On $19.95
Aida viscose pkt tee by Cotton On $19.95
Good girl striped long sleeved tee by Cotton On $19.95
Miss Guided striped tee in regal blue and white by Cotton On $19.95
Maya woven tee by Cotton On $24.95
Delight tunic by Cotton On $19.95
Bassike oversized stripe French seem long sleeved tee with tail $140
Stripe heritage neck tee by Bassike $100
We'd love to see your stripy looks! Post a pic of YOU sporting your fave stripes on Instagram (tag us @FoxInFlats) or on Facebook (facebook.com/foxinflats) and hashtag #foxinstripes
More Fox in Flats: