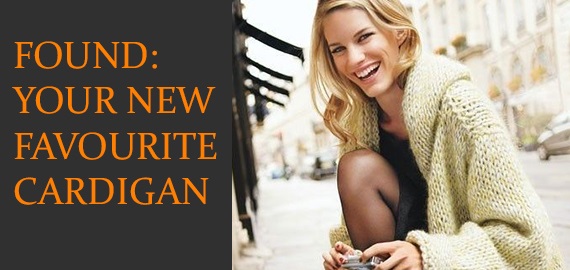 We recently received this email from Nicole…
Hi Andrea,

I'm hoping you can help!

I am on the hunt for a cardigan. Not just any cardy, I want a go to, throw over what ever I am wearing when I need to leave the house for school pick ups or quick trips to the shops etc cardy…You wouldn't think it would be hard to find but it really is. Ideally I would like it to be a chunky knit (but not granny like), oversized and longish but not too bulky because lets face it I don't need to look like I'm larger than I am. I am thinking black because it goes with everything but am not averse to the idea of another solid colour such as sand or charcoal etc.

Can you help???

Thank you!
We're glad you asked, Nicole! It's definitely getting to that time of year that you want a cardigan to cuddle into. Here's a round-up of our favourite cardis at the moment.
Solid colours
A solid colour will work with almost anything, so chuck it on over your loudest top or patterned pants.
All About Eve midnight cardi $69.95
Ladakh playground knit cardi in citrus $109.95
Prints charming
These cardis make enough of a statement on their own, so you can just throw it over a neutral top and jeans and you're ready to go.
O'Neill Queen of Thieves cardigan $89.99
Billabong reversible cardi $89.99
Sass chevron waves cardi $79.95
Slim lines
These wraps ingeniously combine the cut and polish of a blazer with the comfort of a knit. The only question we have: why are our wardrobes not already full of them?
Plus size: 17 Sundays Like a Cat knit coat $139.95
Easy does it
Some days call for an oversized knit that is the next best thing to a big, warm hug. Balance the bulk with skinny jeans or leggings underneath.
White Chocoolate cable knit cardigan $163.35
Ladakh rocky road cardi $90.95
What is your favourite cardigan? And what makes it perfect?
More Fox in Flats: