"We believe that every child needs a safe and loving family, and that if we can support and celebrate mothers who provide that, then we're making Australia a better place."
That's the pretence behind the Barnardos Mother of the Year Awards. It's an opportunity to recognise and reward great mums throughout Australia.
Barnardos asked a group of Australian women to share their thoughts on what makes a great mother: Sass & Bide designer Heidi Middleton, Today Show host Lisa Wilkinson, Professor Kerryn Phelps, Newsreader Natarsha Belling, bloggers Tash and Elle from They All Hate Us, and me.
Behind the scenes at the Barnardos Mother of the Year Awards Woman's Day Shoot, and interviews with Kerryn Phelps, Jackie Stricker-Phelps, Heidi Middleton, Natarsha Belling and Lisa Wilkinson.
Letting the kids lick the spoon
After tripping over my flats to be included among such an illustrious group of women, I spent a bit of time reflecting on what it means to be a good mum.
I don't know about you, but even when my kids tell me I am one, I'm constantly plagued with self-doubt: Am I loving them enough? Am I teaching them the right things? Am I feeding them the right balance of protein, carbs and 'good fats'? And exactly how many hours of 'screen-time' is too much?
I am constantly plagued with self-doubt"
The experience also made me think about my own mum, and what she taught me.
Even though she passed away many, many years ago when I was 11, it's still a bittersweet thing to think – really think – about the lessons learnt from those apron strings (yeah, my mum was a big apron wearer, and yes, she always let us lick the spoon).
But, what an amazing opportunity for reflection:
What do you think constitutes a great mum?
What did your mum teach you?
Where would you be without your kids?
And, what does love mean to you?
The day we shot my vid, it was a stinking hot 46 degree day in Sydney, the school holidays were limping to an end, my son was grumpy at me – probably something to do with Skylanders – and it was a very, very bad hair day.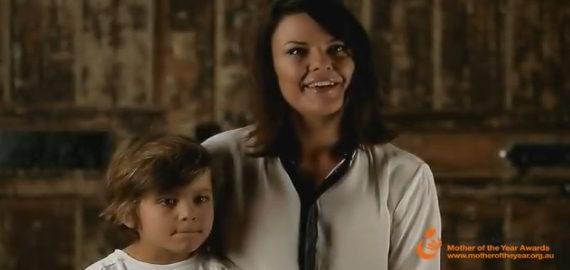 I was asked the above questions (and more) on that hot and sticky day as we filmed, while my eldest son occupied himself with an iPad. He piped up when I said that "without my kids I'd get a lot more sleep ;)" (you can hear him in the background yelling out!) and so the production crew and I decided to bring him in on the action.
Happily, the team at Barnardos edited out the part when he deliberately picked his nose. OMG.
Check it out:
I'll admit that, amongst my nerves and sweat, my son's nose-picking, and him saying on camera that he thinks I'm a great mum because "…she lets my brother and I play computer games," I slunk out of there shaking my head with its weird hairstyle feeling like a total fraud.
Yet later that day while having a splash and a laugh at the beach, my son turned to me in his little voice and said, "I actually love you more than video games." 
Which just goes to prove that, while we're often overly hard on ourselves, being a 'great mum' is definitely in the eye of the beholder.
I'll guarantee you someone out there thinks you're a great mum too.
Know a great mum?

Click here and nominate her for the 2013 Barnardos Mother of the Year Awards . But be quick as entries close March 1st.
What do you think makes a great mum?

What did your mum teach you?

And when you make a cake, do you let your kids lick the spoon afterwards? 

More Fox in Flats: