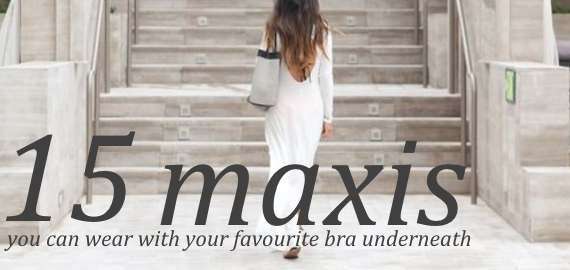 Sheryl Sandberg, the CEO of Facebook, used the title of her book, Lean In: Women, Work and the Will to Lead, as a metaphor for being more assertive.
Well if a female CEO of a household with little kids were to write a book, I reckon it should be called something like Lean Down: Mothers, Kids, and Being Perpetually Bent Over.
From changing nappies and laying babies into cots, reaching over to scoop spoonfuls of soft mush into gummy mouths, bending forward to pick up toys and wipe noses, pushing swings and buckling baby seats, mums are leaning down so often it seems like it'd make more sense for them to just stay down there, Hunchback-style, indefinitely.
But that's not the end of the issue. Bending down creates a potentially embarrassing fashion dilemma with certain items of clothing.
If you've ever copped an unintended boob or nipple flash from a mother proudly leaning forward to present a lovingly-made birthday cake to her treasured offspring, you'll know what I'm talking about. And if you've ever been the one who's accidentally done the flashing, you'll know exactly how I felt at my eldest son's party when one of the aunties commented, "What lovely little boobs." *squirm*
Now I just want to say that I'm a huge fan of maxi dresses. I love the way they swish with all that fabric. They make me feel elongated and elegant. But because they're often spaghetti-strapped, they're one of the biggest causes of accidental boob flashing. Why? Because like it or not, they look best when the wearer risks going bra-less. And it is a risk. Yet wearing a strapless bra is an uncomfortable option, and if we settle for wearing our usual bra underneath (let's be honest) it looks pretty average.
So as a dedication to one of our readers Nicole (who suggested this post) and for all the ladies out there who want to be able to bend forward with complete abandon, here are 15 beautiful maxi dresses you actually can wear with your favourite bra.


And just think, with all these fab maxi dress options that we can easily wear with our usual bras, we'll have completely zapped the possibility of an accidental boob or nipple flash, meaning all our summer happy-snaps will be perfectly fine to upload to Facebook. Sheryl would be pleased.
More Max-piration:
7 easy ways to start wearing your Summer maxi, now
15 ways to style a black maxi, whatever the season
5 tips for wearing a maxi when you're a mini

More Fox in Flats: