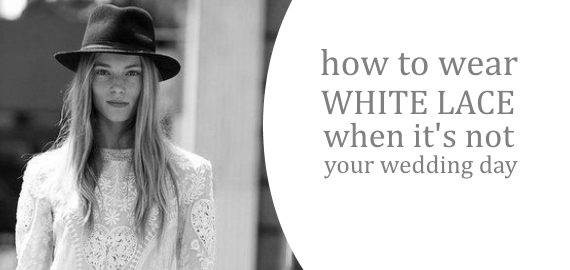 Lace. It's associated with prettiness, femininity and daintiness. It's also associated with weddings, christenings and Picnic at Hanging Rock.
So how do you wear this delicate fabric without looking like you're about to walk down the aisle (or disappear mysteriously)? Answer: by working it back with items that tone down the formal vibe. Here are three styling combos that will have you lacing your outfits with the pretty white stuff in no time.
denim
Pale wash and distressed denim take the prim look of lace down a notch. Dress it back up again with heels if you like, but the combo is equally as cool with sneakers or flats.
knits
Delicate, breezy lace becomes cosy and luxe when teamed with a knit. This is a perfect way to keep wearing your favourite lace garments year-round: slip a fluffy jumper over the top of a lace skirt or dress and float through the colder months in style.
a hat
Pop a hat on your noggin and lace transforms from overly formal to beachy boho. Complete the look with ankle boots and round shades for a modern update on the crochet craze of the 70s.
Let's go shopping! 

If you've been married, did you wear lace? 
More Fox in Flats: