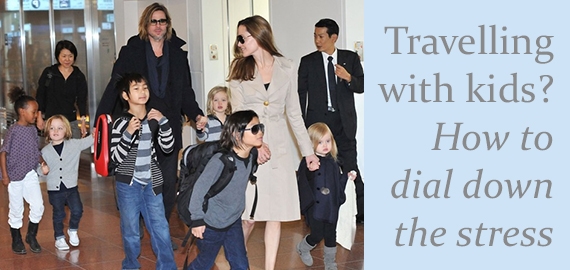 Are you and your family planning a winter getaway this year? Perhaps you're heading to somewhere snowy, or heading in the opposite direction by jumping on a plane to the tropics to escape the winter weather. Or maybe you're planning to bundle everyone into the car and take a family road trip. Wherever you're headed, if there are kids involved, you may be dreading your so-called "holiday" in the same way the youngsters are dreading their first day back at school.
Take the stress out with these tips
1. Word them up
Much of the angst when travelling with young kids is that they can freak out when they don't know what to expect. They manage a lot better when they have an idea of what is going to happen next. Discuss the chain of events of the day, and be sure to emphasise when they will get to do something fun, like visit a playground or see the planes taking off and landing. You can use the anticipation of the fun activity to negotiate trickier times of the day — just make sure you follow through on your promise!
2. Meet basic needs
On long travelling days and especially when travelling between time zones, it can be easy to lose track of the time and skip meals, resulting in hungry, haywire little ones. Plan ahead with enough drinks and snacks to cover the expected travel time (and a bit extra, just in case). For younger kids and babies who need naps, see if you can organise your travel so they can sleep in the car, or between bouts of travel during a walk in the pram or baby carrier.
3. Give them time to be kids
Hours of being cooped up in planes, trains and automobiles can be tough enough for grown ups, let alone kids who are bursting with energy. Try to factor some time into your itinerary for breaks and find a playground or open space for the kids to run around and be a bit noisy.
4. Fit your own mask before assisting others
In other words, take care of yourself. Wear comfortable shoes and clothes, remember to eat meals, drink plenty of water and take regular toilet breaks. You'll have much more patience to deal with the little travellers if you're not also at the end of your tether.
Get organised
These items will help make it easier to keep your wits about you — and look fabulous as well, naturally — while you're on the move with your brood.
Travel wallet
Keep passports, currency, booking confirmations and boarding passes all in one place to avoid mishaps.
Time's Arrow travel wallet $295
Nappy bag
Even if you're not usually one to carry a nappy bag, consider making an exception when you're on holidays. The multitude of pockets and compartments will ensure you can keep all the essentials easily accessible.
Supports charity: Diane von Furstenburg Born Free diaper bag $155
The go-anywhere, do-anything jacket
This number has pockets for keeping emergency snacks, tissues or even toys, extra fabric for snuggling with chilly mini travellers, and is comfy enough for long car trips or flights. As a bonus, it will help you look elegant, even if you feel far from it.
River Island Darla drape jacket $83.96
For more tips on travelling in style – tailored especially for you – check out 25 ways to be a Flying Fox.
What's the funniest or most stress-inducing thing that's happened to you when travelling with kids?
More Fox in Flats: