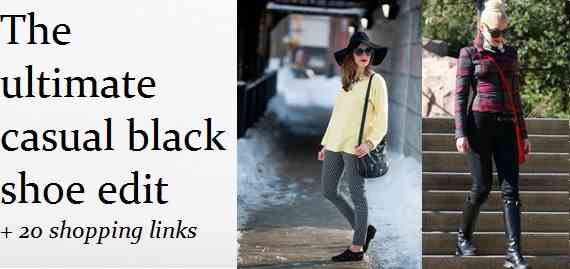 Recently we received an email from one of our foxy readers:
Hi there. I will just start by saying that I stumbled across your website a while back and now I am addicted! I am a stay at home / work at home mum with 3 young boys and I am living in a fashion vacuum! I struggle every day to get my look right – casual but cool whilst being practical… anyway I have seen that you sometimes answer reader queries so I thought I'd put one out there!
Flat-ish black shoes have been missing from my autumn / winter wardrobe the last couple of years. Because once school pick up in the rain and Saturday sport on wet grass entered the equation I quickly discovered that black ballet flats – whilst looking great with pretty much everything – don't cut it on these occasions. I turned to black boots but every pair I try on and subsequently bring home just either look like 'special' boots for going out, or clompy work boots.
Can you help with some inspiration or maybe some alternatives?
Keep up the great work!
Cheers,
Michelle
We hear you Michelle, and have found ourselves in the same boat. The frosty mornings are upon us and between school and sports runs, it's time to keep our freezing feet toasty.
Have a look at these chic options for everyday wear.
1. The ankle boot
For tips on how to style ankle boots click here.
Shop!
Fedora Gusset Ankle Boot by Target for $49
Galosh Black Chelsea Boots by Mollini for Styletread $59.95
Shannon Leather Ankle Boot by Target for $79
Territory Boot by Steve Maddern $79.95
Nikki Boot by Witchery for $199.95
Bertie IV by Senso for $249 (June pre-order)
2. The knee-high boot
Shop!
Emerson Tall Stud Boots available at Big W for $15 (Run don't walk!)
Lucy Long Boot by Rubi Shoes for $59.95
Black Leather Back Zip Snap Detail 'Raya' Riding Boots by Ciao Bella for $80
Eden Over The Knee Boot by Steven for $173
Chelsea Black by Siren for $259.95
3. The brogue
For tips on how to style brogues click here.
Shop!
Dina Lace Up Flat Shoe by Target for $25
Caril Side Cutout Loafer by Steve Madden for $53
Chai Lace Up Flat by Novo for $59.95
Balea Black by Django & Juliette for $159.95
4. The sneaker
Shop!
Jodi Low Rise Sneaker by Rubi Shoes for $29.95
Dani Spliced Sneaker by Sportsgirl $39.95
Quilted High Top Sneaker by Sportsgirl for $49.95
PU Trim Hi-Tops by Boohoo for $60
Chuck Taylor All Star Lo by Converse for $90
Which type of shoe is your daily go-to when the weather is cooler?
Got any more hot shopping tips for Michelle?