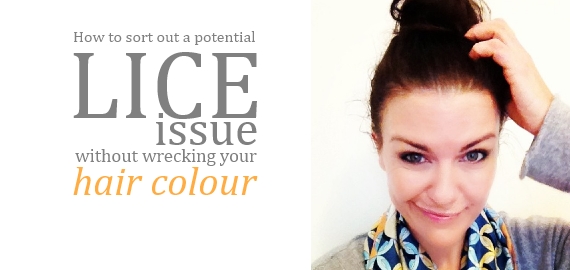 You've just read the sign on the door at your kid's childcare centre, or sifted through the raft of notes crammed in their backpack by the school teacher: there's an outbreak of lice in their class.
Before you even have the chance to check your offspring for those nasty nits, you find yourself scratching your scalp – the very thought of those teeny little creatures making you feel like they're crawling all over you. Bet you scratched your head just reading this too, huh?
And while there's a fair bit of info floating around about how to get rid of lice when your kids have them, the first time I went through all of this as a mother I felt perplexed about what to do with my own hair as a pre-emptive strike. Because when you lay down a wad of bills at the hairdresser every six weeks for a colour, the last thing you want is a $14.95 bottle of nit-wash to strip it of its gloss, hue, and in my case, coverage of a few very stubborn greys.
So I hit up my buddy – and master colourist – Stevie English from Stevie English Hair with my concerns, who shared these easy tips that'll keep your locks lice-free, no matter how many squeezy hugs you give your nit-infested kids.
For starters, douse your hair with conditioner, comb it through carefully with a lice comb, rinse, and comb through again. Even the most inexpensive conditioner from the supermarket will do well at this job.
Keep your hair well hydrated with treatments like Seven Day Miracle from Original and Mineral (O&M) $31.95, especially if you've had to resort to harsh lice treatments yourself.
As a preventive measure, mix about 500ml water with approx. 25 drops of Tea Tree Oil in a spray bottle, and mist your hair daily.
Apple cider vinegar is great as an inexpensive and natural scalp treatment. Use it as a pre-shampoo rinse once a week to keep your scalp clear, healthy and itch-free.
And the great news is? These tips won't only keep your hair free of those creepy crawly buggers and your expensive hair colour intact, they'll work just as well on your little people too.
How do you look after your hair when the kids get lice? 

More Fox in Flats: