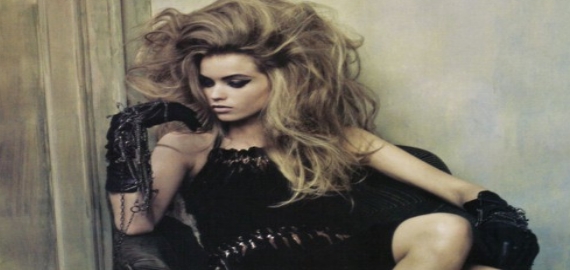 By A.J. Howard.
Oooh yeah! Sometimes don't cha just feel really dirty?
I sure do, especially since I've had kids. Between the feeding, wiping, rocking, consoling, and cajoling, it can be hard to squeeze in time to have a shower, let alone wash my hair.
So in the interest of all foxy mums, we've sourced 9 great hairstyles that are easy, fast – and actually look better – when your hair is really dirty!
1. The good old pony-tail is great for dirty hair, as it keeps it off your face, and the layers of hair hide an oily scalp. Pull your hair into either a high or low pony or try looping it. Add hair accessories such as a scarf, headband, hair cuff, or clips for extra interest. More great ponytail ideas here.  
2. For sexy 'just walked off the beach' hair, use salt spray (you can make this yourself by using several tablespoons of sea-salt and water).  Just dampen your hair, spray with your salt spray, scrunch, then let it air dry.  Perfect!

3. Messy buns and knots are quick and easy when you're on the go. Finger comb hair into a low or high, loose, messy bun or knot and secure with bobby-pins. More bun tips here and here.

4. Half French braid your hair at the back down to the nape of the neck, then pull the rest into a low ponytail or loose bun.

5. To hide those tell-tale greasies around the face, braid the one-inch front sections of your hair, then secure at the back. Or go for the Water fall braid by starting the braid at the right hand side of your part, and dropping strands as you braid them.
6. If you have short hair, go for a cute headband to divert attention from your dirty locks.  Style your hair as you normally would, then place your headband where you want it (avoid pushing it into place as it will exaggerate oily hair and mess up your style).

7. Try a coif! Dirty hair is perfect for holding its shape and you can use this style on short or longer hair.  Just use your dry shampoo to absorb oils and add a bit of volume.  Use a small amount of product to pump up the volume then style and push hair into shape.  For longer hair, you may need to do a little back-combing then secure with a clip or comb at the back.

8. A side-swept bun is a quick, chic way to hide disguise those dirty locks and works well on medium to long hair.  After making a deep side part, gather your hair on the opposite side into a low pony behind your ear.  Secure with a hair-tie, then create a low bun. For a bit of added detail, add braids, a clip, hair diamantes, a flower or ribbons.

9. For a look that's more Greek goddess than grunge girl, take a full headband and place it over your hair (rather than under as you usually would). Then take sections of your hair from underneath and tuck it into the band.  You can get the same effect by taking two sections and twisting then securing at the back of your head.
Top tips for dirty tresses:
Don't brush it! Brushing only distributes the oil through your hair making it look greasy and stringy!  Wait until you have sprayed in some hair powder/dry shampoo before brushing.
Dry shampoo is a mummy's best friend – it helps absorb some of the oil and bulks up the hair so you can style it more easily!
Dirty hair holds curl better, so you can heat style your hair using your roll-brush, heat rollers or curling tongs to get some body and curl into your hair.
Here's to all you gorgeous (dirty) foxes!


Subscribe to Fox in Flats for weekly updates and special offers straight to your inbox.