The fash-pack have been banging on lately about flares, or 70's styled jeans.
Apparently they are the jean du-jour, with Rachel Zoe declaring her love for these J Brand's: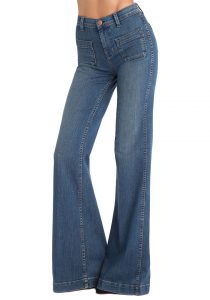 Like the Zoe-bot, I'm loving an alternative to the skinny jeans that have been glued to my legs for the past few years.
But, I'm a little dubious if bell bottoms can really look any good with the type of flat, practical shoe that is needed when you are with your kids.
After all, almost every time I've seen these pictured in magazines, they are worn with heels, a high platform, or a wedge.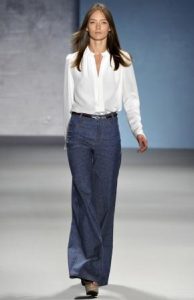 So, all in the name of research, I've been surfing the net.
To be on trend in 2011, we're talking 'neo-'70s', according to Fashionising.com.
This is characterised by two things:
A hem that is at least as wide as your foot, and
Loose at the knee – not tight down to your knee and then flaring from underneath. apparently this is sooooooooooo '90s, so don't go there. Who knew?
According to Daniel, the Editor in Chief of Fashionising.com:
…flats will work with bell bottoms provided you're tall enough or their cut is a few inches above your flat foot.
So, just how tall do you need to be to pull off this look?
I'm 5ft 6 inches (169 cm), and according to Wikipedia, this makes me slightly above average in height for Australian and American females (163 cm, and 162 cm respectively). I'm a giant compared to our Bolivian counterparts (142 cm), and smack bang on average if I lived in any European country starting with the letter 'N'.
I posed the question on one of my new favourite sites Polyvore.com, and these were some of the responses from stylish people in the know, in cyber world.
I would think you probably can! I think 5'6″ is the perfect height for those type of pants. I'm 5'2″ and I wish I could wear those! 🙂 I say go for it!
totally! i always wear flare/bell bottom jeans and im a couple of inches shorter, just make sure they fit nice on you 🙂
Yes, if the flare is not huge. Something slightly wider than a bootcut looks really cute with flats especially when the front of your flats just peeks through.
No, sorry. =\ I would suggest a flat platform instead. They are very trendy atm, will give you height, and won't be as uncomfortable as traditional heels.
I also asked my fashionable virtual friends at Polyvore.com, what type of flat shoe they would recommend to go with bell bottom jeans.
The consensus seemed was ballet flats, sandals, converse sneakers, and some even mentioned the brogue.
Here are some looks I've pulled together, that just might work in the playground.
(click on the set for more information on each item)
I know, I know, you might not think sequins can work in the playground…but I've tried it, and it works! Click here to read about that.
Thinking of buying a pair of bell bottoms this season?
This article from WhoWhatWear.com is full of excellent tips on what is around at the moment, and what features to look for in your flares.
My advice about this trend, and teaming it with flat shoes?
Treat it like a tired toddler.
Approach with caution.
Will you be wearing flares in the playground?