Our celebrities today may not, at first glance, seem the most obvious choices for sharing on Fox in Flats:
(a) none of them are mothers, and
(b) all of them are so tiny I could thread them on a chain and make a statement necklace.
But if you are looking for stealth butt-camouflage, a super-fast hairstyle, or some lush accessories, these ladies are inspirational.
1. Detract from your bottom, like Pippa.
The owner of the world's most famous butt – which you can be-friend on Facebook at the Pippa Middleton Ass Appreciation Society – Pippa has managed to take the focus off her divine derriere, and it's all about her legs.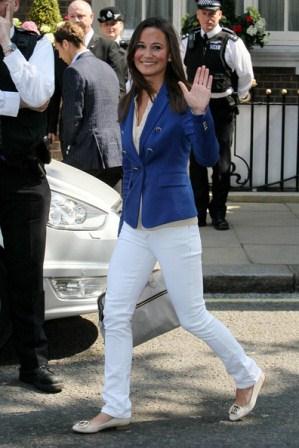 Detract from your own butt, and copy Pippa's leg lengthening tip by matching your shoes to your pants.
Then copy her sister Kate, just like Pippa, and utilize the two royals you actually have access to: The Royal Wave, and Royal Blue.
To win Kate Middleton's dream maternity dress, click here.
2. Go classic with your accessories.
A simple white shirt and chinos are polished to perfection with tan and tortoise-shell accessories, topped off with a classic Panama hat.
I'm in love, Aphrodite style with this leather satchel, which could also double as a stylish diaper bag.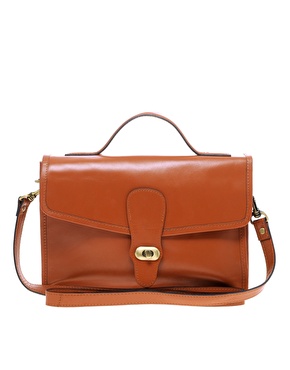 3. Tangerine Tote
Olivia's got the memo from Pippa about the colour coordinating pant/ballet flat combo, and she's also on top of the fashion fruit tree picking the trend for tangerine from the top.
A bright oversized tote is great way to add a pop of colour, and to modernise an otherwise  dark, yet classic look.
4. Slick stripes.
Mary-Kate Olsen makes this statement raspberry suit slick with her dark sunnies, nautical stripes, embellished sandals and a slicked, low bun.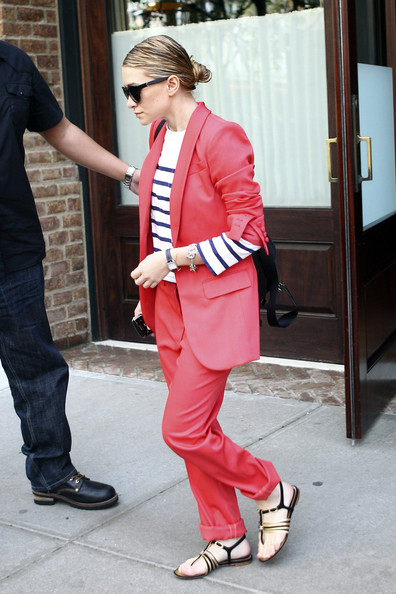 And it's a look that is simple to recreate when you are busy with a Full House of your own:
5 steps to a slicked back bun:
1. With your hair damp, spray on styling spray or gel.
2. Use a wide-toothed comb to untangle your hair and help distribute the product.
3. Secure your hair in a firm, but not overly tight, ponytail about 1 1/2 inches above your hairline at the nape of your neck.
4. Twist your ponytail, looping it around the elastic and securing with bobby pins.
5. Finish with a light mist of hairspray.
If you dig Fox in Flats – or even if you just dig Pippa's butt – how about showing your appreciation by voting with a big thumbs up for us in the Australian 50 Top Bloggers? Click here.
Thanks!