Recently at Fox In Flats, we commenced a series on what to wear while breastfeeding your baby: From milk machine to style machine.
In Part 1, Nursing Tops we found 6 stylish styles of tops for you to wear while breastfeeding.
In Part 2, we looked at Breastfeeding in Public, and found 9 awesome options for covering up, should you choose to.
In Part 3, we're sharing ideas on what is super comfortable – and stylish – to wear at night.
Nursing your newborn can be wonderful, intimate, and dreamy. Or excruciating, embarrassing, and frustrating.
It all depends on who you talk to, as the experience can differ vastly from one woman to the next.
But what we all tend to have in common is that moment where we think:
WTF am I supposed to wear now???
I rounded up 21 of my buddies, who breastfed in the last few years, to reveal some of the fashion highs and lows from their own nursing experiences so we might learn from their collective wisdom.
Kinda like an online mothers' group, but everyone in the gang is cool.
Part 3: Nursing Night wear.
Nursing a baby is like running a milk bar that is open 24 hours – you can't just shut down shop when you go to bed.
So what do you wear when it's night-time, and you are hoping to get some sleep, yet you know you'll be firing up that milk machine throughout the night?
Nursing night wear options will depend on your level of leakage. 
High leakage.
If you are leaking breast milk throughout the night you will need to choose night wear that will hold your breast pads securely against your nipples to absorb the excess milk.
Medium-low leakage.
You can get by with night attire that will lightly hold a breast pad in position.
No leakage.
No wetness? Lucky you, you don't need to wear breast pads! Look for night wear options that enable easy access for breast feeding.
Most women will start their nursing journey as a leaker, but over time will mercifully move into the territory of non-leakage. But there's no need to cry over spilt milk while you are leaking like a broken faucet, as there are still many stylish options for a (leaky) nursing mother to wear at night.
8 stylish nursing night wear ideas.
1. Nursing and maternity sleep bra.
Most lingerie brands have a purpose-built maternity sleep bra in their range. They tend to have no underwires, buckles or hooks and pull-over the head. You can also wear these during the day. My friend TJ* recommends Kyrawear Maternity & Nursing Sleep Bra $42.95.
2. Nursing Chemise.
Caitlin, mother to a divine 10 month old with another on the way, chose to wear a seductive slip while breastfeeding.
I didn't wear PJ's, but I did wear a HOTmilk nightie…we still have to feel sexy.
Perusing the HOTmilk range, it is easy to see why. They are cut to flatter a postpartum body with gathers at the front, have pockets for breast pads, and include maternity clips for ease of access.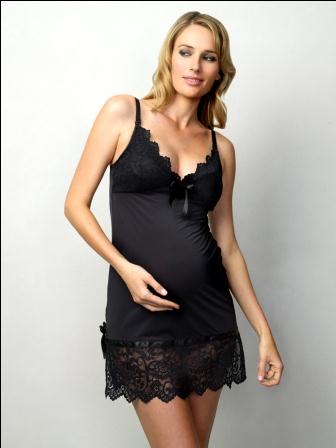 You can go into the draw to WIN this slip thanks to HOTmilk and Fox In Flats.
Click here to enter. But hurry, entries close Friday 29th April at 5pm.
3. A nursing singlet, with shorts or long pants.
According to the mothers we spoke to, a good nursing singlet or tank top is essential while breastfeeding. See our feature onNursing Tops for further details.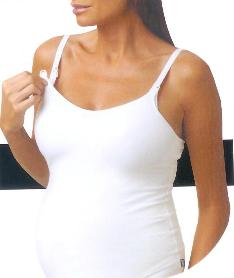 Nursing tanks are worn like a regular singlet, but unhook at the straps, and fold down for feeding. Comfortable, inexpensive, and supportive, they also include small pockets over your breasts to hold nursing pads in place at night.
Team them with some comfortable pyjama bottoms, or lounge pants, and you can get away with wearing these into the day around the home.
4. Soft Crop Top.
A soft crop top can be a great and inexpensive option for gentle support at night, and can be worn under regular pyjamas. You can purchase these from most discount department stores for around $10.
But heed the warning of Peg, mother to two little boys, and use this option only when you are less leaky:
In the beginning I wore a sort of bra crop top with no support just to give my boobs a rest…not great as the nursing pads always slipped and I ended up with wet sheets when my boobs leaked. Not nice!
5. Nursing camisole and brief.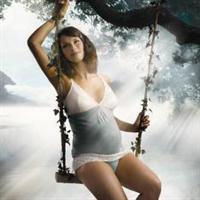 TJ, my stylish mama friend who had a vast wardrobe of nursing nightwear bought a special camisole and brief set for the boudoir.
She bluntly explained:
They were pretty and a bit sexy so I didn't feel like such a podgy-milking-cow…hubby thought they were a bit of okay too.
6. Button down pyjamas.
You've probably got some in your drawers already, but ensure they have easy to open buttons for those hazy night-time feeds.
I'm loving the look of this waffle cotton pair from Papinelle. They feature a low-rise satin drawstring waist, oh so comfy on a post-baby belly.
7. Traditional Cotton Night gown.
There is something quaint about a cotton night-gown.
But there's also something subtly sexy about them too.
Who could forget this photo of Angelina, Brad and the twins on the cover of People magazine? Sex-y.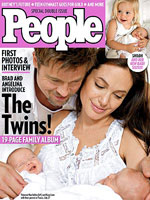 Lindley, mother of four loved to wear these while nursing:
I had two cotton nightgowns that buttoned down the front.

By the time I was on my second kid, I was all about nursing in bed so I could sleep. I would just unbutton my gown, stretch out on my side, attach baby to the breast, shove a hard pillow behind baby's back to keep her propped on her side, and snooze during the nursing. If baby wanted more, I would turn over and do all this on the other side.

Of course, I was careful not to have sheets or fluffy pillows or anything else around that would constrict baby's breathing.
8. Go nude!
And finally, this advice from my cousin Charlotte, who has three gorgeous girls and is pregnant with her fourth child:
I have worn my nursing bra, or a singlet with a build in bra with breast pads as my breasts always leak milk heavily in the first few weeks. The only down side to this is I have developed thrush on my nipples from the warm moist area created from wearing a bra.

You should really wear nothing to bed if you can, and let them dry out.
What did you wear at night when you were nursing? Any nocturnal tips for breastfeeding mothers?

To have all Fox In Flats articles delivered straight to your email inbox, subscribe here.
And if you are mega sleep-deprived, and need some tips on how to look alive, you may like to check out this recent article: 12 ways to fake awake.
*Thanks to my gorgeous friends for helping with this series.
I've changed names to protect the anonymity of your leaky breasts…
You all rule. xxx