Somewhere around the mid 1800s we humans started to intentionally cross different breeds of animals. Some of these man-made hybrids include the Beefalo (bison and domestic cattle), Tigon (tiger and lion), Coydog (coyote and a dog) and the Zebroid (Zebra and horse).
Since then 'Hybridization' has become a controversial topic of research and debate, and has extended into other areas. Recent hybrid examples include:
Flatform (A platform shoe that is flat)
Pleather (A plastic fabric made to look like leather)
Jocelyn Wildenstein (A human made to look like plastic)
And now we have Ceggings. A cross between the cargo pant and the legging.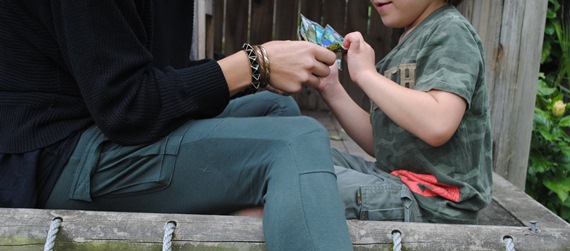 Given the appearance of Jeggings (Jeans and leggings) in 2009, this was a hybrid just waiting to happen.
Combining two of the most comfortable and practical type of pants known to man seems genius.
Yet, like some of the other interventions to the natural course of evolution, these need to be managed with caution, or they risk going feral.
I'll be frank. Tinkering with the way nature intended scares me a little. And I was a little alarmed when I saw my first cegging.
But over the last two weeks, I've taken a pair of Voodoo Cargo Fashion Leggings, $49.95, for a spin. After some careful handling I reckon I've tamed the beast.

I'm a convert to the cegging.
I found these to be super comfortable.
Over the past two weeks I wore these at least three times, and they felt as comfortable as my familiar old tracksuit pants. Yet I wasn't at risk of being arrested by the Fashion Police for breaking The Tracksuit Rule.
They are surprisingly versatile.
I collected a bunch of images for inspiration (see below), and once I workshopped the pants into my existing clothes, I found I had numerous outfit options that took me from a café, to the beach, the hospital, grocery shopping, school drop off, and the cubby in the backyard, in style.
4 simple tips for handling the cegging.
1) Abide by the same fashion rules as the legging.
They are not pants, which means you should always cover your crotch and your bottom, and have your top finish at least a few inches past them both. And while there has been some debate around toe cleavage recently, common sense would suggest that 'front-bottom cleavage' or a 'camel-toe' should be avoided.
2) The pockets are for display purposes only.
You could stash things in these pockets if you needed to. They are double stitched and even have a velcro closure. Yet I tried to stash a dummy, and a tissue, and just looked like I had some weird kind of growth coming out of the sides of my legs. My husband helpfully suggested they would be handy to store a single playing card.
3) If you have concerns about your thighs, and you sometimes refer to them as 'saddle bags', give these pants a miss.
The pocket simply adds extra padding where you least want it.
4) Team them with a quality shoe.
Boots, ballet flats, and sandals work well, as they give a polished finish to the look – see below for some ideas. Sneakers or converse feel too casual, and flip flops or thongs look unfinished.
Now we've tamed the beast, its time to let it out of its cage, 'Magnum' style.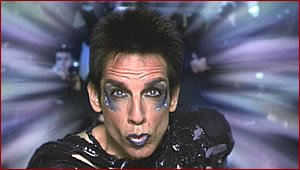 Here are a bunch of ideas to inspire your styling of the cegging.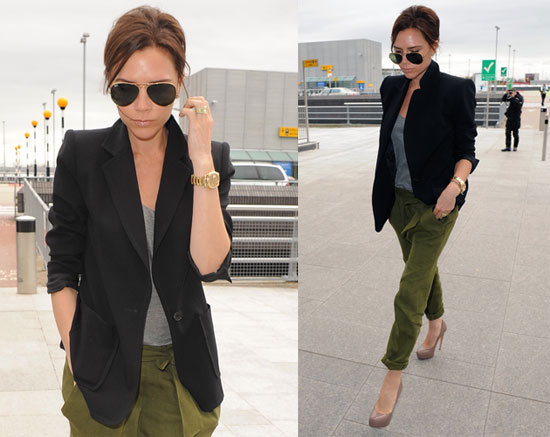 Ever since I saw this photo of Victoria Beckham, I've been trying to emulate it when I'm with my kids, but with a simple tweak: I switch the Louboutin heels for ballet flats or sandals. I've found it's a great way to get use out of those business jackets that were languishing in the back of my wardrobe. I also steal my husband's wrist watch, to tap into the trend for oversized watches – much to his chagrin. Note how well the grey marle T teams with the army green pant? To wear this type of outfit with your 'ceggings' just ensure your T is worn long, and loose.
Kim Kardashian shows how easy it is to tweak this look. And take note of her hair, worn in a high bun. It's a great trick to elongate your silhouette  when you are wearing flats.
Team your ceggings with biker boots and a loose, cream knit in a touchable fabric.
Pile on your gold bling to make this look really sing.
If you join the military, all you're really dreaming of is peace, right?
Give it a chance by teaming your ceggings with flowing, feminine tops, embellished shoes and the most romantic of adornments.
Or, get Out of Africa and go exploring with your kids by layering earth toned hues, with tortoiseshell accessories.
A baggy T, gets some love with some stomping lace up boots, a satchel, and a woolen beret.
And for an elegant look, layer neutrals with chunks of aqua.
Your neutral layers would also work with a black cegging.
Be inspired by a snug looking Rachel Bilson.
'Arrr me hearties.' Here's something for the 'pirate princess' within.
Black & white stripes, a chain tote, ankle boots, and top it with your leathers to make it luxe.
And Alexa Chung's look can take the cargo element into the Navy with nautical stripes, and a classic trench. The bright lip and orange bag make this look especially modern.
Inspired much???
Shopping tips for ceggings:
Ensure they fit firmly, and the fabric is relatively thick.  This should, in effect, demobilize any of your more jiggly bits.
Make sure they are not too long. You don't want a pool of 'ceg' around your ankle.
And, if you're pregnant, try these maternity cargo leggings from ASOS.com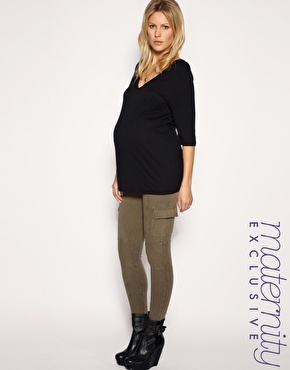 WIN!
Sorry, this giveaway is now closed. Congratulations to KellyB and Lexi who are the winners.
FoxInFlats has 4 pairs of Voodoo Cargo Fashion Leggings, valued at $49.95 each, to give away to two lucky readers.
Each winner will receive a black and an army green pair in the size of their choice, total value $99.90.
It's our very first competition at FoxInFlats, and we are giving you loads of different ways to enter so you can choose one that suits you best. Each equals one entry, and you can enter as many times as you like.
Five different ways to enter:
1. Share this article with your friends on Facebook.
Copy the address of this article (it's the address in your browser at the top of your page, https://www.foxinflats.com.au/2011/04/cegging-cargo-legging-win-hybrid/)
Go into your Facebook account, and paste the article address into your Status Update.
Press Share.
Then come back here and write in the Comments section at the bottom of the article that you have done this. Something along the lines of 'I've shared this on Facebook' will suffice.
This will count as one entry.
2. Share the article on email.
Got any buddies who might like FoxInFlats? Maybe they are pregnant or have young kids? Or maybe they might like the tips, ideas and inspiration to make the whole fashion thing a bit easier?
Copy the address of the article, as per the Facebook directions above, and paste into the body copy of your email.
CC or BCC us at [email protected] so we know you've done it.
This will count as one entry.
3. Share it on Twitter.
Simply click on the 'Tweet' button at the end of this article, and Tweet it.
In the Comments section of this article, let us know you Tweeted. Something along the lines of 'I tweeted this' is cool.
This will count as one entry.
4. Subscribe to FoxInFlats.com
Click here and subscribe for our latest articles sent to your inbox. It's free.
To count this toward an entry to win one of the two pairs of ceggings, simply write in the Comments section something like 'I subscribed'.
If you are already a subscriber, two things: 1) I love you. Thankyou for making me feel so popular. xxx 2) To get an entry to win, just write something like 'I already subscribe, and I rule' in the comments section.
5. If you are feeling really creative, and want to increase your chances of winning even further, share with us some other crazy hybrids you can think of.
Include this in the comments section below.
This will count as yet another entry.
Five different ways to enter, and you can enter as many times as you like, to WIN two pairs of ceggings from Voodoo, valued at $99.90!
Entries will close 5pm April 15th.
The winners will be selected randomly by my sons as part of a Pin-The-Tail-On-The-Donkey-Style game fashioned out of the entries, and they'll be announced here on April 18th. We'll also email you if you win.
Good Luck!
Sorry, this giveaway is now closed.

Free Sweepstakes and Contest