Earlier this week, Jessica Alba was spotted in LA wearing a stunning pair of shoes. The photo was in our celebrity flats feature.

They're kind of a cross between Cousin It…
…and my son's super gross squishy bath toy.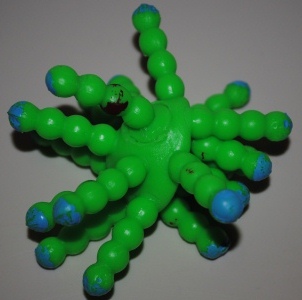 Both weird, yet strangely compelling.
Mercifully, I tracked down a similar pair at piperlime.com, on SALE.
BCBGMAXAZRIA also have a great range of fancy flats at the moment, with a little less 'It' and a little more 'pouf'.
Kind of like my God-daughter's tutu – only the Black Swan version.
They come in other colours too.
Again, these were on SALE – about 40% off.
More BCBG shoes at awesome prices (gotta love online shopping!), are at Bluefly.com.
I'm yet to use Bluefly.com myself, but I like that they invite and include shopper reviews for each item, so it takes some of the guess work out of shopping over the net.
Happy shopping!
What is your favourite online shop?