Two things filled me with wonder this weekend.
Firstly, I managed to read a Sunday paper, cover to cover, uninterrupted, on a Sunday. This has not occurred since the last time my husband and I had a weekend away together sans kids, circa 2009.
Secondly, I discovered that yet another name had been coined, to describe how certain types of women who are mothers dress: 'Muttony Mummy'. Read the whole article here.
And I thought name calling was just for the school yard.
"Mothers who dress like their daughters are doing them no favours and are sending out the wrong message" Tracey Spicer, Sunday Telegraph 6/2/2011.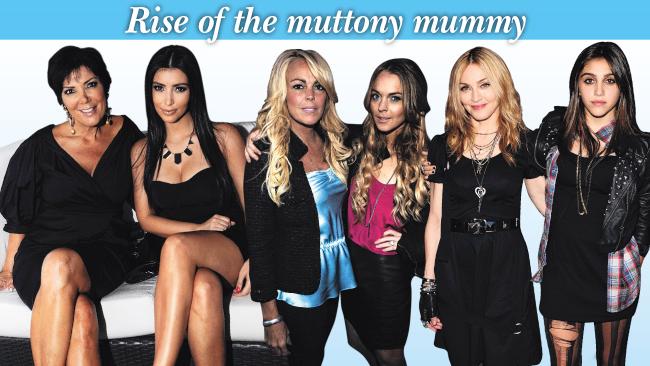 The furore started last week when Demi Moore was spotted sitting next to her nearly 17 year old daughter, Tallulah at a Colcci catwalk show at the Sao Paulo Fashion Week.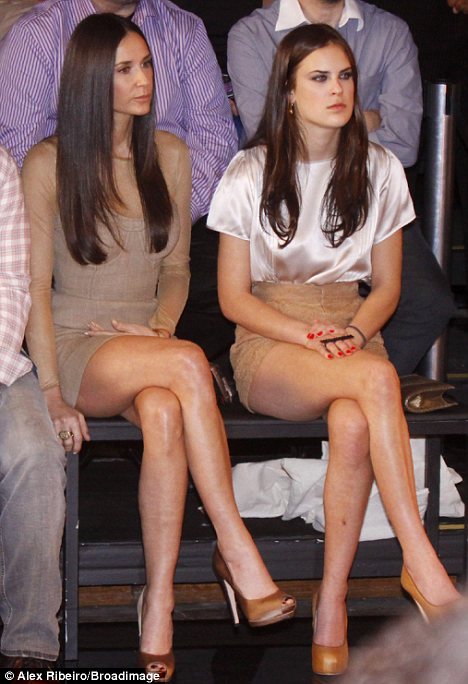 Ok, so their hair and outfits were kind of similar, but leapin' lizards, she looked good.
And I mean, goooooooood.
That hair, her skin, those legs. To quote Rachel Zoe "I die!"
Seems though, that a few people are more inclined to think "how dare she?!", and bang on about her supposed vanity, neurosis, and the negative impact her looks will have on her daughter.
The article asks "What kind of mother crushes her daughter's confidence to boost her own?"
And then they start with the name calling.
Yummy Mummy, Slummy Mummy, Muttony Mummy…Oh My!
We are all familiar with the term Yummy Mummy. Me, I'm not sure I like it. Does it imply mothers are tasty? Ewwww.
Slummy Mummy is used to describe a mum who is a bit of a bogan.
The term MILF was popularised by the movie American Pie twelve years ago, and is so spectacularly popular among certain sectors of the population, that it was searched for on Google more than 13 million times over the past year. (Just to contextualise, that is four times more than searches for Oprah, nearly twice as many times as searches for Angelina, and fifty percent more than searches for Obama). Not keen on this title either, for more obvious reasons. But at least these names are simply objectifying women. While we might not like it, at least it is not new.
But now, someone has coined the term Mutton Mummy to insult mothers who are deemed to dress too young, or "dress like their daughters".
It is just mean.
And out of touch.
Times, they are a'changin.
These days, the lines have blurred between what is appropriate for each generation.
Converse sneakers are being worn by anyone from 50 to 5 months.
Skinny jeans are ubiquitous. My two year old has a black pair from Fred Bare that are remarkably similar to my own skinnies from Bettina Liano.
And last year, Witchery launched a kids line that mirrored their women's and men's collections.
You would be forgiven for thinking "Damn! What am I supposed to wear now?" When kids have first dibs on our shoes, our jeans, and our Wayfarers.
The reality is though, fashion has become extremely homogeneous across age groups, and in many cases, even gender.
What about the kids?
The daughters that are of such concern to Tracey Spicer have grown up with this, and if you take a look at some of the online forums about the topic, they don't see what all the fuss is about.
My mom's 38 (and looks like 25), and I'm 17, and we both shop at forever21. I don't think she dresses inappropriately, she does have a great body, and she could wear anything, but one thing she would never wear now is short bottoms.
Besides, isn't part of fashion about dressing for your body type – what suits you – not your age?
According to Stefano Pilati,  Designer for Yves Saint Laurent, yes.
"I want people to embrace their age and position. Clothes are for moments in a women's life….A woman wants a dress she can depend on, one that is timeless, comfortable and appropriate for her life. This is what matters, not whether she is young or old. That isn't what fashion is about"
So it seems the 'Mutton Mummy Meanies' actually have no idea about fashion. Nah nah ne nah nah (or however you spell that classic playground taunt).
Regardless, 89% of women don't want to dress their age.
Mrs Kutcher, you are not alone! Recent research by British retailer Debenhams revealed that an overwhelming 89% of women aspire to dress younger than their years, with 55% citing 70 as the age they felt they would be, or had been happy to dress their age.
But even still, 45% of women said that their seventies would be no barrier to dressing and looking younger.
They will have to start on a new term for that. Never-grow-up-nannas? Girly Grannies? Grandma-in-a-push-up-bra?

So then, what are the fashion rules, once you become a mum?
The Fox in Flats survey on Motherhood and Fashion revealed that this still is a burning issue.
I grappled with this when I found myself strangely uncomfortable pushing my newborn in a pram while wearing my favourite Ramones T-shirt. Did this make me look like a bad mother? Did it imply that I'm out moshing in sticky floored pubs instead of being cloistered at home serenely breastfeeding my baby?
I certainly fumbled with this for a while (years in fact), until I realised that the best fashion rules to follow are your own, by wearing what suits your figure, and makes your heart sing. Even if that tune is "I wanna be sedated", by the Ramones.
Take a look around next time you are in the playground (or on the Playground Style section of Fox in Flats, which is like a virtual park bench). You will notice loads of mums who look great, despite their different shapes and sizes, and despite perhaps shopping at the same place as teenage girls.
What they all have in common though, is an understanding of what flatters their shape, an air of confidence that what they are wearing is reflective of their individuality, and big fat smiles.
And as for the haters who coin terms like 'Muttony Mummy'? I'm cooking lamb for dinner tonight.
Is there anything you deem inappropriate for mothers to wear? What – if anything –  have you stopped wearing since you became a mother?