What did Fashion Week in New York and London have in common, besides a bunch of women in the industry with very good babysitters back home?
Hot, hot lips.
'Roses Muses' lip colour at Clements Ribeiro
Lip colours with fancy names like Pink Orchid, Roses Muses , and Petal. But for the purposes of the Fox in Flats Dare this week, I'll simplify this fetish for fuchsia by grouping the hues together in a very '80s way and calling them 'Hot Pink'.
After seeing the hot flushes of pink on the lips of models in some of the most fabulous cities in the world, I wondered whether I could pull off this look?
Would I have the guts to wear bright pink lips for a week as I pound the pavement and the playgrounds with my little ones?
Or is this look better left to models who've got professional makeup artists carefully constructing their lips into a pout perfect for a quick pony-walk down the catwalk?
If in doubt, dare it out!"
Anything that makes me squirm a bit is worthy of a challenge, so pucker up for a week of hot, hot pink…
Dare you to wear bright hot pink lipstick for 7 days in a row.
The rules:
Wear bright hot pink lipstick everyday, from when you get dressed in the morning till you brush your teeth before bed at night.
Tips:
If you don't have a great pink lipstick, now's the time to find one. Head off to a cosmetics counter where they should be able to help you find a bright pink to suit your colouring.
Look for a Matte finish – save the pearl or creamy finishes for '80s or '90s fancy-dress parties.
Keep the rest of your makeup fresh and clean, and go easy on the blush.
Treat it as a splash of colour in a neutral outfit, it's Dior chic with black, fresh with white, or team it with bright green, yellow or orange to really pop. See how these colours go together beautifully here.
For tips on how to apply your bright pink lipstick to get it to stay longer, take a peep over here.
For more inspiration and ideas on how to pull off this look, take a browse through the images compiled on the Fox in Flats Pinterest.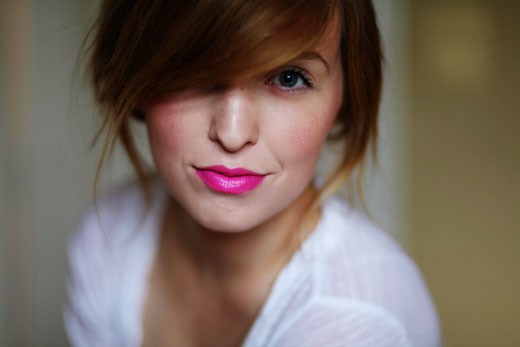 Some hotty hot pink lipsticks to consider:
Yves Saint Laurent Rouge Pur Pure Lipstick #49 Tropical Pink $70. My friend Alice, who's been wearing bright pink lipstick every day for the last 20 years (I'm not kidding!) swears by this stuff. And she looks hot.
Maybelline #140 Fuchsia Fever like Sydney in the photo above.
Revlon Colorburst Lipstick in Fuchsia $25. I picked this one up in a Duty Free store in Singapore after a 15 hour flight from Copenhagen thinking it might perk me up. Instead I've been running on coffee…but this week I'll make a dent on this tube for sure.
What's a Dare without proof that you've done it?
We wanna see your week of hot pink lips – it's all part of the fun!
So upload your photos in the Comments section below, or share them on Facebook or Twitter, using #HOTpinkLIPSdare. If you have an iPhone, try the Instagram app for a quick way to share your shots – you can edit then post them straight away, and it's free!
If you're technologically challenged or simply too shy to showcase your looks, why not just go old school and tell us that you've joined in.
And just like when we did The Red Lipstick Dare a while back, I'm really curious as to how this challenge makes you feel – especially if it's a challenge that takes you out of your comfort zone. To see how that dare affected me personally, take a squiz at this article about my week of wearing red lipstick every day, which was also published on Mamamia and xoJane.
What's your favourite bright pink lipstick?
Any tips for choosing an awesome shade?
And most importantly…are you in? Or are you 'Chicken'?

Missed out on the fabulous style Dares we've run in the past? It's not too late to try them. Click here, browse away and select a challenge that'll take you out of your style comfort zone. Five bucks says you'll be happy you did!
x Andrea
For more Fox in Flats: