A few weeks ago on Fox in Flats, we dared everyone to go a little colour-crazy.
Specifically, the dare was to add at least two different colours to your outfit every day for a week, and for these to be the feature of your outfit. Whether it was brilliantly bold bangles, a Technicolor top,  fuchsia flats, a multi-coloured mani, lips saturated in colour, or bags bathed in blue… it was all about adding colour to make you pop!
Read about the dare here.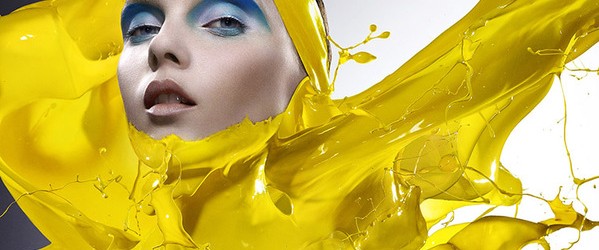 For some, this dare was easy. They already spoke 'colour' fluently, and breezed through the week in a kaleidoscope of rainbow hues.
For others (like me!) it was a bigger stretch. I'm fine with adding a touch of colour, but two? As a feature of the outfit? Crikey!
So, for those of us who'd like to learn a little more about how to mix and match colours, Special Fox Contributor Pene Turner is here to present a crash course in colour like no other: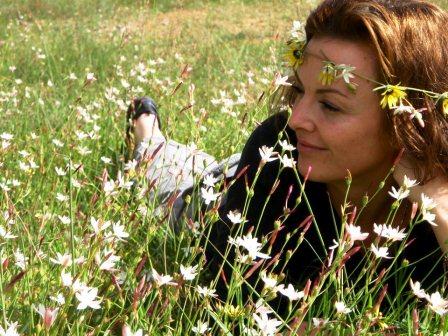 I'm in love…   Ahhh sigh….
Not a little bit of love either – NO!!  This love is deep and unabashed and coated in passion. My husband is aware of it, my friends comment on it, and it shows in everything I do. My love is COLOUR!  Ah, you thought it was something quite different didn't you! Cheeky Foxes! Colour it is.
I know that many people get really hung up on how to make it work.  Hopefully I'll be able to give you some tips that will make it easier to put an outfit together quickly that really looks good, every time.
So here we go on our magical colour tour!  Bear with me – this is like trying to condense the Bible into one chapter!!
Core Colours
There are three core colours, plus two 'tints' as an added bonus.
The three core colours – arty types call them 'Primary' colours – are Red, Yellow and Blue.
The two 'tints' are black and white.  The combination of just these 5 'colours' gives us every single colour known to man, and every shade in between. Pretty cool hey?!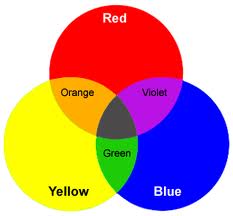 Have a look at the image to the right, and you can easily see the three primary colours. But you can also see how they create orange, purple (violet) and green when they are mixed.
These three 'in-between' colours are called secondary colours.
But how do they go together?
Primary colours all go with each other. However as an adult, I suggest you wear them  in moderation; however, if you're sub-10 years of age (or on the slightly quirky side), you can cover yourself in these three colours all at the same time and be confident knowing that, while you might be rather bright, you will resemble a superhero.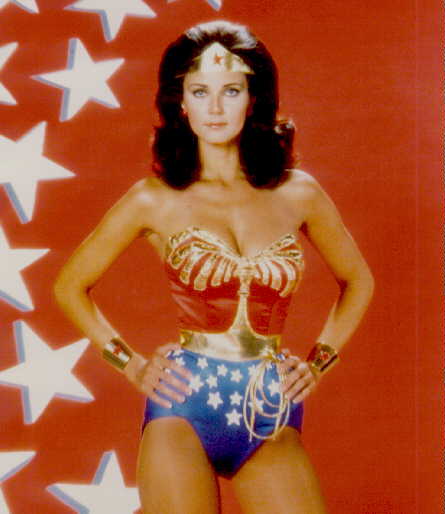 The same goes for the secondary colours – they actually all work together really well when it comes to fashion.
Take for example this little Gucci number – it features all your secondary colours wrapped up and colour blocked into the perfect example of balanced, harmonious WOW. Stunning!

Merlin does secondaries quite well too.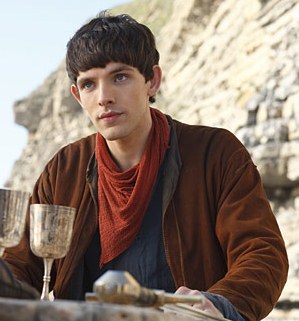 When secondary colours are combined this way, they're called 'Complementary Colours', and there is a really easy rule of thumb on how to put them together.
Take a look at the next colour wheel and it will make more sense (It's simple, I promise!!)
Colour Wheel Colour Combinations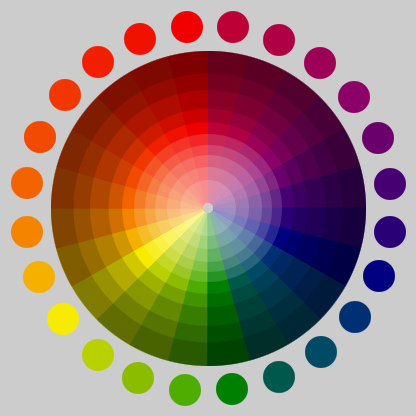 Incredibly, all these colours and shades are created just by combining three primary colours, plus black and white.  I'm giddy!
To find the colours that will go together harmoniously, all you have to do is look at the wheel in terms of halves or thirds.
Start by splitting the colour wheel in half – along any line you like. What you'll find is that the two colours opposite each other will balance really well together. With opposite colours you really cannot go too far wrong, except for the Red/Green combo – too much of this and you'll look like a Christmas Elf – and unless you're going to a dress-up party, this is not so cool!!
Next, split the colour wheel three ways into equal thirds. For instance, if you started with green, you can easily work out how the clever bods at Gucci came up with the gorgeously colourful combo in the picture above.
Try a three-way yourself
1. Look in your wardrobe, select a coloured garment, and find it on the colour wheel. From this starting point, trace two lines that divide the wheel into equal thirds. Choose two items that match the two new lines, and you'll find that the colours of all three items all go together. See?!
2. When you're putting colours together, make sure their strength is similar. If you're wearing canary yellow jeans with a bright purple top, a pale baby pink scarf is just not going to cut it – unlike my awesome, Bali-copy Louis Vuitton handbag, which is a stunning rich red, edged with deep teal, with a bright orange trim ;).
3. Examine your wardrobe. I'll bet you'll find you have a dominance of a few colours – your favourites – already. Pull these out, drag them to your computer, and play around with the colour wheel to see what colours your could team them with.
4. Balance = Lots + Less + Little
This formula basically means you use 'Lots' of your main colour, 'Less' of the second colour, and a 'Little' of your third colour.  And believe it or not, it's the Little colour, used as a highlight, that usually makes your outfit POP.
Now it's time to play!
Find something that will occupy the kids, grab a coffee (actually, make it a champers; we are celebrating colour here Foxettes!) and lay a pair of jeans and a basic white t-shirt onto your bed. Grab one of your favourite coloured items, say, an orange bag, divide the colour wheel into halves and thirds, add the Lots+Less+Little formula, then start experimenting with mixing & matching different coloured items. You'll be surprised at the colour combinations you'll discover, which will unleash a whole new life to items that were previously languishing in your closet.
See how easy it can be? 
Inspired colour combinations to try:
Pick ONE colour, and cover yourself in shades of it  – three shades of aqua look so fresh
Zing up with shades of citrus (yellows, oranges and limes)
Mix browns, creams and lattes with a shot of Tiffany Blue for a delicious serve of YUM!
If you're lacking in the colour department, work out what hues you need and head to an accessory store like eQUIP. They cleverly put colour combos together so it's easier to choose.
Start with a patterned scarf or necklace and work backwards from there.

Two of my favourite scarves, with complimentary colours from the colour wheel 
For more colour inspiration, tips and ideas, check out this article, or Fox in Flats on Pinterest.
So have a play and see where it takes you, then pop a photo onto the Fox in Flats Facebook page, or on Twitter, and show us how you put it all together!
Be bold, be cheeky and make it a little foxy!

Class dismissed! x

For more Fox in Flats: